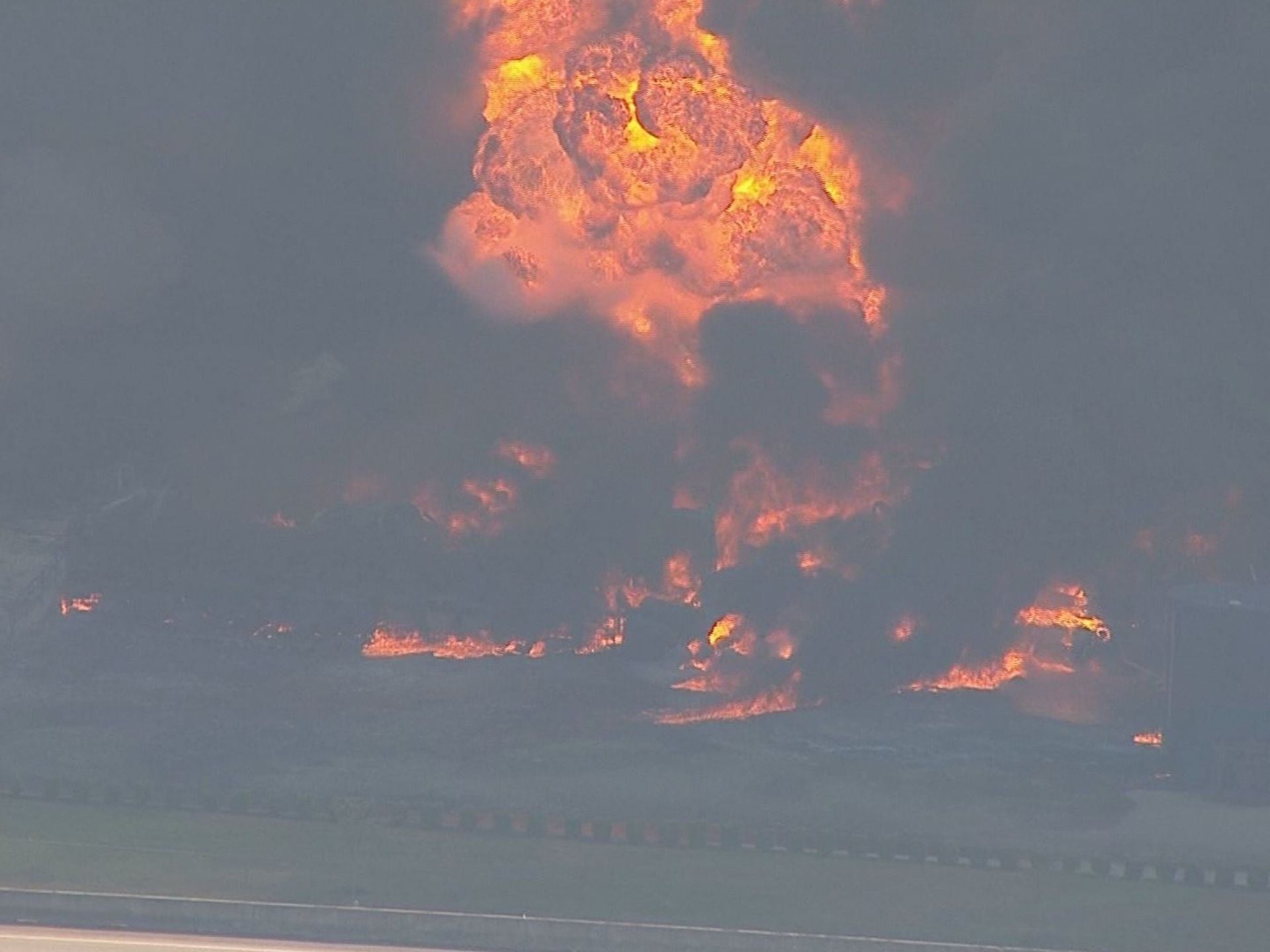 Explosions, fire rock Texas chemical plant
CONROE, Texas -- A series of explosions rocked an oil field chemical supply company north of Houston on Friday, setting off a three-alarm fire that sent a broad, dense column of thick, black smoke towering into the otherwise blue skies.
Authorities knew of no injuries from the explosions and blaze that erupted about 4:30 p.m., said Conroe Fire Marshal Mike Legoudes.
Firefighters took about two hours to bring the fire under control at the DrillChem plant on the eastern fringe of Conroe, about 40 miles north of Houston.
"The facility was empty at the time of the fire and we are thankful that no injuries have been reported," said DrillChem CEO Brandon Hayes in a statement. "We are working closely with local authorities to determine the cause of the fire and assess the extent of the damage."
Jennifer Nichols-Contella, spokeswoman for the Montgomery County Hospital District, said ambulances were sent to the scene as a precaution, but no injuries were reported.
Units from several fire departments and a hazardous-materials team were at the scene. Residents up to two miles from the fire site were told to remain indoors. By nightfall, the alert had been reduced to a half-mile radius.
Montgomery County Fire Marshal Jimmy Williams told CBS affiliate KHOU authorities let the fire burn down in case hazardous chemicals or materials were involved.
"Sometimes the best plan of attack may be not any attack at all," Williams said. "They don't want to do anything to endanger firefighters."
The cause of the explosions was unclear and an investigation has begun, Legoudes said. Air monitors have been set up to check for toxic air pollutants, and the U.S. Environmental Protection Agency has been notified, he said.
Wayne Patterson, who lives less than a mile from the facility, told The (Conroe) Courier newspaper he had just stepped from his back door with his dogs when he "saw a huge cloud of black smoke."
"The last explosion... we heard about three or four, but the last one shook the house," he said.
Patterson said he received a text message requesting to turn his air conditioning off. His son, who lives about a half-mile away from the explosion, drove to Patterson's house to seek shelter.
"Our eyes were burning. It's not too bad, but they are burning," he said.
DrillChem is an oil industry supply company that creates sealants, shale inhibitors and lubricants, according to the company's website.
Thanks for reading CBS NEWS.
Create your free account or log in
for more features.