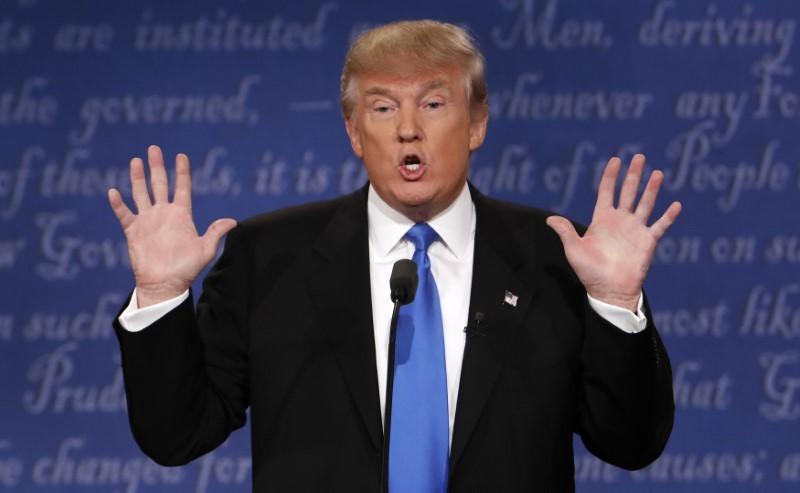 Checking Donald Trump's "stop and frisk" claims during first debate
Donald Trump suggested Monday that cities like Chicago should use the controversial "stop and frisk" policy to prevent further violence even though the policy was ruled unconstitutional by a federal judge in New York in 2013.
During the first general election presidential debate, moderator Lester Holt of NBC News asked Trump and Hillary Clinton how they would heal the racial divide across the country as president.
Trump said that blacks and Hispanics are living in "dangerous" communities and said that the violence in places like Chicago must end, which he said could be stopped by bringing back "law and order."
"Now, whether or not in a place like Chicago you do stop and frisk, which worked very well -- [New York] Mayor [Rudy] Giuliani is here -- worked very well in New York. It brought the crime rate way down. But you take the gun away from criminals that shouldn't be having it," Trump said.
In response, Holt pointed out that the "stop and frisk" policy in New York was ruled unconstitutional because it largely singled out young black and Hispanic men.
"No, you're wrong," Trump said. "It went before a judge, who was a very against-police judge. It was taken away from her. And our mayor, our new mayor, refused to go forward with the case. They would have won an appeal. If you look at it, throughout the country, there are many places where it's allowed."
Under the policy used during Mayor Michael Bloomberg's administration, police officers were allowed to stop, question and search people on the street in New York.
In August 2013, however, U.S. District Court Judge Shira Scheindlin -- appointed by President Bill Clinton -- determined that the "stop and frisk" strategy was a policy of "indirect racial profiling" that led to officers regularly stopping mostly blacks and hispanics in minority communities. She ruled that the policy violated the Fourth and Fourteenth Amendments.
Mayor Michael Bloomberg's administration appealed the ruling, and the Second Circuit Court of Appeals suspended the order. The court sent it back to be tried under a new judge.
While running for mayor, Bill de Blasio campaigned on a platform that opposed the Bloomberg administration's policy and shortly after taking office in January 2014, he announced he would not pursue the appeal, and he settled the legal battle by agreeing to reforms that Judge Scheindlin originally mandated a few months earlier.
The judge, for example, ordered for the appointment of a monitor who would develop reforms surrounding the department's monitoring, training and supervision related to the policy.
A report from New York Attorney General Eric Schneiderman's office in November 2013 found that only 3 percent of arrests under "stop and frisk" actually led to a conviction and just 0.1 percent led to an arrest for a violent crime.
Chicago already employs its own version of "stop and frisk," according to the American Civil Liberties Union (ACLU), which said in a report last year that it identified more than 250,000 "stop and frisk" encounters that resulted in no arrests from May through August 2014.
Thanks for reading CBS NEWS.
Create your free account or log in
for more features.