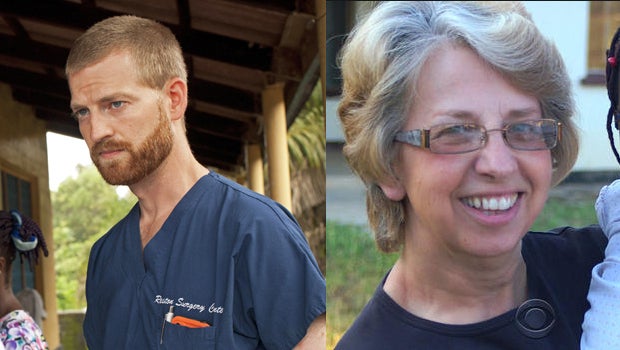 Ebola patients soon expected to arrive in United States
Two Americans stricken with Ebola while working in Liberia were en route to the United States. The first patient was expected Saturday afternoon, but it is unclear when the second will be arriving.
A dose of experimental serum was given to an American aid worker battling the Ebola virus in Liberia at the request of her stricken colleague, according to the relief group Samaritan's Purse.
In a statement, the group said that Nancy Writebol was to be given the serum while Dr. Kent Brantly would be treated with a blood transfusion. The group said there was only enough serum for one patient.
Meanwhile, Emory University Hospital in Atlanta said there are plans for an American aid worker who has been diagnosed with Ebola to be transferred there for treatment. The hospital did not say who the patient was and did not know when that person would arrive.
In Washington, the White House said it was looking into options for bringing back both Brantly and Writebol.
Both were said to be in "stable but grave condition" but Brantly "took a slight turn for the worse overnight."
"Yesterday, an experimental serum arrived in the country, but there was only enough for one person. Dr. Brantly asked that it be given to Nancy Writebol," Franklin Graham, president of Samaritan's Purse, in a statement. "However, Dr. Brantly received a unit of blood from a 14-year-old boy who had survived Ebola because of Dr. Brantly's care. The young boy and his family wanted to be able to help the doctor that saved his life."
Brantly's wife, Amber, thanked everyone who has reached out to the family and offered prayers and support.
"I remain hopeful and believing that Kent will be healed from this dreadful disease," she said in a statement Thursday. "He is strong and peaceful and confident in the love of Jesus Christ, which is his sustenance right now."
Amber Brantly and the couple's two young children, ages ages 3 and 5, left Liberia for a scheduled visit to the United States on July 20, days before Kent Brantly developed symptoms of the disease. Amber Brantly and the children are in Texas under a 21-day fever watch but are not believed to have contracted the illness.
"The children and I are physically fine," Amber Brantly said, adding that she finds comfort in her faith as she waits for updates on her husband's condition.
At the White House, press secretary Josh Earnest said the U.S. is looking into medical evacuation options to bring the two American aid workers diagnosed with Ebola back to the U.S. While the U.S. government would facilitate the response, private companies would be used.
Earnest said that type of response would be consistent with how the U.S. handled other situations, including outbreaks of SARS and drug-resistant tuberculosis, and the goal would be to ensure Americans can benefit from modern medical treatment available in the U.S.
Emory University Hospital said Thursday it has been told there are plans to transfer a patient with Ebola to its special facility containment unit "within the next several days," though there was no confirmation of the patient's identity. Emory is located in Atlanta, where the Centers for Disease Control and Prevention is headquartered.
The hospital said it did not know when the patient will arrive, but said it was ready.
"Emory University Hospital has a specially built isolation unit set up in collaboration with the CDC to treat patients who are exposed to certain serious infectious diseases. It is physically separate from other patient areas and has unique equipment and infrastructure that provide an extraordinarily high level of clinical isolation," the hospital said in a statement.
Meanwhile, Samaritan's Purse said it was working to evacuate all nonessential personnel to their home countries.
"The evacuation should be completed this weekend," the group said. "The exact timeline and destinations are being kept confidential to respect their privacy."
Brantly, 33, of Fort Worth, Texas, is the medical director for the relief group's Ebola care center on the outskirts of the Liberian capital of Monrovia. Last week, he recognized that he had Ebola symptoms and immediately isolated himself, the group said.
Writebol, of Charlotte, N.C, is a worker with an allied aid group SIM, or Serving in Mission, which runs the hospital where Samaritan's Purse's Ebola care center is located. She had been working as a hygienist who decontaminated those entering and leaving the hospital's isolation ward, Samaritan's Purse said.
Meanwhile, U.S. health officials are warning Americans not to travel to the three African countries hit by the outbreak. The travel advisory issued Thursday applies to nonessential travel to Guinea, Liberia and Sierra Leone.
Officials at the CDC say the agency sent about two dozen staffers to West Africa to help try to control the outbreak there. Officials announced Thursday they will send 50 more in the next month.
The last time the CDC issued such a warning during a disease outbreak was in 2003 because of SARS in Asia.
The worst recorded Ebola outbreak in history surpassed 700 deaths in West Africa as the World Health Organization on Thursday announced dozens of new fatalities.
In Sierra Leone, President Ernest Bai Koroma vowed to quarantine sick patients at home and have authorities conduct house-to-house searches for others who may have been exposed as the country struggles with families resisting treatment at isolation centers. Some have kept loved ones at home given the high death rates at clinics where Ebola patients are quarantined.
His announcement late Wednesday came as neighboring Liberia also ramped up its efforts to slow the virulent disease's spread, shutting down schools and ordering most public servants to stay home from work.
"It could be helpful for the government to have powers to isolate and quarantine people and it's certainly better than what's been done so far," said Dr. Heinz Feldmann, chief of virology at U.S. National Institute of Allergy and Infectious Diseases. "Whether it works, we will have to wait and see."
Thanks for reading CBS NEWS.
Create your free account or log in
for more features.