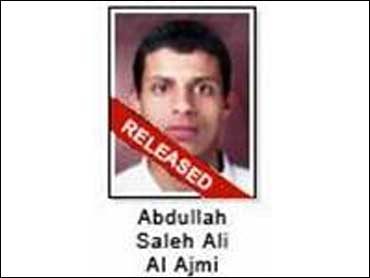 Ex-Guantanamo Prisoner ID'd As Iraq Bomber
A Kuwaiti who had been imprisoned in Guantanamo for more than 3 1/2 years carried out a recent suicide attack in Iraq, the U.S. military said Wednesday.
Abdullah Saleh al-Ajmi took part in one of three suicide bomb attacks last month in the northern Iraqi city of Mosul, said U.S. Navy Cmdr. Scott Rye, a military spokesman.
It appears to be the first time someone who was held at the prison at the U.S. base in Cuba has carried out a suicide attack, said a Pentagon spokesman, Navy Cmdr. Jeffrey Gordon.
Al-Ajmi, 29, was transferred in 2005 to Kuwait, where the government was supposed to ensure he would not pose a threat. In May 2006, a Kuwaiti court acquitted him and four other former Guantanamo prisoners of terrorism charges.
Dubai-based al-Arabiya television, citing a cousin of al-Ajmi, last week reported that he had carried out a suicide attack, but the U.S. military could not confirm it until Wednesday.
Rye said in an e-mail to The Associated Press that al-Ajmi's family has confirmed his death and that authorities determined he entered Iraq through Syria.
"It is unknown what motivated him to leave Kuwait and go to Iraq," Rye said. "His family members reportedly were shocked to hear he had conducted a suicide bombing."
Three suicide car bombers targeted Iraqi security forces, killing at least seven people and wounding 28 in the northern city of Mosul, local officials said. It was not yet known which involved al-Ajmi.
Military documents previously released to AP show that al-Ajmi was "constantly in trouble" while in Guantanamo and held in disciplinary blocks during his detention. He also allegedly told officials in August 2004 that "he now is a jihadist, an enemy combatant, and that he will kill as many Americans as he possibly can."
Tom Wilner, a lawyer who represented Kuwaiti prisoners at Guantanamo, said al-Ajmi had a broken arm during one of their meetings at the base in Cuba and that he alleged he had been injured by guards who interrupted him while he prayed.
Wilner called the alleged suicide attack a "tragedy" that could have been avoided with court hearings for prisoners held at Guananamo, where the U.S. now holds about 270 men.
"The lack of a process results in tragic mistakes on both sides," the lawyer said.
American officials have said in the past that more than a dozen former Guantanamo prisoners engaged in hostilities against U.S. forces or its allies, an assertion that critics have challenged.
In other developments:
The fighting between militiamen and soldiers that has raged for weeks in the Sadr City slum is preventing aid from getting into the neighborhood and forcing thousands of people to flee their homes, humanitarian workers said Wednesday. The skirmishes in Sadr City an eight-mile-square area with 2.5 million people packed into it that serves as a power base for the Shiite Mahdi Army militia has left entire portions of the neighborhood, which is divided into 79 sectors, under siege.
Iraq's industry minister opened the door Wednesday to reimbursing the United States for at least some of the billions of dollars spent for reconstructing the country. Industry minister Fawzi Hariri also spoke hopefully of more than doubling Iraqi oil production within two to three years.
Iraq's foreign minister on Wednesday said security talks between Iran and the United states have been indefinitely postponed due to an "exchange of accusations" between the sides. Tehran on Monday called off further Iraq security talks with Washington until U.S. forces stop their crackdown on Shiite militias. U.S.-led forces are locked in fierce street battles in Sadr City, a Shiite militia stronghold in Baghdad. At the same time, Washington has been stepping up its accusations that Iran is backing Shiite extremists in Iraq. Iran denies the claims.

Thanks for reading CBS NEWS.
Create your free account or log in
for more features.