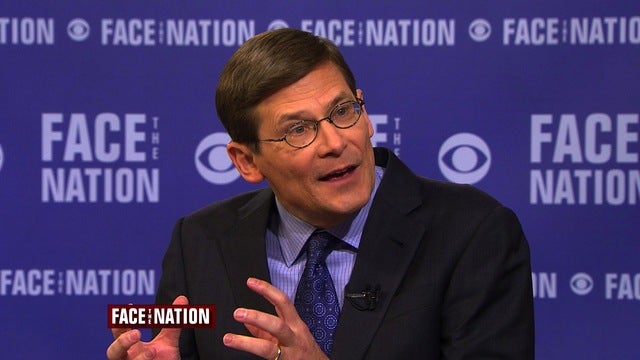 Ex-CIA official: Iran "acted responsibly" on Saudi Embassy arson
Former Deputy CIA Director Michael Morell said Sunday that Iran "acted responsibly" in dealing with protesters who set the Saudi Arabian Embassy in Tehran on fire this weekend.
"The police showed up very quickly. They made a number of arrests," Morell said on CBS' "Face the Nation."
A crowd gathered outside the Saudi embassy in Tehran Sunday after Saudi Arabia announced it had executed Shiite cleric Sheikh Nimr al-Nimr on Saturday along with 46 others. Some of the protesters threw Molotov cocktails at the building, which set off a fire.
Tom Donilon, the former National Security Advisor to President Obama, called the reaction in Iran "predicted and predictable" but said that it makes things harder for the U.S.
"At the same time that the United States is seeking to lower tensions in the region in pursuit of an effort against [the Islamic State of Iraq and Syria] and a political process in Syria, this raises tension," he said. "Saudi Arabia looks around and sees what Iran's doing in Beirut and in Damascus and in Sanaa and in Baghdad and feels, I think, a threat. And it also reflects this competition for influence in the region between Saudi Arabia and Iran."
Sunni-majority Saudi Arabia and Shiite-majority Iran are two of the most powerful countries in the region and back different sides in the ongoing wars in Syria and Yemen.
The pair also talked about the significance of the Iraqi Army retaking the city of Ramadi from ISIS. The provincial capital of the Anbar province fell to ISIS in May.
"This is a strategically significant city," Morell said, pointing to its relative proximity to Baghdad and spots on the roads to Syria and Jordan. He added that it was important that Iraqi security forces won the fight, since other gains against ISIS have been won by the Kurdish army or Shia militias.
Donilon said that it should offer some perspective as well.
"We have a long way to go," he said. "This operation took eight months, 630 or so U.S. airstrikes. A tremendous amount of support for the Iraqi security forces in pulling this off."
Plus, he added, it's an important city but it is small - about five times smaller than Mosul, Iraq's second largest city.
"There are challenges in Ramadi," he said. "We'll have to provide security. The Iraqis have to provide security. People need to know if they come back there, they're going to be secure. We'll need to see reconstruction...and most importantly, we need to see progress towards inclusion of Sunnis in Anbar politically in Iraq."
Morell said the victory in Ramadi highlights the relative success for U.S.-backed forces in Iraq versus almost no success in Syria.
"Without a diplomatic settlement in Syria, I think what you're likely to see is a growing gap between success in Iraq militarily...I think that's where the diplomatic focus needs to be, the military focus needs to be in Syria going forward," he said.
Thanks for reading CBS NEWS.
Create your free account or log in
for more features.