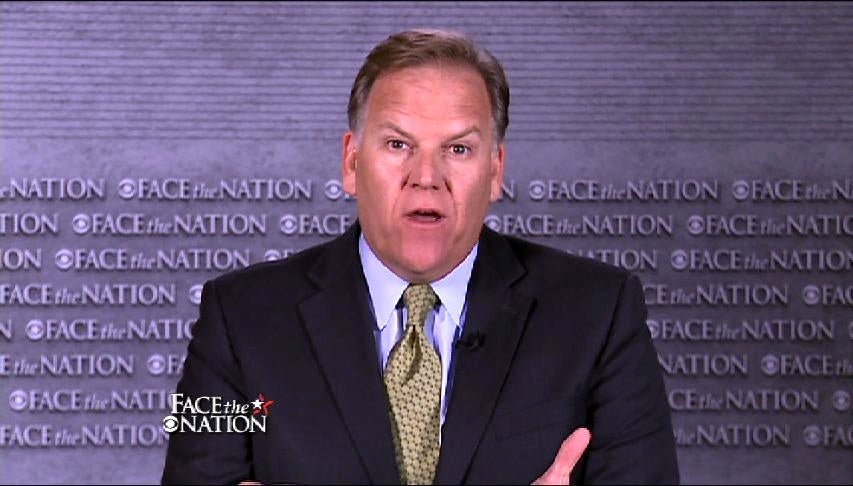 Europe should be grateful for NSA spying, Rogers says
While outrage in Europe grows over reports of the NSA spying on its citizens and public figures, some in Congress have struck a less conciliatory tone, with a key GOP congressman saying Sunday that foreign publics should be grateful - not angry - because America's spying keeps them safe.
"If the French citizens knew exactly what that was about, they would be applauding and popping champagne corks. It's a good thing. It keeps the French safe. It keeps the U.S. safe. It keeps our European allies safe," Rep. Mike Rogers, R-Mich., who chairs the House Intelligence Committee, told CNN. "This whole notion that we're going to go after each other on what is really legitimate protection of nation-state interest, I think is disingenuous."
Rep. Peter King, R-N.Y., lodged a similarly forceful defense of the NSA's spying on NBC's "Meet the Press," arguing the president should "stop apologizing" about U.S. surveillance practices.
"The president should stop apologizing, stop being defensive," he said. "The reality is the NSA has saved thousands of lives not just in the United States but in France, Germany and throughout Europe."
Some in Congress, however, offered a more diplomatically cautious response. Sen. Jeanne Shaheen, D-N.H., admitted Sunday on CBS' "Face the Nation" that recent revelations have dealt "significant damage" to our bilateral relationships with overseas allies, saying we have "repair work to do."
"And I think we have hard questions we need to ask of the NSA about what's really going on in this program," she said.
Rep. Darrell Issa, R-Calif., a frequent critic of the Obama administration, said on "Face the Nation" that it would be plainly inappropriate for the U.S. to spy on the head of state of an ally.
"The question of whether or not...our key allies are being listened to is an easy one: No. We have an agreement not to do it," he said. "If what you do in Germany helps the Germans and us, that's fine. But I don't believe ever listening to a head of state of an ally would be appropriate. And I would hope, if it's happened, that the president is just as upset as all of us are in Congress."
Meanwhile, overseas the furor continues. The German interior minister raised the possibility that the National Security Agency may have broken German law by wire-tapping Germans' cell phones, including that of German Chancellor Angela Merkel, continuing a feud over spying practices that has driven a wedge between the U.S. and some of its closest international allies.
Interior Minister Hans Peter Friedrich told German newspaper Bild am Sonntag on Sunday he wants "complete information" about the accusations of phone-tapping, according to the Associated Press.
"If the Americans intercepted cellphones in Germany, they broke German law on German soil," he added.
After allegations surfaced this week that the NSA had monitored the cell phones of Merkel and other world leaders, White House spokesman Jay Carney vowed that the U.S. "is not monitoring and will not monitor" the German leader's phone, but he did not say whether the U.S. had monitored her phone in the past.
Additional reports that revealed mass surveillance of foreign publics prompted outrage from other allies, including France and Italy.
The administration has promised to consult with its allies on overseas surveillance practices, and German intelligence officials plan to travel to Washington for talks next week.
Thanks for reading CBS NEWS.
Create your free account or log in
for more features.