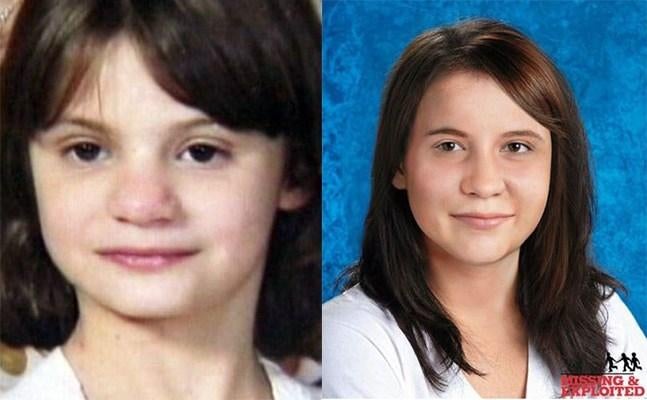 Remains found of N.C. girl who went missing in 2011, officials say
CHESTERFIELD COUNTY, SC Human remains found in Chesterfield County, South Carolina, are confirmed to be those of missing teen Erica Parsons, according to officials, CBS affiliate WBTV reports.
The remains were found in the Pageland Mount Croghan area of Chesterfield County Tuesday. Family members told WBTV they were asked to go to the Rowan County Sheriff's Office on Friday.
According to a release from the Rowan County Sheriff's Office they, along with the FBI, obtained leads in August of 2016 that Erica was "more than likely deceased." On September 27, the release states, the remains were located. They were then sent to the NC Medical Examiner's Office and were identified as the young girl.
Investigators have not said how the remains were located, or indicated how Parsons may have died.
Parsons was reported missing from Rowan County in July of 2013, but had reportedly not been seen for two years prior to that time.
Parsons was reported missing by her adoptive brother, Jamie Parsons, who said she had not been seen since November 2011. Parsons was reportedly adopted by Sandy and Casey Parsons at birth.
Jamie Parsons told investigators he asked his parents where Erica was and they said they had gone to Asheville to take Erica to her grandmother's residence. He said he has not seen Erica since.
Reports of abuse in the home
It was during this initial interview that Jamie Parsons said Sandy and Casey routinely abused Erica, both mentally and physically. He told investigators that the pair continued to receive checks on behalf of Erica long after she was gone from the family home along Miller Chapel Road.
He reportedly said his parents had "killed Erica and buried her in our backyard."
"I thought personally that while I was up there, they would actually find her, turn around, look at me and say there she is, she's living in this city" he told WBTV in a sit down interview in 2014. "I was going to walk back home. Go back home. But then it changed. It didn't come out the way I thought."
That backyard was the subject of multiple searches by law enforcement since Erica's disappearance was reported, the latest was in late 2015 after the current homeowner cut down a tree and found small bones. Investigators later determined those bones were not human.
Sandy and Casey Parsons denied the allegations of abuse and said Jamie made up the story after they made him move out of the house.
In a 2014 interview with WBTV, Jamie Parsons recanted the abuse claims and said he didn't see anything actually happen to Erica and only told investigators that because he was worried about his younger siblings.
Who is Nan?
Since Erica's disappearance, Casey and Sandy Parsons have maintained she went to live with her biological grandmother in Asheville.
Investigators were told that they took Erica to live with her biological grandmother, Irene Goodman - aka Nan Goodman - in 2011. They told investigators that their biological daughter, Brook, went with them to Asheville.
When she was interviewed, according to warrants, Brook told investigators that she had not gone to Asheville with her parents to take Erica to live there.
The Parsons could not give investigators contact information for Goodman, according to the warrants, but Casey Parsons told them she'd contacted her via Facebook. She was not able to show them Goodman's Facebook page.
Investigators later said "Nan" does not actually exist. "The name and relationship provided to us regarding the name Irene Goodman was not correct," Rowan County Sheriff Kevin Auten said in July 2014.
According to investigators, Erica's biological grandmother died in 2005 - more than six years before she was last seen and eight years before she was reported missing.
Casey and Sandy Parsons' then-attorney hinted that Erica's biological mother, Carolyn, should know how to find Erica.
"Nan came to Casey and Sandy through [Carolyn]," Salisbury attorney Carlyle Sherrill said. "That's who brought Nan to them and probably knows who Nan is."
Carolyn Parsons told WBTV that Sherrill's claim is wrong.
"Nan and Irene don't exist. The only two people that know the truth are the only two people that won't give the truth," Carolyn Parsons said.
Casey later admitted on camera she was fooled and called the woman Erica went to live with "an imposter."
Searches of Erica Parsons' home
After Erica's disappearance, local investigators and the FBI conducted several searches of the home.
According to search warrants returned in August 2013, investigators removed dozens of items from the home, including a "plastic bag with JonBenet Ramsey magazines" and a "JonBenet book with notes inside about remodeling a house."
WARRANT: Red stains, JonBenet magazines found in home of missing teen
The warrant says there was drywall cut and removed from a closet area with red stains. The section was tested for blood, the warrant states. Investigators also took baseboards from the closet with red stains.
Rowan County investigators noted that the Parsons held interviews with the media where they appeared to refer to Erica in the past tense.
"Casey Parsons stated 'She was a teenager' and 'She was with her grandmother'," investigators noted in the warrant. "I found these statements to be inconsistent since the Parsons claim to have left Erica alive, well and happy with her biological grandmother."
But investigators point out that in an interview that aired on WBTV on August 5, Erica's biological mother, Carolyn Parsons, refers to Erica in the present tense, saying "She is my biological daughter. I want her to know that I do still love her."
While executing the search warrant on Wednesday, investigators say they found a pair of Arizona jeans with red stains. They also took swabs and samples from sections of the home and removed sections of carpeting and drywall.
A week later, investigators released another set of search warrants after they searched a red wooden storage building at another location that belonged to Erica's adoptive father, Sandy Parsons.
According to the warrants, investigators seized a video tape, pieces of a vacuum cleaner, teeth, a hammer and school records.
WARRANT: Teeth, hammer, video found during new search in missing teen case
The second set of warrants referenced the initial search.
"During that search, investigators failed to located any evidence of Erica Parsons still living here or any evidence that her room or personal living area still remained in the home," the warrant stated.
Investigators say the evidence in the home indicated that Casey and Sandy Parsons knew Erica would not be returning home.
In addition to finding photos and books about the death of JonBenet Ramsey inside the Parsons home, the new warrant states that investigators also found material on the "South Carolina Susan Smith case."
Investigators worked with the Federal Bureau of Investigations to track down bank accounts in that Parsons' name at SunTrust Bank, Wachovia (now Wells Fargo) and Bank of America.
Casey and Sandy Parsons arrested
Nearly a year after Erica was reported missing, her adoptive parents - Sandy and Casey - were arrested in Fayetteville, NC on dozens of fraud charges.
The couple, who had moved to Fayetteville, were arrested by federal agents and charged with 76 counts of fraud-related crimes.
Their son, Jamie Parsons, told WBTV that federal agents kicked the door in, guns drawn, when they came to serve the warrants on his parents. He also said that over the previous two days, his mother indicated that she knew she was going to be arrested.
"Momma said she knew that they were coming. She had a feeling they were coming," Jamie said.
The Parsons moved to Fayetteville in August 2013 after Erica's disappearance made national headlines.
According to the fraud indictment filed against the couple, from February 2010 to August 2013 Sandy and Casey Parsons committed tax fraud, mail fraud, theft of government funds, and identity theft, and engaged in a conspiracy to defraud the government.
The indictment alleged the Parsons received government funded adoption assistance, Medicaid, Social Security, and Food and Nutrition Services benefits for a dependent that did not live with them and used the mail to commit the fraud.
The indictment also alleged that Casey Parsons fraudulently used the identities of other persons as dependents and used other false information when preparing federal tax returns.
The financial dealings of the Parsons came into the investigation at the earliest stage.
When Erica was reported missing, Jamie Parsons told investigators that Sandy and Casey continued to receive checks from the state of North Carolina. The checks amounted to a little over $600 per month.
The Parsons' attorney, Carlyle Sherrill, admitted in October 2013 that his clients did receive the checks, but said that they had a right to since they were the legal caregivers for Erica Parsons.
Parsons sentenced to federal prison
Several months after their arrest Casey Parsons pleaded guilty to 15 federal charges: one count of conspiracy to defraud the government, five counts of mail fraud, four counts of aiding in the preparation of a false tax return, four counts of wire fraud and one count of aggravated identity theft.
She was sentenced to 120 months in prison; 3 years supervised release; $41,814.00 in restitution; and a special assessment of $1,500.00.
She was initially held in the Federal Medical Center Carswell in Fort Worth, Texas after her attorney requested she be placed in a prison where she could receive treatment for an undisclosed disorder.
Six weeks ago, she was transferred to the Federal Correctional Center Tallahassee in Florida, a minimum security prison.
According to the federal Bureau of Prisons, she is scheduled to be released Jan. 3, 2024.
Casey's husband, Sandy, was found guilty in November 2014 of one count of conspiracy to defraud the government, one count of aggravated identity theft, one count of false statement to a government agency, twenty counts of theft of government funds and twenty counts of mail fraud.
He was sentenced to 96 months in prison; 3 years supervised release; $14,062.00 in restitution; and a special assessment of $4,300.00.
He's being held at the Federal Medical Center Butner, in North Carolina, and is scheduled to be released in March 2022.
Thanks for reading CBS NEWS.
Create your free account or log in
for more features.