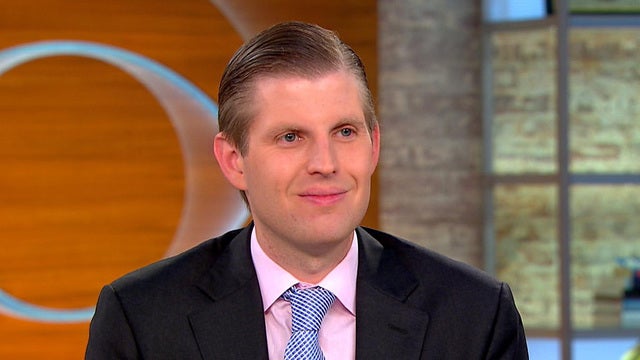 Eric Trump weighs in on father's feud with fallen soldier's parents
Eric Trump on Tuesday weighed in on his father's comments regarding Khizr and Ghazala Khan, the parents of fallen U.S. soldier, and defended the GOP presidential nominee's plan to take on radical Islamic terrorism.
"I mean you see anybody who dies for their nation, dies for the three of us at this table, made the ultimate sacrifice, but you know for my father, in terms of the Kahn family, it's not about a soldier -- who's an amazing guy. My father even said that during the interview, sounds like he's a really amazing guy," Trump's son said in an interview on "CBS This Morning."
Instead, he said that his father's plan is to take on "radical terror" in the wake of attacks in Orlando, San Bernardino, Nice and a church in France most recently.
"My father's simple message - it's not an anti-Muslim message, it's [an] anti-terror message," he said. "You know, we have ISIS and they're running in rampant around the world and we have to do something about it and quite frankly, if you look at Hillary."
Khizr Khan gave a blistering denunciation of Donald Trump at last week's Democratic National Convention.
Host Norah O'Donnell pointed out that 23 families of fallen soldiers, Gold Star families, have written a letter demanding an apology from Donald Trump for implying that Ghazala Khan's religion prevented her from speaking as her husband addressed the convention last week. Asked if his father is willing to apologize, Eric Trump said, "You know, that's a great question for him. And I think he has by calling him a hero, you know."
He said that the whole situation "was honestly blown out of proportion" and he reiterated that his father's plan is focused on immigration and blocking Syrian refugees from entering the U.S.
"You see he doesn't want to see more Americans dead. I mean my father's a great patriot, he doesn't want to see more Americans dead and he's seeing what's happening around the country and quite frankly, he's shaking his head," he said.
He also questioned why the mother of a Benghazi attack victim, Pat Smith, has not received as much media attention as the Khans even though she spoke at the Republican National Convention.
"Between all the news networks, she got 77 seconds of airtime. The Kahn family has gotten hours and hours of airtime and what's ironic about that was Hillary was the one that left them on the roof in Benghazi. It was Hillary's policy that crippled Libya and Syria and Iraq."
He also weighed in on a comment Donald Trump made to USA Today in which he said he would hope his daughter Ivanka would find a different company or career if she were harassed in the workplace.
"I think what he's saying is, Ivanka is a strong, powerful woman, she wouldn't allow herself to be objected to it, and by the way, you should take it up with Human Resources, and I think she would as a strong person, at the same time, I don't think she would allow herself to be subjected to that. I think that's a point he was making, and I think he did so well," her brother said.
Thanks for reading CBS NEWS.
Create your free account or log in
for more features.