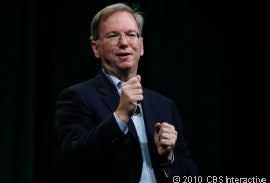 Eric Schmidt Stepping Down as Google CEO
Google said Thursday afternoon that Eric Schmidt is stepping down as the company's chief executive. Company co-founder Larry Page will become CEO, effective April 4.

At the same time, Google said that Page's co-founder Sergey Brin, will henceforth concentrated on "strategic projects, in particular working on new products."

Although Schmidt is stepping down as chief executive, Google said he will take on the role of Executive Chairman, "focusing externally on deals, partnerships, customers and broader business relationships, government outreach and technology thought leadership--all of which are increasingly important given Google's global reach. Internally, he will continue to act as an advisor to Larry and Sergey. "

The announcement came in the form of a press release as Google reported revenues of $8.44 billion for the quarter ended December 31, 2010, an increase of 26% compared to the fourth quarter of 2009.

The news took the market as a surprise. In after-hours trading, shares of Google had surged in expectations of a strong quarter before weakening after the news hit the wire. The stock had recovered those gains by the time the executives spoke with analysts during the afternoon conference call.

In a corporate release, Schmidt suggested that the troika had come to a joint decision on the new management roles.

"We've been talking about how best to simplify our management structure and speed up decision making for a long time. By clarifying our individual roles we'll create clearer responsibility and accountability at the top of the company. In my clear opinion, Larry is ready to lead and I'm excited about working with both him and Sergey for a long time to come."
For his part, Page said that Schmidt "has clearly done an outstanding job leading Google for the last decade. The results speak for themselves. There is no other CEO in the world that could have kept such headstrong founders so deeply involved and still run the business so brilliantly. Eric is a tremendous leader and I have learned innumerable lessons from him. His advice and efforts will be invaluable to me as I start in this new role. Google still has such incredible opportunity--we are only at the beginning and I can't wait to get started."

The execs returned to that theme during the conference call that had originally been slated to discuss Google's earnings. Page went out of his way to lavish compliments on Schmidt while Schmidt returned the favor. They presented the managerial shift as a way to make better use of their respective talents but didn't detail why the changes are taking place now.

"We're friends, we're co-workers, we're computer scientists," Schmidt said, adding that he expected their relationship to remain close and productive.
Thanks for reading CBS NEWS.
Create your free account or log in
for more features.