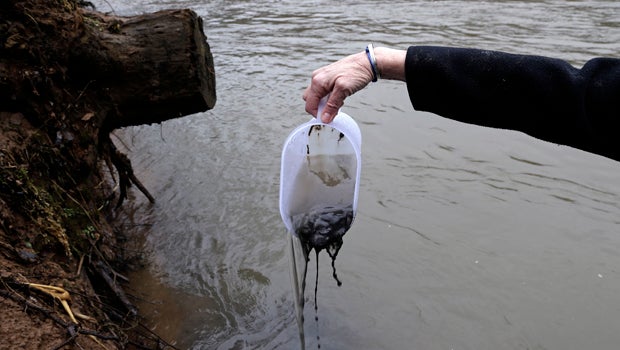 EPA moves to regulate coal ash responsible for several high-profile spills
Inspired by several high-profile spills, the Environmental Protection Agency announced on Friday the first national regulations for the disposal of ash that is generated from coal-fired power plants.
The rule, which establishes safeguards to prevent ground water contamination and air emissions from coal ash disposals, was first considered after a 2008 spill in Kingston, Tenn. dumped 5.4 million cubic yards of coal ash into two rivers in what remains the largest spill in history.
It gained further traction this year when a Duke Energy pipe burst, sucking out six decades of waste and spewing it into North Carolina's Dan River.
"EPA is taking action to protect our communities from the risk of mismanaged coal ash disposal units, and putting in place safeguards to help prevent the next catastrophic coal ash impoundment failure, which can cost millions for local businesses, communities and states," said EPA Administrator Gina McCarthy. "These strong safeguards will protect drinking water from contamination, air from coal ash dust, and our communities from structural failures, while providing facilities a practical approach for implementation."
Coal ash has been piling up in over 1,000 ponds and landfill sites near power plants for years, driven in part by EPA's push to scrub air pollutants from smokestacks. It already ranks as the second biggest source of waste behind household waste and is expected to continue growing as the EPA takes steps toward reducing pollutants such as mercury and heat-trapping carbon dioxide from the nation's coal-fired power plants.
The EPA said "improperly constructed or managed coal ash disposal units" have resulted as many as 160 cases of groundwater and air contamination.
Its new rules would close impoundments or landfills that fail to meet engineering and structural standards, protect groundwater by requiring monitoring and cleanup of contaminants, bar facilities from being built in sensitive areas like wetlands and protect communities by requiring dust controls on facilities.
"The Tennessee spill in particular and there have been other spills recently ... have raised both the level of awareness and concern," McCarthy told reporters, as to why it took the EPA years to come out with this ruling.
"We now have information in hand that tells us what these risk are and we have documented cases where groundwater has been contaminated at these sites," she said. "This is a huge step forward, where for the first time in our history, we have clear, concise standards for these facilities moving forward."
The Sierra Club called the new rules a good first step but said they don't go "far enough to protect families from this toxic pollution." The organization had been campaigning for tougher regulations that would treat coal ash like hazardous waste, which would then require that rules governing the sites be enforced at the federal level. It is currently considered nonhazardous waste, which leaves states in charge.
The rules allow a site to keep operating even after violations are found and do not cover closed facilities, thought the EPA said it will work with states to address that.
"Some parts of what the EPA has handed down will provide useful tools for communities, like requiring groundwater monitoring and dust controls around coal ash sites and making that data available to the public," said Mary Anne Hitt, director of Sierra Club's Beyond Coal Campaign. "But we are disappointed that it allows utilities to continue disposing of coal ash in ponds and does not incorporate strong federal enforcement."
The American Coal Ash Association (ACAA) welcomed the non-hazardous designation, saying the decision was grounded in science.
"The regulatory uncertainty that has impeded the beneficial use of coal ash for half a decade has finally come to an end," ACAA Executive Director Thomas H. Adams said. "EPA's final decision to regulate coal ash as a 'non-hazardous' material puts science ahead of politics and clears the way for beneficial use of ash to begin growing again - thereby keeping ash out of landfills and disposal ponds in the first place."
Thanks for reading CBS NEWS.
Create your free account or log in
for more features.