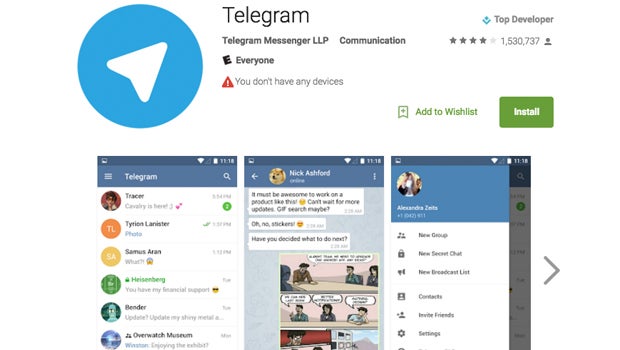 Encrypted messaging app Telegram says it's blocked ISIS-related channels
The encrypted messaging app Telegram says it is taking steps to stop ISIS extremists from using its technology to communicate and spread propaganda. In a blog post Wednesday, Telegram announced it has blocked 78 ISIS-related channels, operating in 12 languages, this week alone.
"We were disturbed to learn that Telegram's public channels were being used by ISIS to spread their propaganda," the statement said. "We are carefully reviewing all reports sent to us at abuse@telegram.org and are taking appropriate action to block such channels."
On Thursday, Telegram released another statement saying, "Thanks to your reports, today we were able to block another 164 public channels used to spread terrorist propaganda."
Encrypted messaging apps like Telegram, WhatsApp, Kik, and others have attracted unwanted attention in the aftermath of the Paris terrorist attacks. There has been no confirmation that these apps were used by the attackers, but intelligence analysts and law enforcement officials raised concerns that the technology could provide a digital safe haven for plotters to communicate beyond the reach of government surveillance.
"I think what we're going to learn is that these guys are communicating via these encrypted apps, the commercial encryption, which is very difficult, if not impossible, for governments to break, and the producers of which don't produce the keys necessary for law enforcement to read the encrypted messages," former CIA Deputy Director Michael Morell, a CBS News senior national security contributor, said on CBS' "Face the Nation."
Some officials are pushing for tech companies to provide a "back door" investigators could use to access private communications if needed. But the industry, including major players like Apple, has pushed back.
Their concern? "Any time you build a flaw into software for the benefit of the good guys, it leaves a gaping hole where the bad guys can get in," leaving users vulnerable to hackers, explained cybersecurity expert David Gewirtz.
Telegram, founded in 2013, is a free cloud-based messaging app for Apple and Android that allows users to message each other privately or create group chats with up to 200 people at a time. It puts a premium on security. "We built Telegram to make messaging safe again so you can take back your right to privacy," the company says. "Our mission is to provide a secure means of communication that works everywhere on the planet."
Telegram says it is opposed to censorship in principle, but "we do block terrorist (e.g. ISIS-related) bots and channels." It says it will be rolling out an easier way for users to report objectionable content later this week.
Thanks for reading CBS NEWS.
Create your free account or log in
for more features.