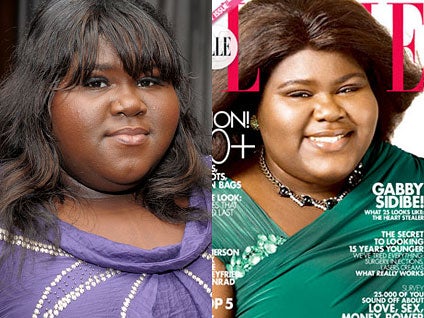 Elle Under Fire For Gabourey Sidibe Cover
NEW YORK (CBS) Elle magazine is coming under fire, not for putting plus-size actress Gabourey Sidibe on its cover, but for treating her differently than its other celebrity cover models.
Sidibe, 27, an Oscar nominee for her role in last year's "Precious: Based on the Novel Push by Sapphire" was one of four actresses chosen for the four covers that Elle is publishing in October to mark its 25th anniversary. The others are Megan Fox, Lauren Conrad and Amanda Seyfried.
The issue is dedicated to 25 "Most Notable Women Under 25." Nevermind that Sidibe, who now stars in "The Big C" on TV, is older than 25; that plays no part in the controversy. What has critics upset is that Sidibe's photo is closely cropped to show her head and shoulders, while the other actresses are seen from the hips up.
Other critics are complaining that Sidibe, the only African-American actress of the four, has her skin lightened in the photo.
In a statement to Yahoo, the magazine said that "nothing out of the ordinary" had been done to the photograph.
"We have four separate covers this month and Gabby's cover was not retouched any more or less than the others" it read.
"We had 25 cover-worthy subjects in our portfolio and we chose Gabby because of who she is.
"We shot this as a story of exuberant young women changing the world. If you take a look at the portfolio, each of the women were shot in different ways and for different reasons."
In Mediabistro, a website that covers the industry, Matthew Fleischer wrote, "Gabby is actually several shades darker than she is pictured in Elle. Photoshopping is quite common in magazines, but when they choose to lighten a dark skinned Black woman, it is racist no matter what the original intent was."
This is not the first time that skin lightening charges have cropped up around celebrities. Cosmetic companies came under fire a few years ago for reportedly brightening the skin tones of singer Beyonce and actress Freida Pinto in advertisements.
Thanks for reading CBS NEWS.
Create your free account or log in
for more features.