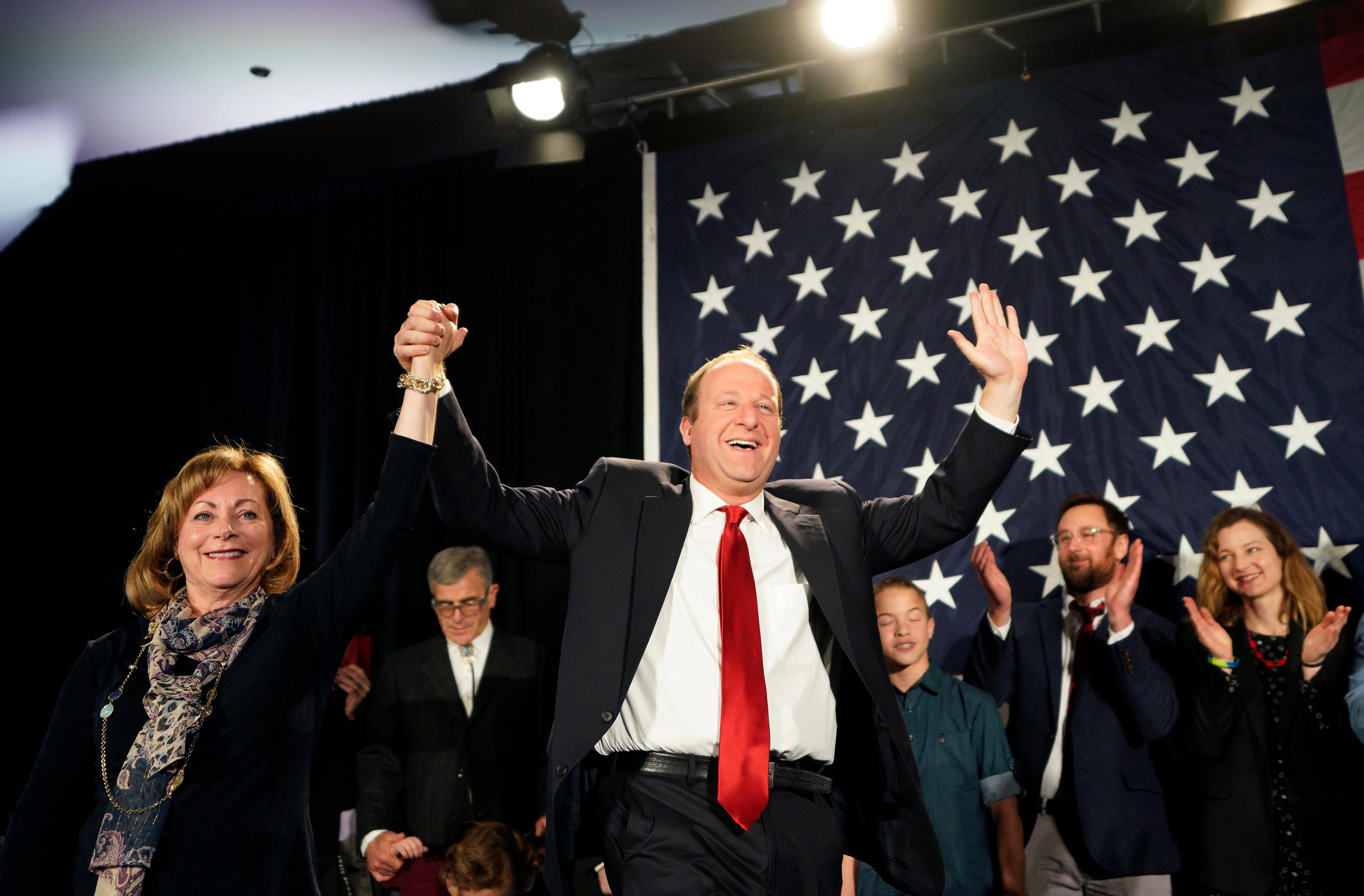 Election 2018: Night of firsts with historic wins for Muslims, Native Americans, women and LGBT candidates
Election Night 2018 turned out to be a night of firsts — with groundbreaking victories for Native American, Muslim, black, gay and female candidates.
The midterms seemed poised to shake things up even before results came in: A record number of women were on the ballot, and there were races across the country that looked likely to diversify the faces in Congress and statehouses. In the end, these are the winners who ended up making history:
Rashida Tlaib and Ilhan Omar, the first Muslim congresswomen
Two Democratic candidates will become the first Muslim women to serve in Congress. Tlaib, who ran unopposed to represent Michigan's 13th Congressional District, will become the first Palestinian-American congresswoman. Omar, a former refugee, will be the first Somali-American congresswoman after winning the race for Minnesota's 5th Congressional District.
Jared Polis, the first openly gay male governor
Polis won the race for Colorado governor and will become the first openly gay man to claim a governor's mansion anywhere in America. Polis is also the state's first Jewish governor.
Only one openly LGBT politician has ever been elected governor before: Oregon Gov. Kate Brown, who identifies as bisexual. Former New Jersey Gov. Jim McGreevey came out as gay only after announcing he would resign in 2004.
Sharice Davids and Deb Haaland, the first Native American congresswomen
Haaland, a member of the Pueblo of Laguna tribe in New Mexico, will be one of the first two Native American women to serve in the House of Representatives. Davids, who won the race for Kansas' 3rd Congressional District, is a first in two ways: Besides being Native American, she'll also be the first lesbian congresswoman from Kansas. And she's a former MMA fighter, as well.
Marsha Blackburn, Tennessee's first female senator
A Republican who served in the House will become the first woman to represent Tennessee in the Senate. Ironically, Blackburn rose to wider attention when pop star Taylor Swift broke her political silence and encouraged fans to support Democratic challenger Phil Bredesen. But Blackburn prevailed with nearly 55 percent of the vote.
Janet Mills, Maine's first female governor
After nearly eight years of Maine being run by controversial Republican Gov. Paul LePage — who has received national notoriety for racially charged comments and accusations of abuse of power — the state's voters replaced him with its first woman governor. Mills, a Democrat, previously served as Maine's attorney general.
Ayanna Pressley, Massachusetts' first black member of Congress
Pressley was the first black woman on Boston's City Council, and she defeated 10-term incumbent Michael Capuano in the Democratic primary. With no challenger on Election Day, Pressley made it official that she'll be the first black person representing Massachusetts in the House.
Alexandria Ocasio-Cortez, the youngest woman in Congress
Ocasio-Cortez, 29, became an overnight sensation this summer after her upset primary defeat of Rep. Joe Crowley, a 10-term incumbent who was the No. 4 Democrat in the House. Election Night made Ocasio-Cortez's victory in New York's 14th Congressional District official. When she's sworn in, she'll be the youngest women to ever serve in Congress.
Abby Finkenauer, Iowa's first congresswoman
The Hawkeye State has never sent a woman to the House — until now. Finkenauer, a 29-year-old Democrat who served two terms as a state representative, defeated Republican incumbent Rod Blum. And although she has some age on Ocasio-Cortez — she's turning 30 in December — Finkenauer is still one of the youngest people ever elected to the House.
The most women ever elected to the House
The record-breaking number of women running led to another historic moment. With more than 90 women elected to the House as of early Wednesday morning, this election led to more women winning House seats than in any election in American history.
Thanks for reading CBS NEWS.
Create your free account or log in
for more features.