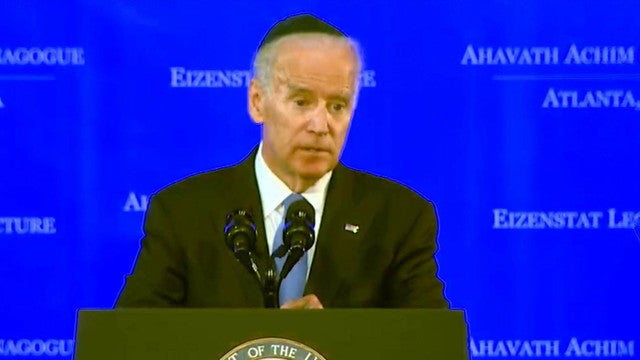 Joe ​Biden on 2016 White House bid: "I just don't know"
ATLANTA -- At a synagogue in Atlanta, following a speech Thursday about Iran, President Joe Biden gave his most extensive public response so far to the question of whether or not he will run for president.
"Unless I can go to my party and the American people and say that I am able to devote my whole heart and my whole soul to this endeavor, it would not be appropriate," Biden said, responding to a question about his presidential campaign plans.
His decision, he said, depends on whether he and his family have the "emotional energy to run."
The question was asked by his old friend, Stuart Eizenstat, a longtime diplomat and former ambassador to the E.U. Biden addressed him directly, saying, "I know from previous experience, after my wife and daughter," referring to the death of his first wife and infant daughter in a car accident shortly after he was first elected to the Senate. "And you know Stu, there is no way to put a timetable on that."
He continued, "If I can reach that conclusion that we can do it, in a fashion that would still make it viable, I would not hesitate to do it. But I have to be honest with you and everyone who has come to me. I can't look you straight in the eye and say now, I know I can do that. That's as honest as I can be."
Biden dismissed the other considerations that have been raised by pundits and election analysts. "Everybody talks about a lot of other factors, the other people in the race, whether I can raise the money, and whether I can put together an organization. That's not the factor."
The money and logistics are, for Biden, a distant second to the more pressing questions of whether his family can withstand a third presidential run, and whether he feels he is fully able to put his heart into a run, while he continues to mourn the death this summer of his son, Beau.
"The factor is, can I do it? Can my family undertake what is an arduous commitment that would be proud to undertake under ordinary circumstances. But the honest to god answer is I just don't know," said Biden.
There are few who expect Biden to enter - Hillary Clinton has been securing commitments from Democrats on the state and national level, and she has been leading polls for months. Her numbers have dropped a little in recent weeks, though, as questions remain about her use of a private server for her emails while she was secretary of state, which prompted the vice president to explore a campaign to succeed his running mate, President Barack Obama.
Democrats have said Biden is likely to make a decision this month. The first Democratic presidential debate is on Oct. 13, giving him a strong incentive to make up his mind before the first televised encounter of the primary campaign.
If Biden joined the field, he would be most closely associated with Mr. Obama, who maintains strong support among rank-and-file Democrats. But the vice president has also signaled that he would seek to champion progressive policies, meeting recently with Massachusetts Sen. Elizabeth Warren, a favorite of liberals, and AFL-CIO President Richard Trumka.
On Monday, Biden will join Trumka at Labor Day events in Pittsburgh, where the interest in his potential bid is likely to follow him. Trumka said earlier this week that "the field is still wide open" if Biden decides to run.
Thanks for reading CBS NEWS.
Create your free account or log in
for more features.