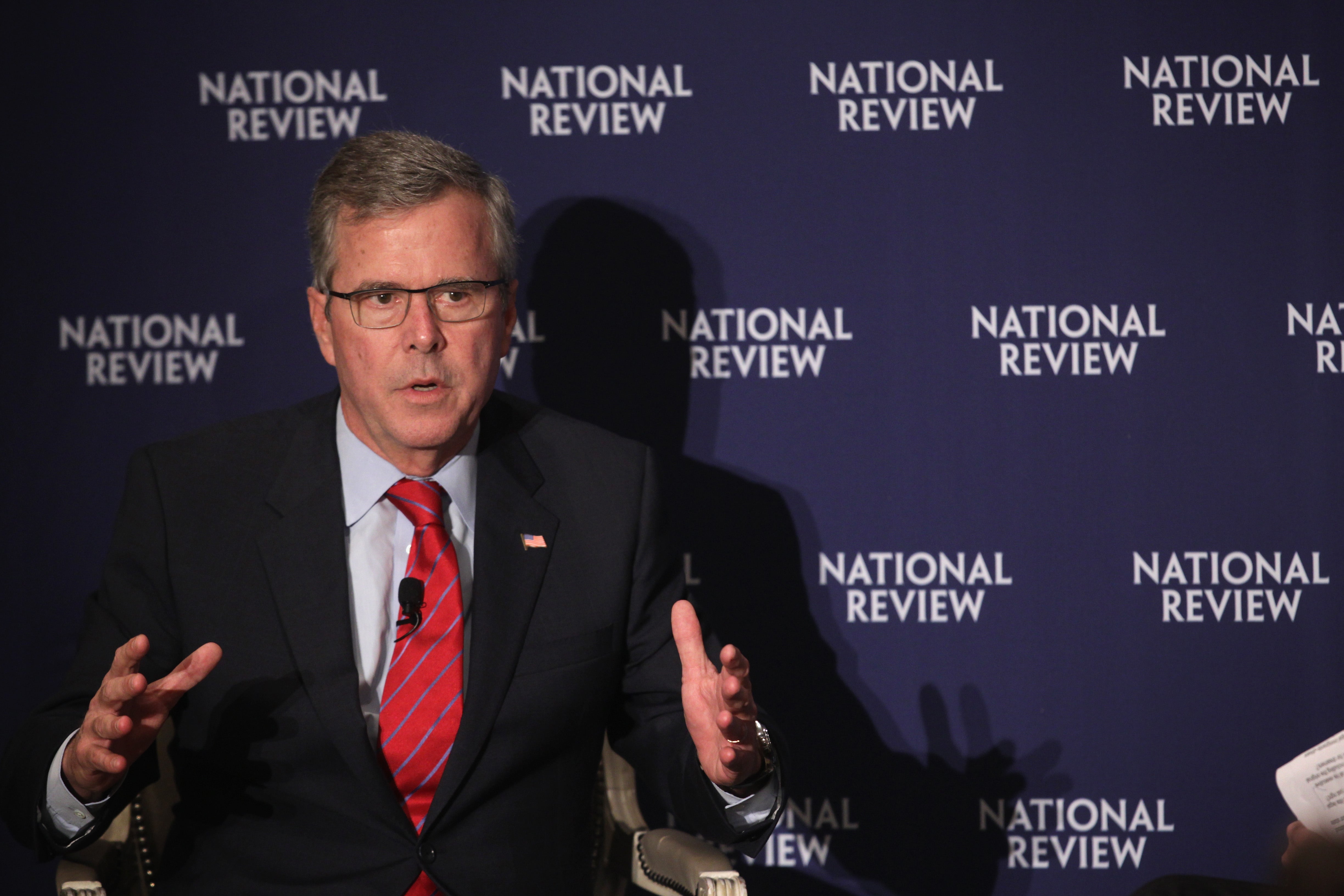 Jeb Bush: "I would not have gone into Iraq"
After several days of shifting responses panned by Republicans and Democrats alike, Jeb Bush has arrived at his final judgment on the 2003 invasion of Iraq: No, he would not have authorized the war had he known the Iraqis did not have weapons of mass destruction.
"Knowing what we now know, I would not have engaged," Bush said during a visit to Arizona on Thursday. "I would not have gone into Iraq."
The former Florida governor, a Republican who's weighing a 2016 presidential bid, suggested the thousands of Americans who lost their lives in the war did not die in vain. "Their sacrifice was worth honoring, not depreciating," he said.
But his comments nonetheless mark a repudiation of the war launched by his brother, former President George W. Bush, who sold the invasion to the American public based on intelligence that later turned out to be false. Iraq did not possess weapons of mass destruction, as the former president claimed, nor was it affiliated with the September 11 terror attacks.
Jeb Bush, hoping to follow his brother's path to the White House, has struggled in recent days to articulate a clear answer to the question of whether he'd have invaded Iraq, given the benefit of hindsight.
In an interview that aired Monday, Fox News' Megyn Kelly asked him, "Knowing what we know now, would you have authorized the invasion?"
Bush, though, answered the wrong question: "I would have, and so would have Hillary Clinton, just to remind everybody. And so would almost everybody that was confronted with the intelligence they got."
In a later interview with conservative radio host Sean Hannity, Bush said he'd "interpreted" Kelly's question incorrectly - but he declined to say whether he would have authorized the war, knowing what he knows now, calling it a "hypothetical" question that didn't serve any useful purpose.
He declined again to answer the question directly during a Wednesday appearance in Nevada. "Talking about the future is more than fair," he said. "Talking about the past and saying, 'How would you have done something after the fact?' is a little tougher and doesn't exactly change anything."
Bush's reticence contrasted with unambiguous reponse offered by several of his potential GOP primary rivals. Just this week, New Jersey Gov. Chris Christie, Texas Sen. Ted Cruz, Ohio Gov. John Kasich, and Florida Sen. Marco Rubio each said they would not have authorized the invasion.
Kentucky Sen. Rand Paul went a step further, saying he wouldn't have authorized the invasion and also criticizing Bush's "incredibly fumbled answer."
"I think every day we look at the mess of the chaos of the civil war in Iraq, I think every day people become more and more convinced that the war was a mistake," Paul told Politico. "I think we have to learn from the mistakes of our past."
"I think what his foreign policy will be -- and whether or not it's the same as his brother's -- is very important to bring up," Paul added. "I think they are good questions."
One top GOP strategist told CBS News Bush did himself no favors with his shifting responses on Iraq."It made an issue that was already going to be tough to handle even tougher," the strategist explained. "This is a clarifying moment for a candidate who probably thought nuance would work on the campaign trail. It doesn't. He cannot get bogged down in a debate about the past, because he'll be caught up in an endless defense of the last Bush administration, instead of reassuring people about the positives of a potential future Bush administration."
CBS News' Nancy Cordes contributed to this report.
Thanks for reading CBS NEWS.
Create your free account or log in
for more features.