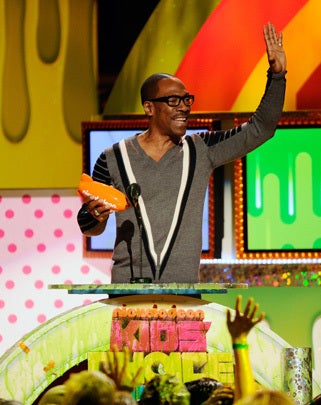 Eddie Murphy never too old for Kids' Choice Award
(CBS/AP) LOS ANGELES - It is called Kids' Choice Award and it involves a lot of green slime, but even a 50-year-old can walk away with a prize.
Oscar-nominated actor Eddie Murphy, 50, won the prize for favorite voice from an animated movie for his role in "Shrek Forever After" at the 24th annual ceremony Saturday inside University of Southern California's Galen Center.
Pictures: Kids' Choice Awards 2011
Pictures: Eddie Murphy
Presenters - "Modern Family" co-star Rico Rodriguez and "Arthur" leading man Russell Brand - were hosed with green goo as they tried to announce the award.
Meanwhile, actor Johnny Depp turned the table s on his hosts. After earning the blimp-shaped favorite movie actor trophy for his Mad Hatter role in "Alice in Wonderland," Depp manned a hose and unleashed waves of green goop on the screaming crowd of more than 10,000 kids - and a few adults.
"You guys are the future," he said.
Jack Black, the master of ceremonies, kicked off the show by arriving in a monster truck, performing a flash mob-style routine on the orange carpet, then dancing alongside the Black Eyed Peas, who crooned a medley of their tunes while sporting outfits made of colorful blocks. He announced that more than 200 million votes were cast for the show.
Other winners included "The Karate Kid" for movie, "The Karate Kid" co-star Jackie Chan for butt-kicker, "Despicable Me" for animated movie, "iCarly" for TV show, "Wizards of Waverly Place" star Selena Gomez for TV actress, "The Suite Life on Deck" co-star Dylan Sprouse for TV actor, "iCarly" co-star Jennette McCurdy for TV sidekick, "American Idol" for reality TV show, "SpongeBob SquarePants" for cartoon and "Just Dance 2" for video game.
"Thanks for voting until your fingers were sore," screamed McCurdy. "Grandma, that's you!"
In the music categories, the winners of blimp-shaped trophies were the Black Eyed Peas for music group, Katy Perry for female singer and Justin Bieber for male singer and song for "Baby." The favorites in the sports categories were two-time Olympic gold medalist ski racer Lindsey Vonn and Boston Celtics basketball center Shaquille O'Neal.
Several celebrities received their own sliming. Heidi Klum was blasted with goop from an envelope. Jane Lynch delivered a slime slushie to Jason Segel, while Snoop Dogg was doused after performing with boy band Big Time Rush.
Josh Duhamel, who dressed up as an absentee Bieber, was inducted into the Arm Fart Hall of Fame and crowned in a slime throne.
Miley Cyrus, who was honored as favorite movie actress for "The Last Song," missed the green goo.
"Thank you for not sliming me," she said.
Justin Timberlake was awarded the show's silver Big Help trophy for his environmental and charitable work. He encouraged the audience to stand and scream if they've ever been helpful in their lives and encouraged children to listen to their parents. Past winners of the humanitarian honor have included Leonardo DiCaprio and first lady Michelle Obama.
Nickelodeon and CBS are owned by the same parent company, Viacom Inc.
Thanks for reading CBS NEWS.
Create your free account or log in
for more features.