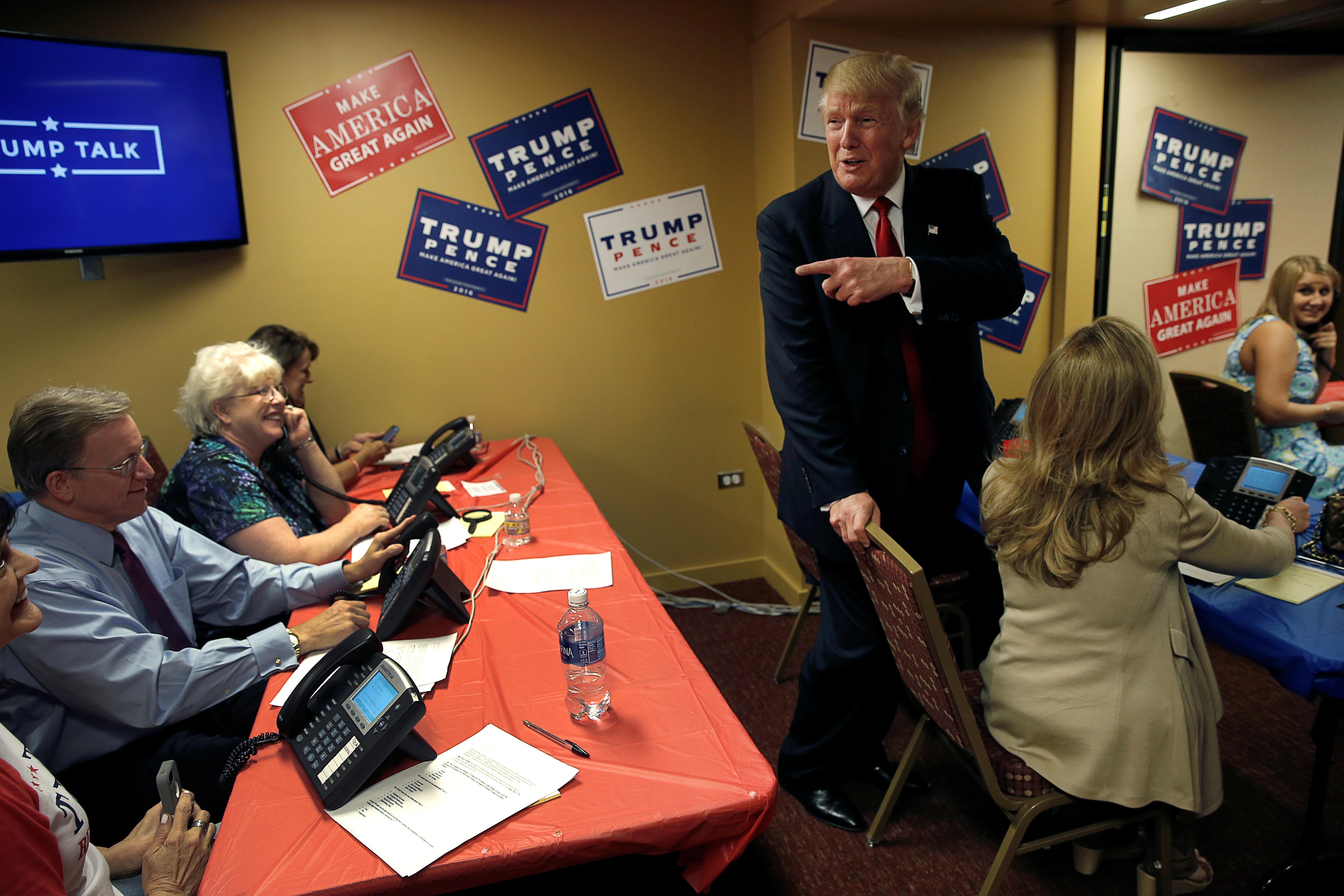 Donald Trump unveils proposals to make child care more affordable
At a speech in Philadelphia Tuesday evening, Donald Trump unveiled a plan to make child care more affordable for American families.
"Nearly two in three mothers with young children have jobs," Trump said in his relatively brief remarks. "For many families in our country, childcare is now the single largest expense – who would think that? – even more so than housing. Yet, very little meaningful policy work has been done in this area."
The GOP business mogul also called out Democratic nominee Hillary Clinton on the issue, saying she has "no childcare plan." "She never will and if it ever evolves into a plan, it'll never get done anyway," he said. "All talk, no action."
Clinton fired right back on Twitter, pointing out that she has a detailed plan on her campaign's website:
Maya Harris, Clinton's senior adviser for policy, asserted to The Washington Post that Trump's proposal could actually hurt women's cause by emphasizing only leave policies that benefit them. That, she said, could add to women's post-childbirth attrition from the workplace and to the gender pay gap.
"We're not living in a 'Mad Men' era anymore, where only women are taking care of infants," Harris told the newspaper. "It's just completely unserious.
"While his plan would undercut women in the workplace, it also provides no relief to working families," Harris said.
Trump was introduced Tuesday night by his daughter, Ivanka Trump, who talked broadly about the issue in her Republican convention speech in July. He also brought on stage with him a group of Republican female lawmakers, including Rep. Cathy McMorris Rodgers (R-Washington), Marsha Blackburn (R-Tennessee) and Renee Ellmers (R-North Carolina).
The focus of Trump's plan is to make all child care expenses deductible. This idea was originally met with criticism because it would have disproportionately helped those with higher incomes. The plan now would be available to individuals making up to $250,000 a year or couples with income of up to $500,000. The benefit itself would be proportional to income and would be capped at the average cost of child care at $12,000.
The new plan combines several different policies and would treat child care as a deductible business expense. Stay-at-home mothers would also be able deduct child care expenses from their taxes.
"Families with a stay-at-home parent will be able to fully deduct the average cost of child care from their taxes," he said Tuesday. "It's a big thing. Wow. I'm hearing wow. I like to hear wow. The congresswomen like to hear wow. Makes your life a lot easier, right?"
Under Trump's proposed plan, there would also be additional tax incentives on the employer side to provide on-site child care. Some incentives currently in place have been ineffective because they've been hampered by "very complicated regulations," said the Trump aide.
Those who have no tax liability, who are on the low end of the income scale, would be allowed to claim an expanded Earned Income Tax Credit (EITC), equivalent to half of their payroll tax contribution.
In addition to the child care expense deduction, Trump would also guarantee six weeks of paid maternity leave. This, the aide said, would be paid for by eliminating fraud in the unemployment insurance program, estimated to be about $3.4 billion.
Trump would also offer dependent care savings accounts available to everybody in the U.S. Those on the lower end of the income scale, would see the government contribute $500 for every $1,000 contributed by individuals. Everybody else would be allowed to contribute up to $2,000 to this account tax-free, and this flex spending account could be rolled over each year.
For those receiving the EITC, there will be a box they can check on their tax returns in which some or all of the EITC can be deposited into this account. The Trump campaign suggested that money for this account could also be used for tuition at private schools.
The Trump campaign did not put a price tag on the child care proposals but claimed that they would be absorbed revenues from Trump's tax plan and would ultimately be deficit-neutral. The plan was built under an assumption of dynamic scoring, which builds into economic policy models the predicted reaction to policy incentives.
The Trump campaign plans to release its score for Trump's tax plan later this week, and Trump is expected to deliver a more comprehensive speech on his economic plan later in the week, as well. The Congressional Budget Office, which uses static scoring, does not recognized dynamic scoring.
Thanks for reading CBS NEWS.
Create your free account or log in
for more features.