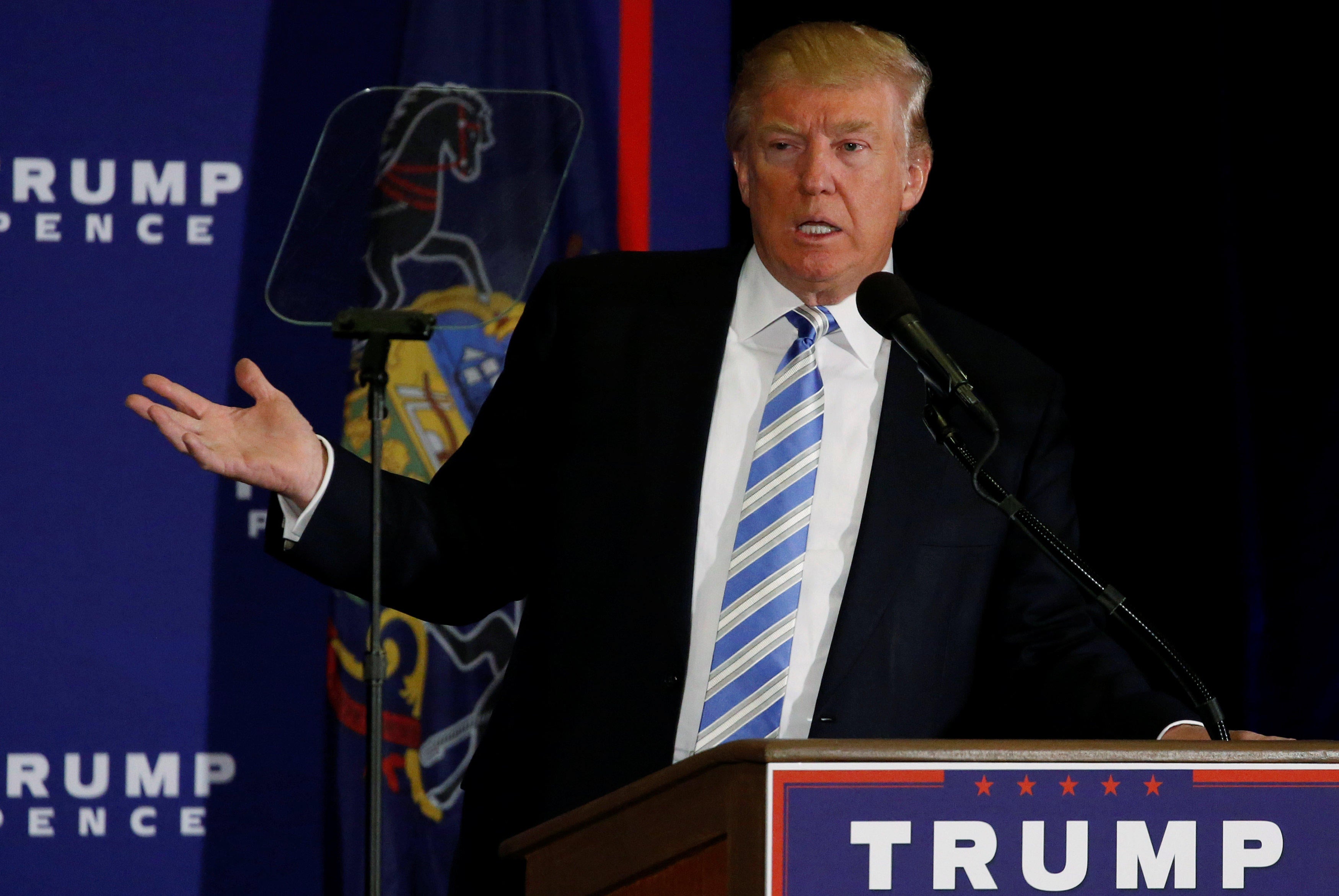 Donald Trump threatens to sue sexual assault accusers after election
Hours before another woman came forward Saturday with more sexual assault allegations against Donald Trump, the Republican presidential nominee vowed to take legal action against the numerous women who have already leveled accusations of predatory behavior against him.
In what was billed as a speech detailing his first 100 days in the Oval Office, Trump instead drew attention to an extended riff about the women who have claimed to be victims of his unwanted sexual advances.
"Every woman lied when they came forward to hurt my campaign," Trump said in Gettysburg, Pennsylvania. "Total fabrication. The events never happened. Never. All of these liars will be sued after the election is over."
"But a simple phone call placed to the biggest newspapers or television networks gets them wall-to-wall coverage with virtually no fact-checking whatsoever," Trump said.
At least 10 women have stepped forward with accusations that Trump had inappropriately kissed and groped them, over a span of nearly 30 years. The allegations follow Trump's own admission of sexually aggressive behavior, which he described in a vulgar 2005 tape where he said he would "grab [women] by the p****" and "just kiss" them without their permission.
One woman, who once worked as a receptionist at Trump Tower, seemed to verify the "Access Hollywood" kissing claim by the reality television star. Rachel Crooks, who was 22 years old at the time, said in a New York Times article that when she introduced herself to Trump in an elevator, he "began kissing her cheeks" and then kissed her "directly on the mouth." Another woman, a reporter for People magazine, claimed that Trump had pushed her against a wall and was "forcing his tongue down my throat" when she was sent to Trump's Mar-a-Lago resort for a story on his marriage to his third wife.
The real estate mogul pointed to these women as proof that the media was "corrupt" and "dishonest."
"They lie and fabricate stories to make a candidate that is not their preferred choice look as bad and even dangerous as possible," he said.
Trump, along with his wife Melania, has already threatened to sue the New York Times and People magazine for publishing stories about the assault accusations. But while two strongly worded attorney's letters were sent to the two news outlets, the Republican nominee has not filed an official lawsuit against either publication.
On Saturday, Trump vowed to find out in court whether his general election opponent Hillary Clinton and the Democratic National Committee (DNC) were responsible for the women's "fabricated" allegations.
"It was probably the DNC and the Clinton campaign that put forwards these liars with their fabricated stories," he said. "But we'll find out about their involvement at a later date through litigation. And I look so forward to doing that."
Clinton campaign spokesperson Brian Fallon issued a rapid-fire response on Twitter to Trump's accusation Saturday afternoon, implying the businessman's threats to sue will never actually materialize:
Thanks for reading CBS NEWS.
Create your free account or log in
for more features.