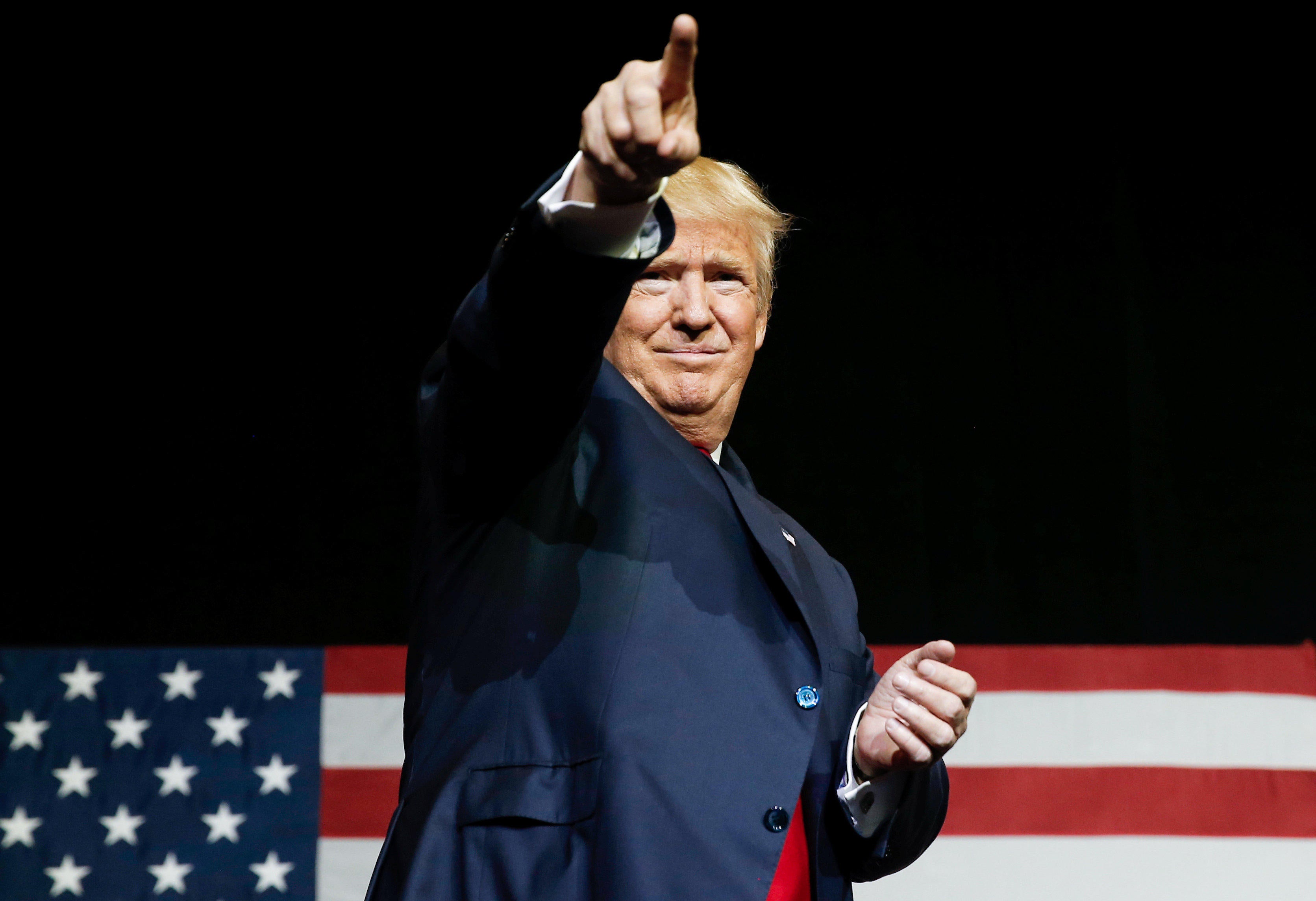 Donald Trump stokes fears of voter fraud
Donald Trump continued on Monday his claims that the 2016 election is "rigged" against him, stoking fears of widespread voter fraud in an interview and a rally speech.
"They even want to try to rig the election at the polling booths and believe me there's a lot going on," he told supporters at a rally in Green Bay, Wisconsin. "Do you ever hear these people? They say 'there's nothing going on.' People that have died 10 years ago are still voting, illegal immigrants are voting -- I mean, where are the street smarts of some of these politicians?"
Trump claiming that the election is "rigged" is nothing new: the Republican nominee has been making similar claims for months now. But as the election nears and polls have shown Democrat Hillary Clinton ahead nationally and in many key battleground states, Trump has ratcheted up his focus on voter fraud.
In a Monday morning tweet, Trump said there is "large scale voter fraud happening on and before election day."
"Why do Republican leaders deny what is going on?" he tweeted. "So naive!"
On Monday night, Trump told the crowd that voter fraud is "very, very common" and that one in eight voter registrations is no longer valid, numbers that come from a Pew Research study in 2012. He made similar arguments in an interview with Fox News on Monday.
"When you look at the voter fraud, when you look at illegal immigrants voting all over the country, when you look at people that died 10 years ago -- I mean, there is one person that died 21 years ago and that person is still voting," he said. "Was a Republican now, votes Democrat, which is sort of an interesting phenomena. We have voters all over the country where they are not even citizens of the country and they are voting."
Trump then suggested that all of those potentially inaccurate voter registrations will be voting for someone else next month.
"Well, if they are going to vote for me we will think about it, right?" he said. "But I have a feeling they aren't going to vote for me. Of the 1.8 million, 1.8 million is voting for someone else. Approximately 2.75 million people have registrations in more than one state."
Though Republicans have frequently referenced concerns about voter fraud, especially when crafting legislation to require voter IDs or enforce other voting restrictions, there is no evidence that voter fraud is a widespread problem.
Trump referred to a story in the Washington Post from 2014 which cited polling saying more than 10 percent of undocumented immigrants said they were registered to vote. The study the Washington Post was referring to, from a pair of political scientists, estimated that approximately 6.4 percent of non-citizens voted in the 2008 presidential election.
"Non-citizens tend to favor Democrats, to put it mildly. Obama won more than 80 percent of the votes of non-citizens in the 2008 sample," he said. "You don't read about this right? They don't tell you about this – your politicians don't tell you about this when they tell you how legitimate all of these elections are. They don't want to tell you about this."
The GOP nominee even tried to suggest that President Obama won North Carolina in 2008 because of undocumented immigrants' votes.
"It is possible that non-citizen votes were responsible for Obama's 2008 victory in North Carolina," he said. "Obama won this state by 14,000 votes … we are going to win in North Carolina, but we don't want non-citizen voters, if that's ok? Is that alright to ask for? It could have provided his margin of victory."
Thanks for reading CBS NEWS.
Create your free account or log in
for more features.