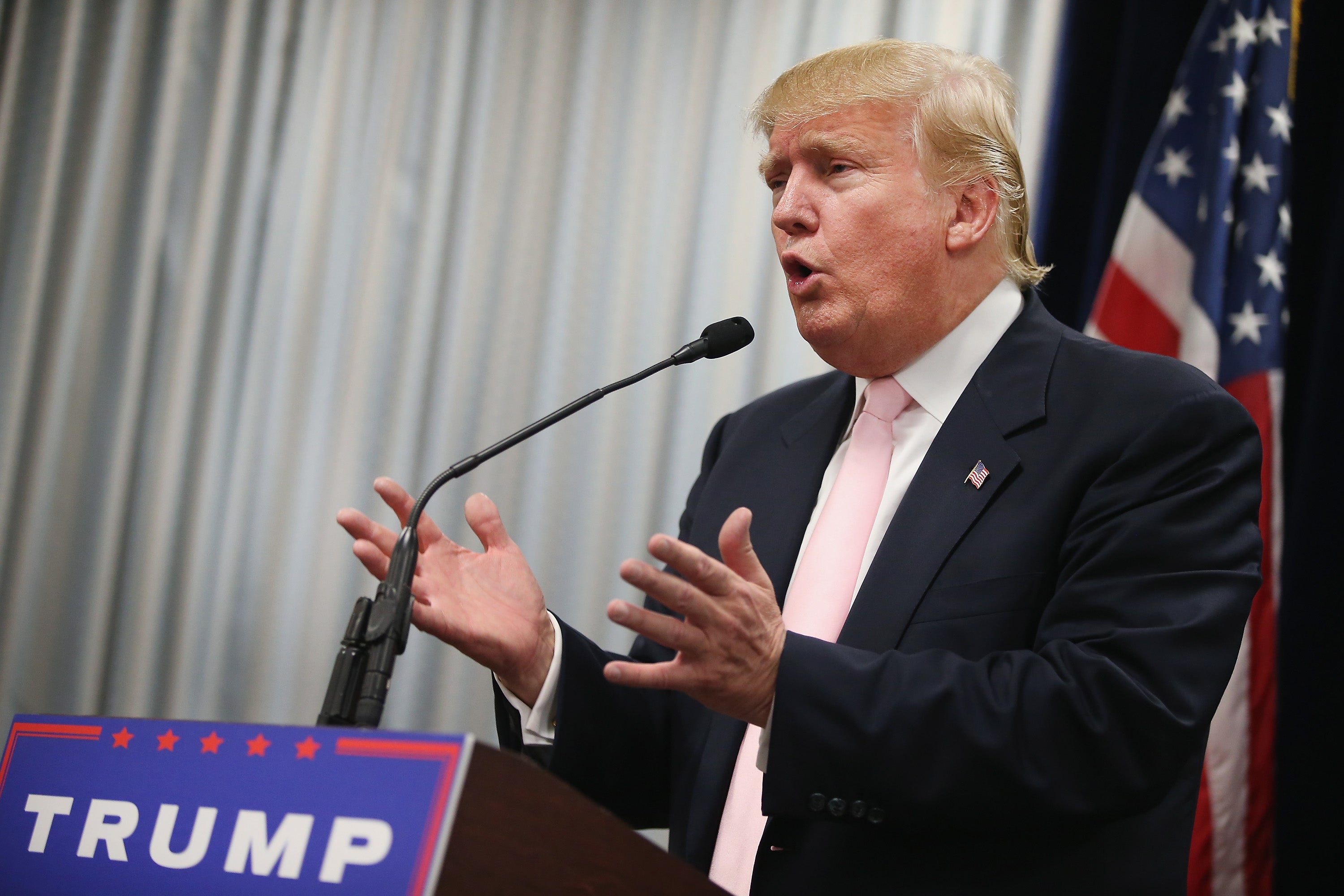 Trump: Louisiana shooting "has nothing to do with guns"
After a gunman opened fire in a Lafayette, Louisiana movie theater last week, killing two people and injuring nine others, Republican presidential candidate Donald Trump is pushing back against repeated calls to strengthen gun control legislation.
"These are sick people," Trump said of the shooter, John Russell Houser, who was reported to be mentally ill. "This has nothing to do with guns. This has to do with the mentality of these people."
"I'm a big Second Amendment person. You need protection," the presidential hopeful added in a CNN interview Sunday. "This person from what I hear had a record of mental instability. If it's proven and documented you have to be careful to not let them kill people. He had the kind of record where he should be in an institution. He's a sick puppy."
Trump referenced another recent gun massacre in Chattanooga, Tennessee, where four Marines were killed, to argue against increasing gun control measures.
"With the Marines, that was disgraceful," Trump said. "These are people who know how to use guns better than anybody. And they're not allowed to carry guns, and this guy shot them...If they would have had their guns, they probably would all be alive right now."
Following the Lafayette shooting, others in the Republican party have also weighed in on the divisive issue.
GOP presidential candidate and Louisiana Gov. Bobby Jindal said Sunday on CBS' "Face the Nation" that in his state, the shooter "shouldn't have been able" to buy a gun.
"Every state should strengthen their laws," Jindal told host John Dickerson. "We need to make sure that this information is being reported in the background system, that the background system is working."
Jindal, who paused his White House bid in response to the shooting, said that in Louisiana, the legislature "actually passed tougher laws a couple of years ago." If Houser had been involuntarily committed while in the state, the information would have been reported to a national background check system -- and, according to Jindal, "he wouldn't have been able to go into that pawn shop and buy a gun as he did in another state."
Another Republican contender for the Oval Office, former Texas Gov. Rick Perry added that it's not a matter of beefing up gun control laws -- rather, "enforcement of those laws is what seems to be lacking."
"We see individuals who were obviously mentally impacted," Perry said on CNN Sunday. "These were individuals who I think that somewhere, somebody didn't do their job in the standpoint of enforcing the laws that are only on the book."
The Texas Republican added that "gun-free zones," like the Chattanooga military recruiting office where personnel are prohibited from carrying firearms, are a "bad idea."
"I think that you allow the citizens of this country, who have been appropriately trained, appropriately backgrounded, know how to handle and use firearms to carry them," Perry added.
Sen. Bernie Sanders, who is running against Democratic frontrunner Hillary Clinton for the party's nomination, addressed his mixed record on gun control legislation.
"I come from a state which has virtually no gun control, and yet I voted to ban certain types of assault weapons," the Independent senator said Sunday on NBC News. "I voted to close the gun show loophole and I voted for background -- instant background checks."
Sanders, who hails from the rural state of Vermont, where hunting is a common pastime, has said that guns "meant different things" than in urban areas. But, he argued, "nobody should have a gun who has a criminal background, who's involved in domestic abuse situation."
"People should not have guns who are going to hurt other people, who are unstable," Sanders said.
Another lawmaker from a rural state, West Virginia Sen. Joe Manchin, added that Republicans need to throw their hand in when it comes to passing common-sense gun legislation.
"I need my friends on the Republican side of the aisle to help us with a most reasonable, seasonable path forward," Manchin said on "Face the Nation."
"It's not gun control, it's just saying that, listen, if you go to a gun show, commercial transaction, we need to know who you are," the West Virginia Democrat continued. "And if you've had a problem before, if you've been criminal or a mental problem."
Thanks for reading CBS NEWS.
Create your free account or log in
for more features.