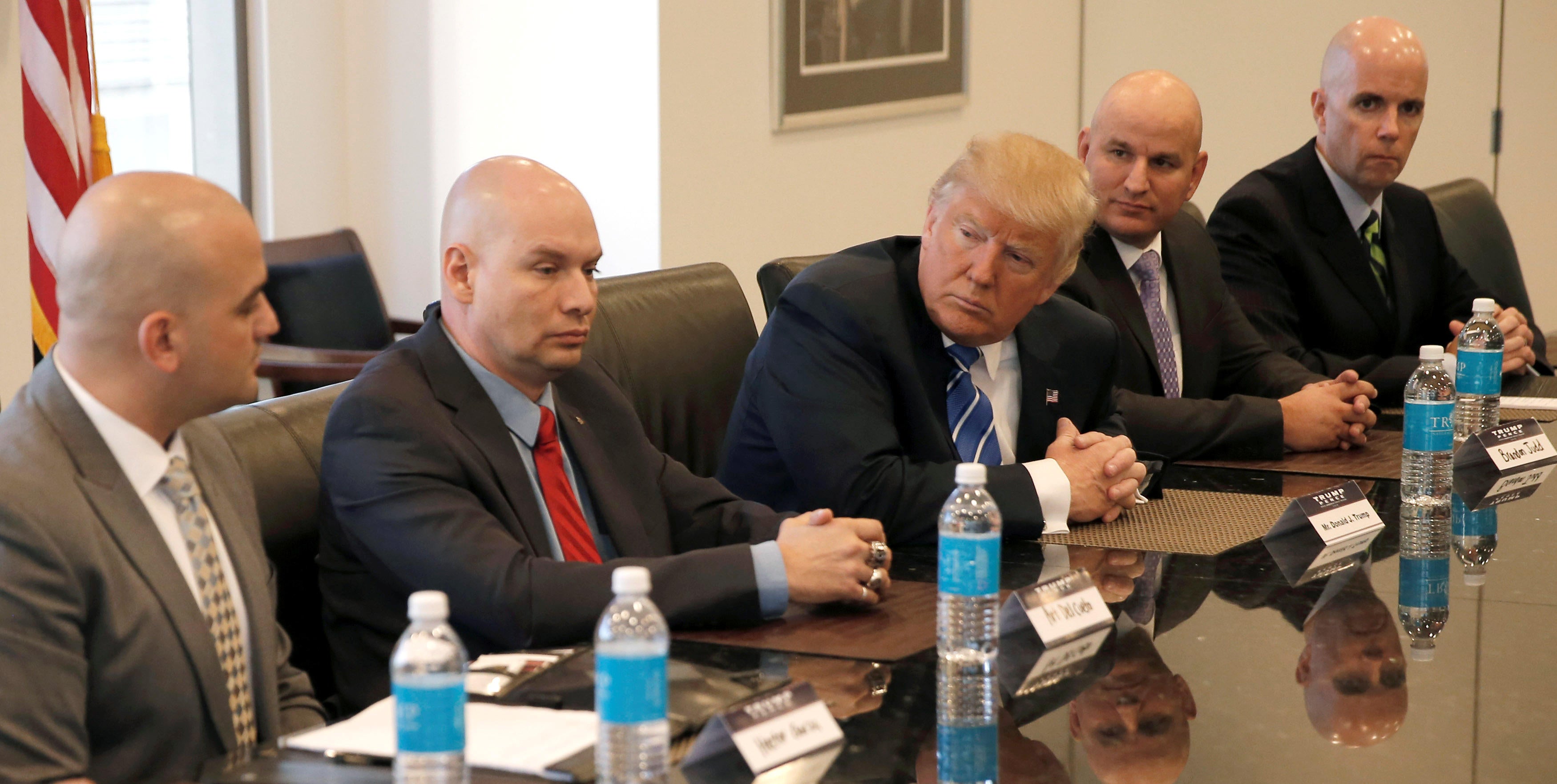 Donald Trump: Immigrants are pouring into U.S. so they can vote
During a conversation with members of the National Border Patrol Council, Donald Trump seemed to accept the idea that the U.S. government speeds up the processing of immigrants who are on a waiting list to become citizens so that they can vote.
Trump participated in a roundtable with the council at Trump Tower in New York, and the group's national vice president and chapter president of Tucson, Arizona talked about criminal undocumented immigrants who are apprehended at the border.
"I've spoken to several agents in my sector that are in charge of processing a lot of these individuals that we've apprehended [and] a lot of them do have criminal records," Art Del Cueto told Trump.
Del Cueto then said that border patrol agents are "checking records" and "noticing that they have criminal records," but he said those criminal undocumented immigrants are being "set aside."
"They're setting them aside because at this point they're saying immigration is so tied up with trying to get the people that are on the waiting list, hurry up and get their immigration status corrected, make them citizens," he said.
Trump asked why, and Del Cueto repeated, "So they can go ahead and vote before the election."
But it was unclear who Del Cueto was referring to when he mentioned the "people that are on the waiting list."
"To me, that's huge," Trump said. "They're letting people pour into the country so they can go and vote."
"They want to hurry up and fast-track them so they can go ahead and be able to vote in these elections," Del Cueto said.
"You hear a thing like that, it's a disgrace," said Trump, who promised that the U.S. would have "real borders" if he's elected president.
People are detained at the border when they don't have proper documents, or if they make material misrepresentations, and they are then usually placed in expedited removal proceedings.
As far as the "waiting list" Del Cueto refers to, it's unclear which waiting list he was talking about. Processing an application for naturalization, to become a U.S. citizen, takes about five months, according to U.S. Citizenship and Immigration Services. In order to apply for citizenship, however, a person must first be a permanent legal resident of the U.S. for at least three years. In order to become a permanent resident, you have to apply for that status as well.
CBS News' Sopan Deb sought to clarify Del Cueto's remarks in a follow-up phone interview with another roundtable participant: Shawn Moran, another vice president for the National Border Patrol Council and its media coordinator.
Deb asked if Del Cueto was suggesting that the government was fast-tracking citizenship so that people can vote.
"The one thing that we're seeing from the people we're catching – the illegal aliens we're catching – they're saying they're coming here for two reasons: One, they want to be present for any type of amnesty or immigration reform. And then two, they're concerned about any type of increase [in] immigration or border enforcement if Mr. Trump gets in," Moran claimed.
But asked if there's evidence that people are being fast-tracked to citizenship in order to vote, Moran said, "We don't have any evidence of it. But based on past history in 1986 and in 1996, we've seen the same thing with behavior before."
"So there's no documentation of this," Deb said. "This is just kind of hearsay at this point. Is that correct?"
"That's correct as well," Moran said.
CBS News' Sopan Deb contributed to this report.
Thanks for reading CBS NEWS.
Create your free account or log in
for more features.