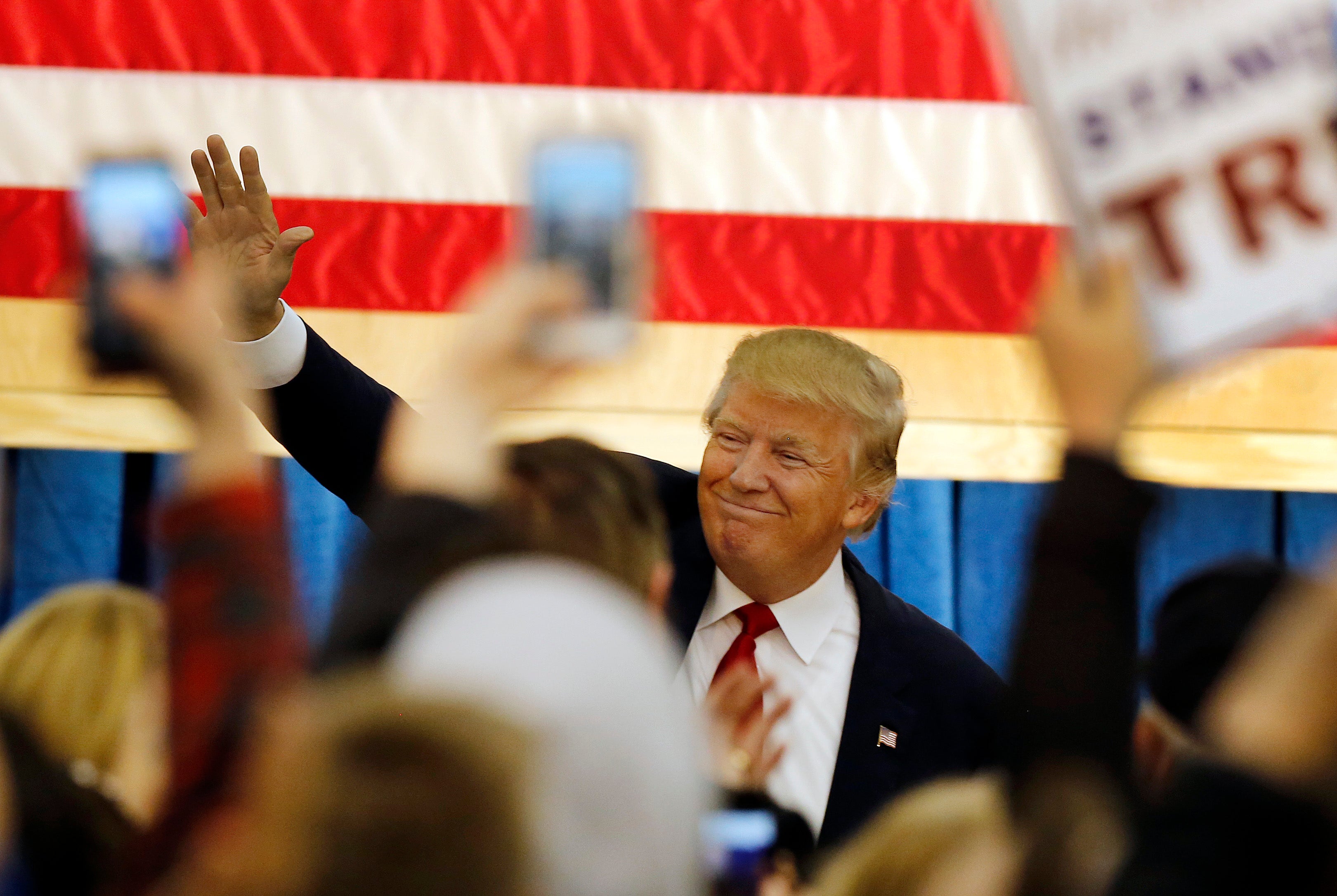 Donald Trump doles out self-help advice in New Hampshire
WATERVILLE VALLEY Speaking to a large crowd in Waterville Valley, New Hampshire, Donald Trump warned that in the wake of the Paris terror attacks, his tone would be much more hawkish, his language -- if possible -- even stronger.
He did once again assert he would not apologize for his claims that "thousands and thousands" of Muslims celebrated 9/11. Aside from that, however, Trump took a relatively positive tone for the night. The GOP front runner morphed into something of a self help guru, dispatching advice on success and perseverance to young men and women who solicited his words of wisdom during a question-and-answer session.
"What's one thing that you can tell kids -- you're going to make America great, so how can we keep America great, for our kids?" one young man asked Trump.
"Since they were little, since they could barely speak, I'd say: no drugs, no alcohol, no cigarettes," Trump said of the advice that he gave his children when they were young. "No drugs. No alcohol. No cigarettes. And I remember Ivanka said, 'Dad you drive me crazy every time you say that.' But I'd say it once a week, twice a week."
Trump, who admitted to the quieter than usual crowd he had some "bad habits," provided them with a cautionary tale: one friend who "hated the taste of scotch" but wanted to acquire a taste, soon became "a massive alcoholic."
"The world is so tough, it's so competitive, that you can't let yourself give them that disadvantage by letting them drink or take drugs because it's not going to work. They will be at a tremendous disadvantage," Trump advised the crowd.
The Republican front runner, who has authored several self-help books for those in pursuit of success, appeared to relish his role of celebrity mentor, moving away from the part of divisive and sometimes offensive rabble rouser -- if only for a night.
"First of all, I love the hair," one young man told Trump before asking him what his college major should be in order to be successful.
"I love that question," Trump told the 900-person crowd at the White Mountain Athletic club. "I'm successful - it's why I make speeches about success. I give that money to charity. I love the concept of doing that! I will tell you that you have to do something you love. You have to."
Trump suggested the oil industry and the energy sector as two potentially lucrative career paths, before quickly adding to "never quit, never give up."
"I have so many friends where they force their children into doing things their kids didn't want to do," Trump said. "If you do what you love, you never, ever quit. I went to the Wharton school of finance with people who were really beyond smart, but they were missing that thing where you don't quit. And the other guys were not as smart, but really driven. They never, ever quit. And they became tremendously successful."
Jaden Thomson, an 11-year-old who spent time with Trump backstage prior to the event, held up his poster to a reporter after the rally had ended. He pointed to Trump's message.
"WORK HARD," Trump wrote, underscored and in all caps.
Thomson had asked Trump the final question of the night, "What will my life be like when I'm older and you're president?"
"My hope would be that if I become president your life would become much better than if I wasn't," Trump responded to loud applause.
Thanks for reading CBS NEWS.
Create your free account or log in
for more features.