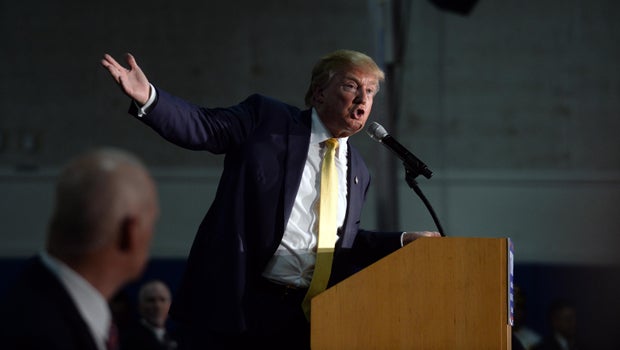 Trump: I'm not "morally obligated" to defend Obama
In an early morning Twitter screed attacking the media for manufacturing a "no win situation," Donald Trump defended his actions from Thursday's campaign stop when he declined to correct a man who claimed President Obama is Muslim.
The Republican front-runner, who has previously made controversial statements regarding immigrants and women, was referring to an incident at his Rochester, New Hampshire, campaign rally earlier this week.
When Trump took questions from attendees, the first audience member to speak remarked that "we have a problem in this country. It's called Muslims."
"We know our current president is one," the man continued. "You know he's not even an American."
Trump interrupted, saying "we need this question--this is the first question?"
"We have training camps growing where they want to kill us. That's my question," the rally attendee said. "When can we get rid of it?"
At the time, Trump, who was a prominent figure in the "birther" movement that questioned where the president was born, did not comment on the issue of the president's religion or his birthplace. His campaign later issued a statement saying that the focus should shift from Mr. Obama's own faith to religious freedom for Christians in the United States.
"The media wants to make this issue about Obama," the statement said. "The bigger issue is that Obama is waging a war against Christians in this country."
On Saturday, Trump reiterated the importance of religious liberty in a Twitter post:
And he expressed frustration at the firestorm over not correcting the audience member:
Other presidential candidates have attacked Trump for his silence at the campaign rally.
Vermont Sen. Bernie Sanders told CBS News that it was "a disgrace" and "an outrage" to question whether the president was an American and a Christian. Hillary Clinton added on Twitter that it was "disturbing" and "just plain wrong."
Republicans are also slamming Trump for his refusal to denounce the comments. South Carolina Sen. Lindsey Graham said on MSNBC Friday that Trump should "stand up to the guy" and say that he "made a mistake" in not doing so.
Jeb Bush also told a GOP conference in Michigan that Mr. Obama was most definitely "an American, he's a Christian."
And New Jersey Gov. Chris Christie said on NBC News that he personally would have corrected the audience member and told him Mr. Obama was not a Muslim and was, in fact, born in the United States.
"Those two things are self-evident," Christie said.
Thanks for reading CBS NEWS.
Create your free account or log in
for more features.