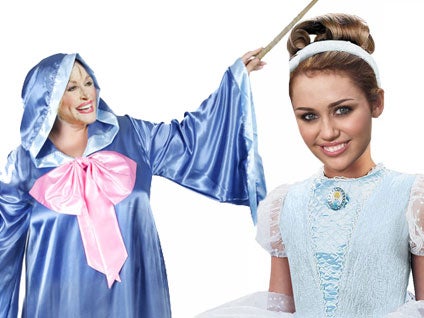 Dolly Parton: I'm Miley Cyrus' "Fairy Godmother"
NEW YORK (CBS/AP) If the superstardom Miley Cyrus has experienced by age 17 sounds like a fairy tale, maybe there's a good reason.
"I'm her fairy godmother," exclaimed Dolly Parton after they recently performed together at Dollywood in Pigeon Forge, Tenn.
Pictures: Dolly Parton
Pictures: Miley Cyrus
Parton has known Miley since she was a baby. Her dad, Billy Ray Cyrus, met Parton in the early 1990s when he shot to fame with "Achy Breaky Heart." He credits Parton for inspiring his own acting career and is thankful that she has been a role model for his daughter.
"It's great that she has someone like Dolly to idolize, someone to look up to," Billy Ray told The Associated Press in a recent phone interview. "Having that type of influence in her life, it's so amazing and so special."
In late May, Miley, Billy Ray and Kenny Rogers joined Parton in Pigeon Forge to shoot the hour-long TV special "Dolly Parton Celebrates 25 Years of Dollywood," which airs Saturday on the Hallmark Channel.
Parton said she considers Miley to be like one of her nieces or a little sister.
"I'm just real proud of her. She does not need my advice, but she's often asking for information and advice, and I tell her what I know, but I think the girl's doing all right without me," said Parton.
Miley's latest album album, "Can't Be Tamed," was released on June 18.
Thanks for reading CBS NEWS.
Create your free account or log in
for more features.