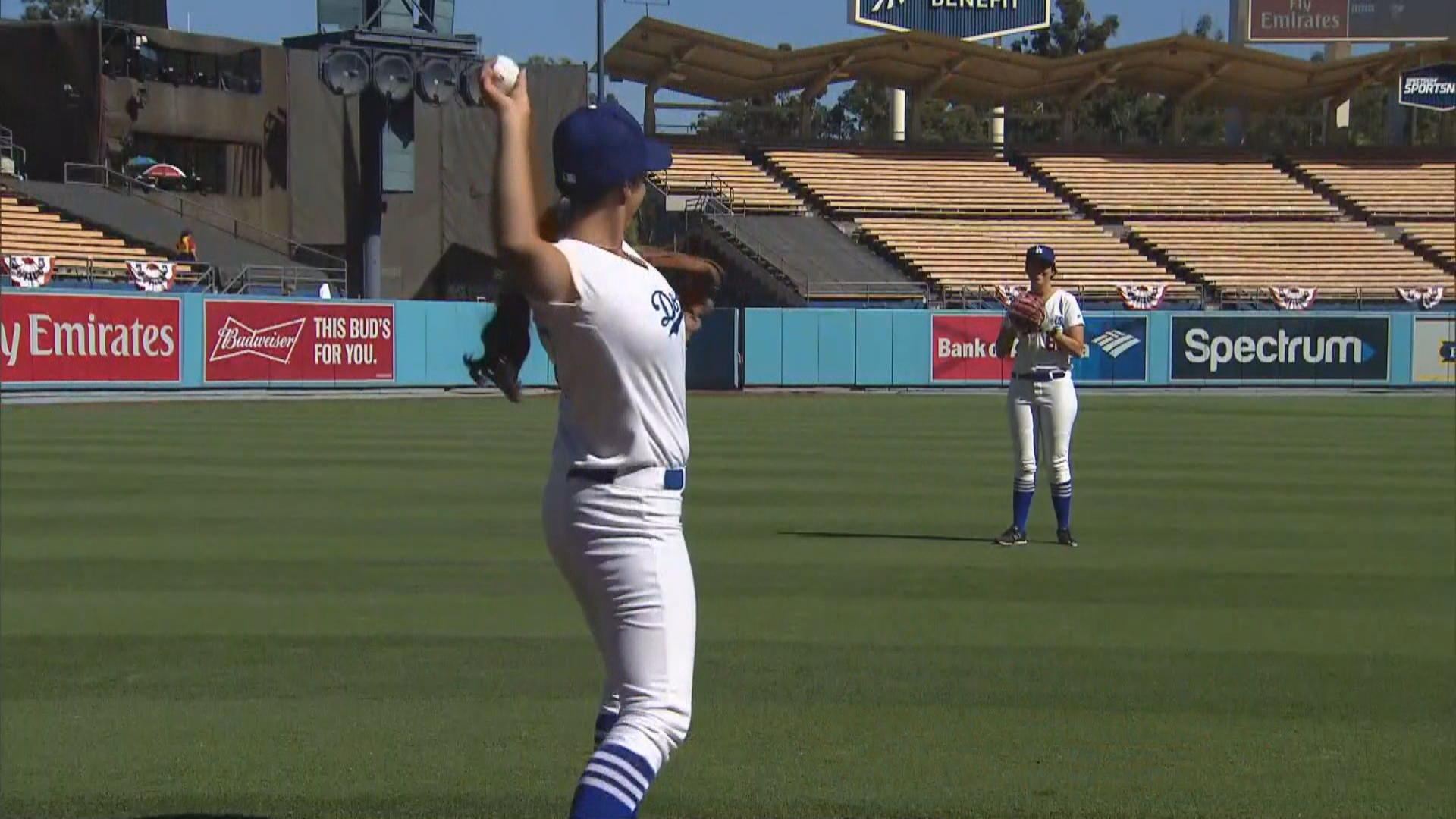 Dodgers ball girls who survived Las Vegas shooting recount harrowing escape
The Los Angeles Dodgers' first World Series in 29 years is special for all their fans, but it means something more for two of the team's ball girls who survived this month's concert shooting in Las Vegas where 58 people died.
Amy Moore and Christina Zambrana say they're are proud to throw like girls, reports CBS News correspondent Jamie Yuccas.
"I think they're always surprised when they see us throw for the first time. 'Cause they think, 'Oh, it's a girl. Probably not gonna be able to throw far. Probably not gonna be able to throw hard.' And then we throw, and they're just like, 'whoa!'" Zambrana said.
The Dodgers they help warm up before a game, have become fans. Third baseman Justin Turner is the co-MVP of the National League Championship series.
"I've watched them play catch, they don't throw like girls. They have good arms and our guys don't take it easy on them either," Turner said.
There aren't many with bucket seats for the World Series. Sitting down the lines, it's their job to protect fans from hard-hit foul balls.
"They catch those foul balls, save the fan's lives like it's nothing. So those girls deserve a lot of credit," said Dodgers player Enrique Hernandez.
But earlier this month, there was no one to protect them, when gunfire erupted at the Route 91 Harvest Festival in Las Vegas, where they were in the middle of 22,000 concert-goers.
"The noise and how loud it was, we thought it was on the ground. I looked over and there's people falling from getting shot and getting trampled running toward us," Amy Moore said.
Moore and Zambrana hid under a table before lessons from Moore's family kicked in. Her dad is a retired Los Angeles police officer. Her brother Kevin is currently on the force and was also at the concert.
"And I just remembered what my dad and brother always told me, if anything like this were to happen, you can't just sit. You have to get up and run, because you're a sitting duck," Moore said.
Gripped by fear, they ran, crashing through a barricade and scaling a six-foot wall. In the commotion, Moore lost a sandal and tore up her foot running on rocks.

"She looked at me and said, 'I can't run anymore.' And I said, 'Here, jump on my back.' And away we went," Zambrana said.
Eventually they found Kevin, and helped him tend to victims. Zambrana took off her belt to use as a tourniquet. When the Dodgers learned the two survived, many reached out, including outfielder Yasiel Puig.

"He texted us, to say like, 'Hey, I hear you were there, are you okay? I'm so glad you made it out,'" Zambrana said.
They're still dealing with the emotional scars.
"It's still so hard to look back on and believe that we made it out," Zambrana said.

"Survivor's guilt is definitely something that's hard to deal with. Like, why did the person next to me lose their life and not me?" Moore said.
The boys of summer brought them together, but in the aftermath of a national tragedy, they became sisters within the Dodgers family.
"Just the outpouring of support and love from Dodger fans, from Dodger employees, was incredible," Zambrana said. Added Moore, "We're so fortunate and blessed to be a part of this organization."
Thanks for reading CBS NEWS.
Create your free account or log in
for more features.