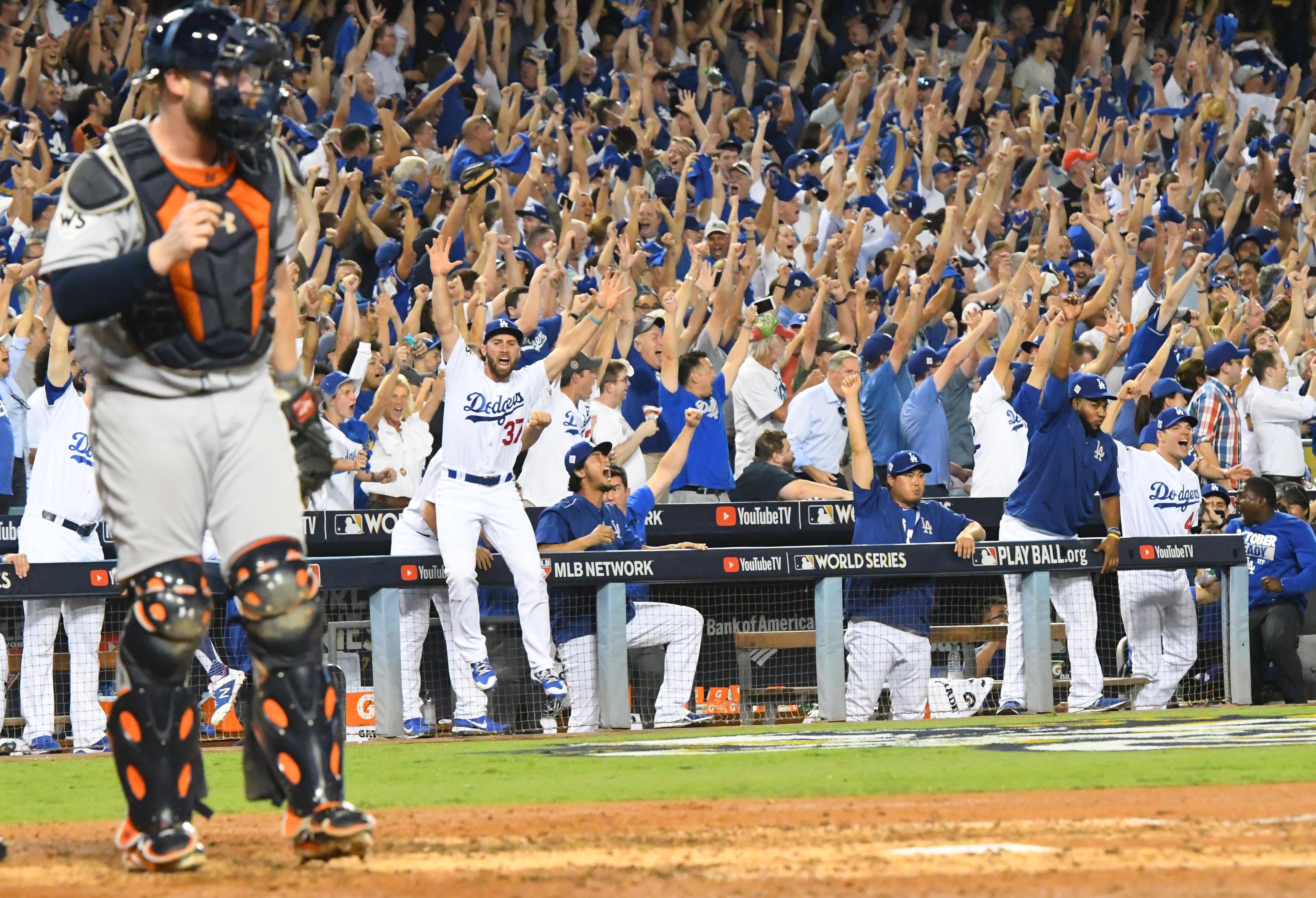 Dodgers win Game 1 of World Series in pitchers' duel
LOS ANGELES -- No sweat, Clayton Kershaw.
Changing jerseys to beat the 103-degree heat, the Dodgers ace with a checkered playoff history delivered a signature performance as the Los Angeles Dodgers took a 1-0 lead in the 2017 World Series with a crisp 3-1 win over the Houston Astros in Game 1 on Tuesday night. Clayton Kershaw and Dallas Keuchel both worked at a lightning quick pace and were locked in a pitchers' duel into the late innings.
Boosted by Justin Turner's tiebreaking, two-run homer in the sixth inning off Dallas Keuchel, Kershaw was in complete control against the highest-scoring team in the majors this season.
"I felt good. It's a tough lineup over there," Kershaw said. "The way Keuchel was throwing it was up and down a lot, which was good. It got us into a rhythm a little bit. I think for me personally, it helped out a lot."
The left-hander had waited his whole career for this moment. And once he took the mound in his Series debut, he lived up every bit to the legacy of Sandy Koufax, Orel Hershiser and the greatest of Dodgers hurlers.
The three-time Cy Young Award winner struck out 11, gave up just three hits and walked none over seven innings, featuring a sharp breaking ball that often left Houston batters looking foolish. His lone blemish was a home run by Alex Bregman in the fourth that made it 1-all.
Brandon Morrow worked a perfect eighth and Kenley Jansen breezed through the Astros in the ninth for a save in a combined three-hitter. The Dodgers' dominant relievers have thrown 25 straight scoreless innings this postseason. All four runs in Game 1 scored on home runs, CBS Sports reports.
With both aces throwing well, the opener zipped by in 2 hours, 28 minutes - fastest in the World Series since Game 4 in 1992 between Toronto and Atlanta. Jimmy Key and the Blue Jays won that one 2-1 in 2:21.
And it certainly was unusual for this postseason, with games averaging 3 hours, 32 minutes - up 18 minutes from two years ago.
A pulsating crowd that came to see the Dodgers' first Series game since 1988 enjoyed an immediate jolt when Chris Taylor hit a no-doubt home run on Keuchel's very first pitch. Taylor was the co-MVP of the NL Championship Series with Turner, and they both kept swinging away against the Astros.
The loss left the Astros still without a single World Series win in their 56-season history. In their only other Series appearance, they were swept by the White Sox in 2005.
Game 2 is Wednesday night, with AL Championship Series MVP Justin Verlander starting against Dodgers lefty Rich Hill.
Kershaw has almost every imaginable individual accolade on his resume - five ERA titles, an MVP trophy, a no-hitter and seven All-Star selections - but also was dogged by a shaky October past.
He began this outing in the twilight with a 6-7 career playoff record and an unsightly 4.40 ERA. He improved to 3-0 in four starts this postseason.
A Series opener that served as a showcase for several of the game's best young hitters - Jose Altuve, Carlos Correa, Cody Bellinger and more - instead was dominated by Kershaw.
Facing a team that had the fewest strikeouts in the majors this year, Kershaw fanned more Houston hitters than any starter this season.
The Dodgers, who led the majors with 104 wins and a $240 million payroll, watched Kershaw put them ahead in this best-of-seven series.
It was 1-all when Taylor drew a two-out walk in the sixth. Turner followed with his drive off the bearded Keuchel.
While it was sweltering, the conditions didn't seem to affect either side.
There is no reliable record for the hottest temperature at a World Series game. But weather data indicates this might've been the steamiest ever.
Notorious for late arrivals, Dodger fans showed up early and the seats in the shaded sections filled up fast. Keeping with the theme, the stadium organist played 1960s hits "Heat Wave" and "Summer in the City" as Houston warmed up.
When Vin Scully's familiar recorded call of "It's Time for Dodger Baseball" boomed over the PA system, the crowd really let loose, with the entire ballpark standing and chanting for the pregame introductions.
Scully drew a huge ovation when he was later shown on the video board, sitting in a box. Several players clapped along for the Hall of Fame broadcaster, who's nearly 90 and spent 67 seasons calling Dodgers games.
Dustin Hoffman, Jerry Seinfeld and Lady Gaga were among the many celebs in the sellout crowd of 54,253, along Dodgers great Tom Lasorda and part-owner Magic Johnson.
In every way, it sure was different than the last time Houston visited Dodger Stadium. That was 2012, when the Astros were in the NL Central, were stuck in the middle of three straight 100-loss seasons and Correa was a high schooler.
For a long time, these teams were familiar rivals, playing more than 700 times before the Astros switched to the American League. They also share a significant date - Dodger Stadium opened on April 10, 1962, when LA lost to Cincinnati. The very same day, Houston played its first game when the expansion Colt .45s beat the Cubs.

According to WhoWins.com, teams that win Game 1 of the World Series have gone on to win the series 63.9 percent of the time, CBS Sports reports. Teams that win Game 1 at home, like the Dodgers, have gone on to win the series 66.7 percent of the time. That doesn't mean the World Series is in the bag for Los Angeles, of course. It just shows how much of an advantage winnings Game 1 has been, historically. The Dodgers started the 2017 World Series off on the right foot.
Thanks for reading CBS NEWS.
Create your free account or log in
for more features.