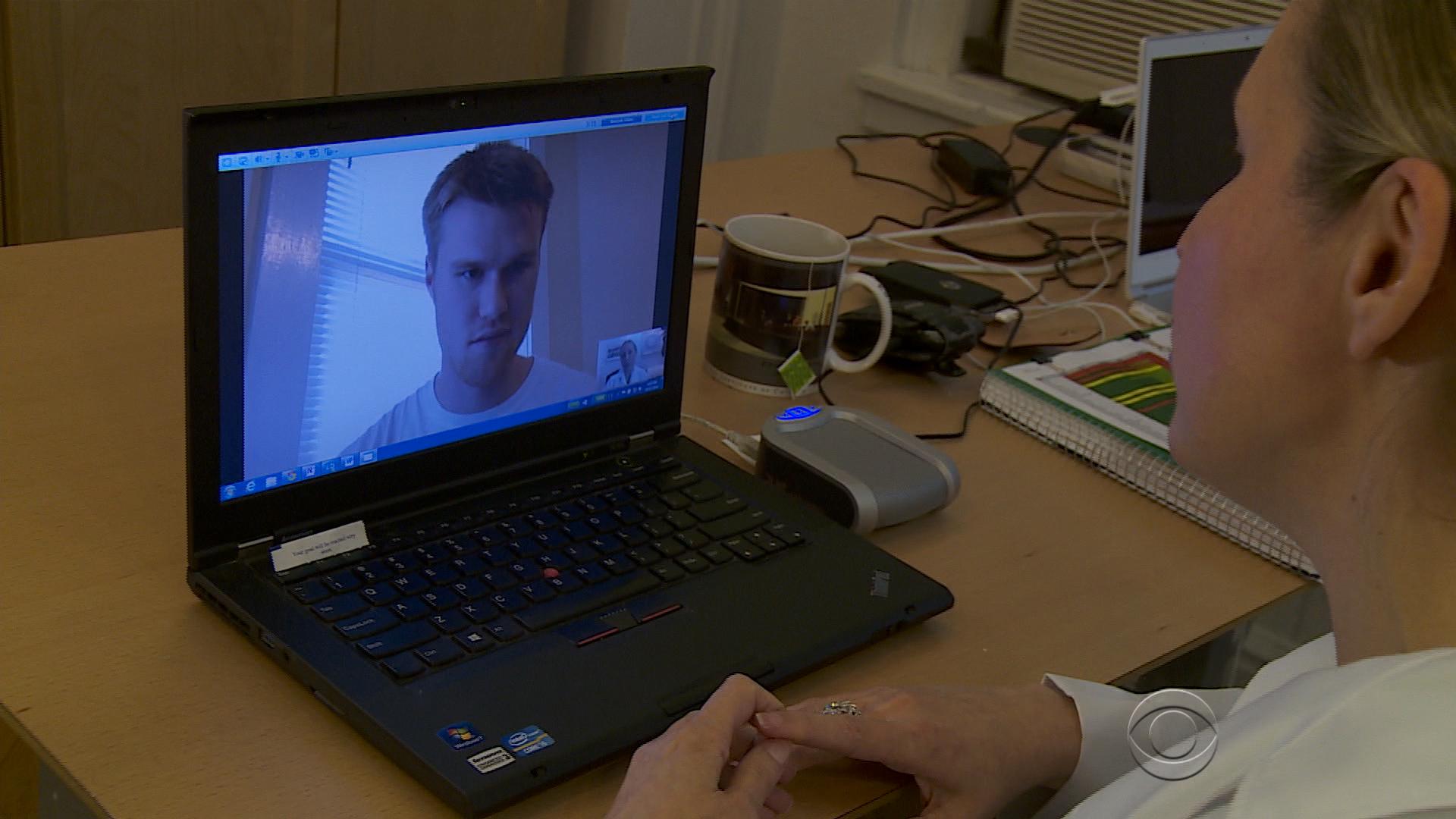 Doctors begin to practice "web-side" manner
With waits at doctors' offices increasing, online visits are becoming the new house calls. Google is testing such a service. Other companies already offer it. Taking medicine from "the doctor is in" to "the doctor is online."
It's 5 p.m. when Dr. Lauralee Yalden puts on her doctor's coat and logs on.
"Hi there, Hi Nicholas, what can I do to help you out today?" she greets her patient. Her apartment is now a doctor's office and she's ready to make a house call, conferring on what is bothering the patient.
Dr. Yalden is part of a growing number of physicians offering online consultations. With cameras and connectivity, patients can log on and ask for a doctor anytime, 24/7.
"We're able to see tonsils and skin rashes and conjunctivitis," she explained. "I don't think that would make much of a difference online rather than being in person."
CBS News reporter Vladimir Dutheirs showed his wrist to Dr. Peter Antall over a web camera, asking about a lump on it. "Can you see that, doctor?"
"The ganglion," he observed. "Ganglion cysts, or tendon cysts are very common. The first thing you think is 'Oh my God, it's cancer."
That doctor works for a company called AmWell, which has grown 1,000 percent in two years.
CEO Roy Shoenberg said easy access is key.
"People who don't have insurance, people that live far from healthcare, people who have challenges with leaving their home whether they don't have a babysitter or whether they're elderly and have chronic condition," he said. "We see the entire spectrum of peopel using tele-health."
Schoenberg said thousands of doctors have agreed to be part of AmWell.
Right now, 22 percent of employees offer video consults through health plans. About 71 percent say they will offer it by 2017. Any serious medical conditions are flagged immediately for in-person care.
Another company, Teladoc, offered only through employee benefit plans, covers 8 million people.
Not all physicians are signing on. Dr. William Gluckman wants his patients in front of him.
"I'm not buying it at this point," he said. "If you have a stomach ache I want to be able to feel your abdomen, if you have a runny nose I'd like to use my stethoscope to listen to your lungs."
Webdocs can't treat everything, but this "web-side" manner is starting to catch on.
Thanks for reading CBS NEWS.
Create your free account or log in
for more features.