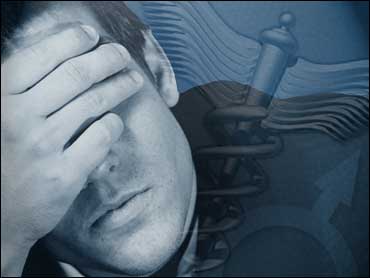 Docs: Many Men Have "Small-Penis Syndrome"
Eighty-five percent of women are pleased with their partner's penis proportions — yet many normal men suffer "small-penis syndrome," urologists report.
Small-penis syndrome is the anxiety of thinking one's penis is too small — even though it isn't. It's a totally different condition from having a truly tiny tinkler, a condition known by the cold, clinical name of micropenis.
Urologists Kevan R. Wylie of Royal Hallemshire Hospital and Ian Eardley of St. James Hospital in Leeds, England, review the literature on penis size in the June issue of the urology journal BJU International. They urge doctors not to laugh away these very real worries over an imaginary defect.
"It is very common for men to worry about the size of their penis," Wylie says in a news release. "It is important that these concerns aren't dismissed as this can heighten concerns and anxieties."
Wylie and Eardley note that studies of penis size are remarkably consistent. The average erect penis is about 5.5 to 6.2 inches long and 4.7 to 5.1 inches in circumference at midshaft.
A truly diminutive dangler — a micropenis — is less than 2.75 inches long when erect, Wylie and Eardley calculate.
Few men suffer this condition. Yet 45 percent of men want a bigger penis, the researchers find. No wonder the Internet is rife with offers of "miraculous" penis-lengthening schemes.
There is slight evidence that some of them, such as the Phallosan extender system and the Penistretcher device, may result in slightly lengthening the
stretched length of a flaccid penis. But Wylie and Eardley note that there is far too little peer-reviewed research to know whether these devices — or
others like them — offer any real benefit.
Similarly, the researchers note that plastic surgeons have been touting
their ability to make a man's flaccid or erect penis larger. Again, they note, these techniques are unproven except for cases of true deformity. And they warn that serious complications may ensue.
Wylie and Eardley recommend that urologists take men's concerns seriously.
If education and counseling doesn't do the trick, they advise psychotherapy for men whose obsession over penis size is interfering with their lives.
By Daniel DeNoon
Reviewed by Louise Chang
© 2007 WebMD, Inc. All rights reserved
Thanks for reading CBS NEWS.
Create your free account or log in
for more features.