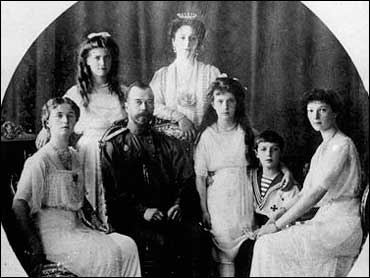 DNA Confirms Remains Of Czar's Children
DNA tests performed by a U.S. laboratory have proved that bone fragments exhumed in the Ural Mountains belong to two children of Russia's last czar, Russian news agencies reported Wednesday.
Eduard Rossel, governor of the Sverdlovsk region, told a news conference that the fragments, dug up last year near the city Yekaterinburg, were indeed those of Crown Prince Alexei and his sister, Maria.
"The main genetic laboratory in the United States has concluded its work with a full confirmation," Rossel was quoted by RIA-Novosti and Interfax as saying. "We have now found the entire family."
Researchers dug up the bone shards near the place where Bolsheviks executed Czar Nicholas II, his family and several servants in 1918.
After genetic tests convinced forensics experts of their authenticity, they were buried in 1998 in a cathedral in the imperial capital of St. Petersburg. The Russian Orthodox Church canonized Nicholas and his family in 2000, though expressed persistent doubts that the remains were indeed those of the czar's family.
The remains of Alexei and Maria, however, had never been located, leading to decades of speculation that perhaps one or both had survived.
Neither Interfax nor RIA-Novosti indicated which laboratory Rossel was referring to, but a genetic research team working at the University of Massachusetts Medical School had been involved in the process.
Thanks for reading CBS NEWS.
Create your free account or log in
for more features.