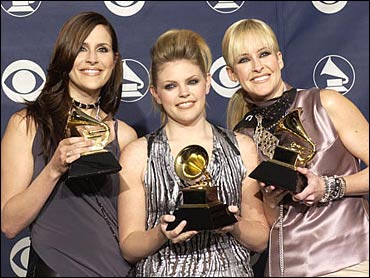 Dixie Chicks Slammed For Bush Gibe
The Dixie Chicks are drawing criticism from country music fans for remarks singer Natalie Maines made about President George W. Bush during a recent performance in London.
Maines told the audience earlier this week, "Just so you know, we're ashamed the president of the United States is from Texas."
Angry phone calls flooded Nashville radio station WKDF-FM on Thursday, some demanding a boycott of the Texas trio's music.
The group released a statement saying they've been overseas for several weeks and "the anti-American sentiment that has unfolded here is astounding. While we support our troops, there is nothing more frightening than the notion of going to war with Iraq and the prospect of all the innocent lives that will be lost."
In a separate statement Thursday, Maines said, "I feel the president is ignoring the opinion of many in the U.S. and alienating the rest of the world. My comments were made in frustration, and one of the privileges of being an American is you are free to voice your own point of view."
The Dixie Chicks will kick off a U.S. tour in support of their multiplatinum album "Home" on May 1 in Greenville, South Carolina. The group's hits include "Wide Open Spaces," "Ready to Run" and "Landslide."

Thanks for reading CBS NEWS.
Create your free account or log in
for more features.