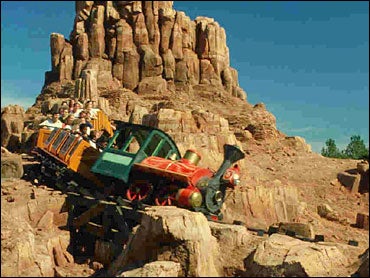 Disneyland Slammed For Ride Death
A roller coaster accident at Disneyland that killed a rider was the result of improper maintenance and operators who weren't told to take action if a ride starts making an unusual noise, state investigators said Wednesday.
The report, issued by the California Division of Occupational Safety and Health, said outside machinists did not understand or follow the park's maintenance procedures and operators were not given the right guidelines.
Marcelo Torres, 22, of Gardena was killed Sept. 5 as he rode the Big Thunder Mountain Railroad coaster. Authorities said the lead car, which looks like a locomotive but has no engine, lost the assembly that carries the rear wheels, causing the car to strike a tunnel roof. The first passenger car then ran under the airborne "locomotive," killing Torres.
On Tuesday, Disney officials said the accident was caused by poor maintenance.
"Our own analysis found that the accident was caused by incorrectly performed maintenance tasks required by Disneyland policy and procedures that resulted in a mechanical failure," said Leslie Goodman, senior vice president of strategic communications for Walt Disney Parks and Resorts.
The ride remains closed. It is unclear when it will reopen.
The report by the state occupational safety agency concluded that the ride is safe. It recommended that outside machinists be retrained and that Disney write new, clear guidelines instructing ride operators to take action if an unusual noise is heard.
The roller coaster takes visitors on a twisting, turning ride aboard what is supposed to be a runaway train in the Old West. Riders zoom through mineshafts and caverns and past tumbling waterfalls.
According to the report, the ride opened on Sept. 5 with two "trains" in operation.
Less than an hour before the accident a third train was added to the ride. The train had not been in use since it underwent routine maintenance three days earlier. The report found that workers had erroneously failed to tighten two screws properly.
It completed 12 trips around without any problem, but several ride operators said they noticed an unusual noise. A wheel assembly that keeps the lead car on the track had fallen off, probably as the car finished its 12th run, the report said.
The accident happened about one-third of the way through the 13th ride when an axle assembly shifted and a connecting rod broke as the train entered an uphill grade, the report found. The operators had planned to take off line for inspection after the 13th ride, but never got the chance, the report said.
Torres suffered "blunt force trauma" to the chest that fractured his ribs, leading to laceration of his lungs that caused "severe blood loss," according to a coroner's report. Ten other people were injured.
Attorney Wylie Aitken, who represents Torres' family, did not immediately return a call seeking comment on the report.
Thanks for reading CBS NEWS.
Create your free account or log in
for more features.