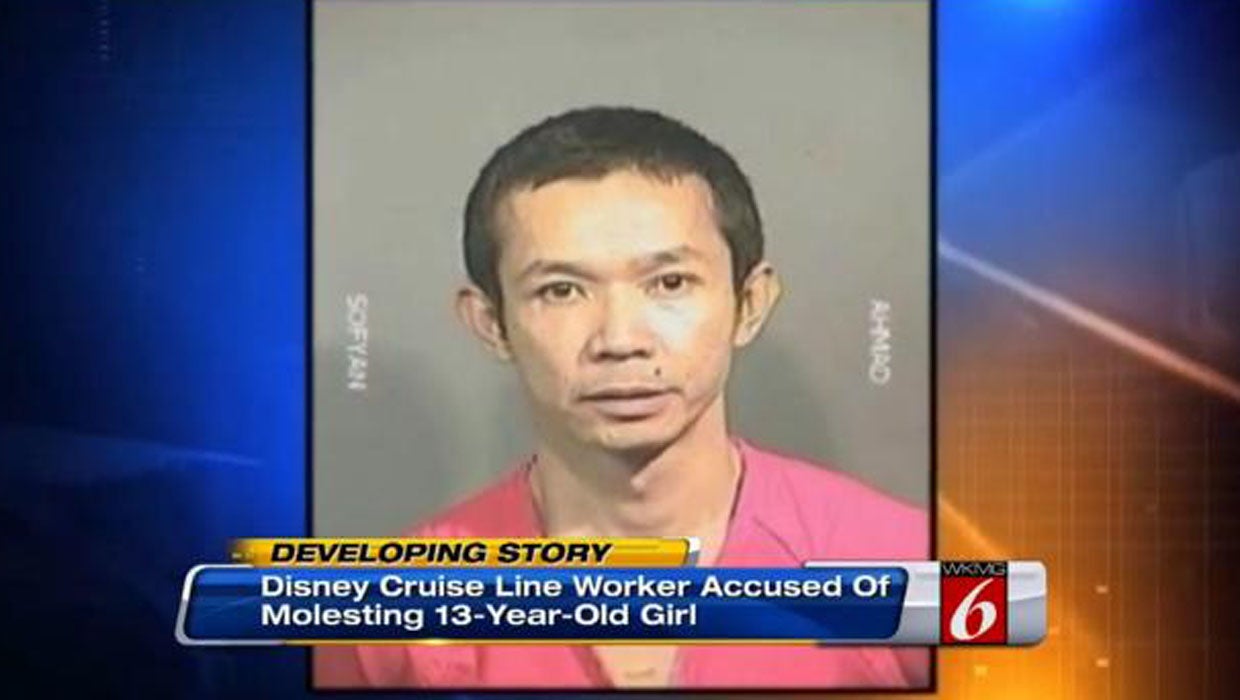 Disney Cruise Line worker accused of molesting passenger, 13
PORT CANAVERAL, Fla. - A Disney Cruise Line employee was arrested on Thursday after Canaveral Port Authority officials say he was accused of molesting a 13-year-old passenger.

According to CBS affiliate WKMG, Disney Cruise Line steward Ahmed Sofyan, 36, of Jakarta, Indonesia, was charged with two counts of lewd or lascivious molestation and one count of false imprisonment, officials said.

Canaveral Port Authority police say they were called to Charles M. Rowland Drive by Disney Cruise Lines just after 8 a.m. Thursday in reference to a molestation that occurred aboard the Disney Dream ship while it was docked in Port Canaveral.

Police said the victim was a 13-year-old girl that did not know Sofyan. Sofyan allegedly lured her into an unoccupied cabin and touched her inappropriately against her will, according to the report. Sofyan allegedly refused to let the girl go when she tried to leave several times, and only released his hold when the victim told him her parents would be looking for her and that they would find out about it, police said.

Sofyan admitted to police that his behavior was wrong and that he was aware that the victim was just 13, according to the report. The investigation led to Sofyan being arrested and transported to the Brevard County Sheriff's Office Jail.

"We have no tolerance whatsoever for the behavior alleged in this incident," said Karl Holz, President of Disney Cruise Line, in a release obtained by WKMG. "We are sorry that anything of this nature could have occurred on one of our ships. We place enormous value on the trust our guests have in us, and nothing is more important to us than the safety and security of each and every one of our guests."

When Disney Cruise Line officials found out about the alleged incident, they said they immediately alerted Port Canaveral police, as well as the FBI and U.S. Coast Guard.

Disney Cruise Line has reportedly terminated Sofyan as an employee.

Thanks for reading CBS NEWS.
Create your free account or log in
for more features.