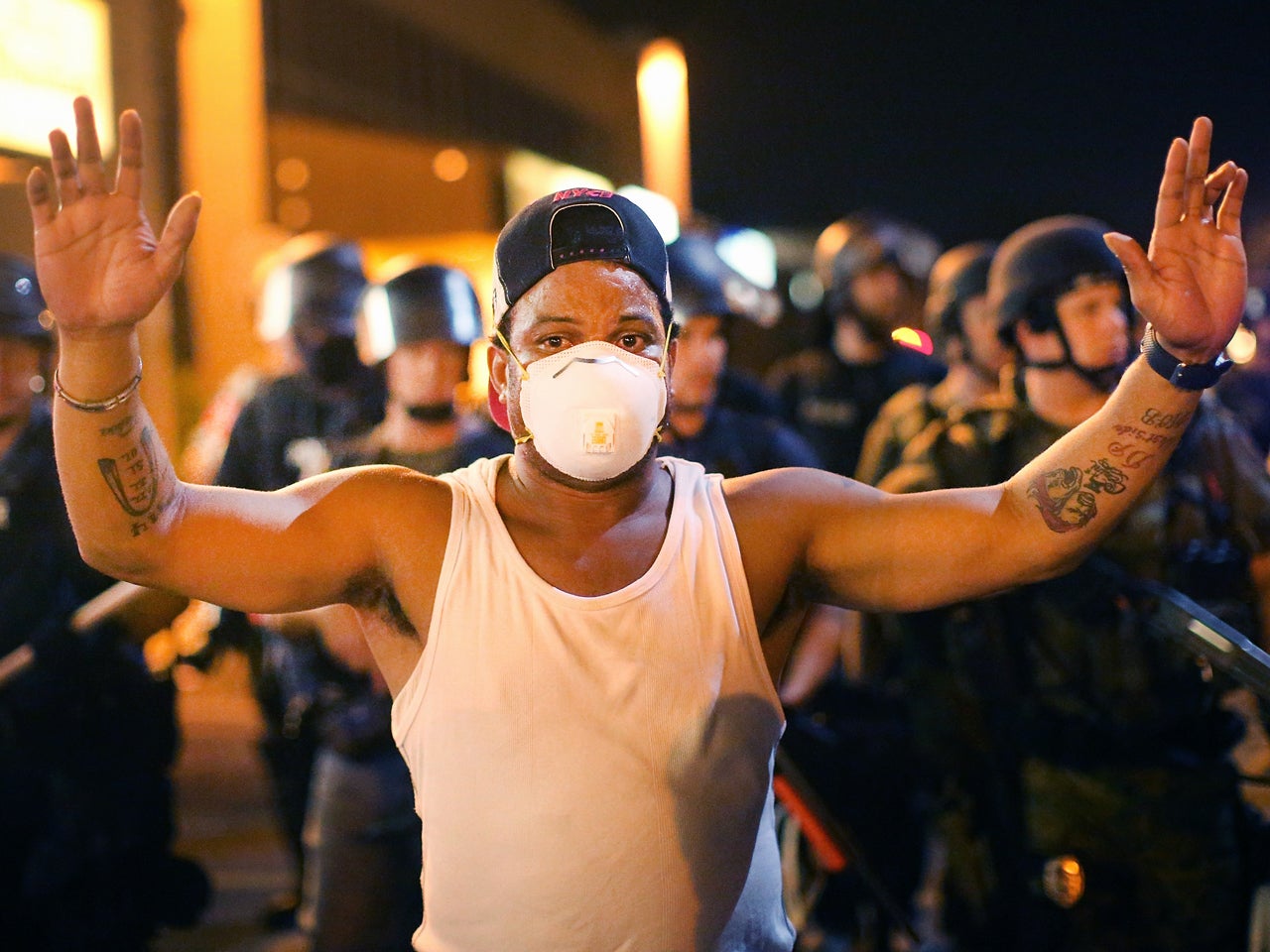 Did the protesters and police in Ferguson go too far?
By Sarah Dutton, Jennifer De Pinto, Anthony Salvanto and Fred Backus
The shooting of Michael Brown - an unarmed 18-year-old African-American man who was shot to death by a police officer in Ferguson, Missouri - has unleashed a wave of protests in Ferguson that have turned violent at times, as well as a forceful response by local police. Fifty-nine percent of Americans - including 67 percent of whites but just 43 percent of blacks - think the protesters' actions have gone too far, according to a new CBS News/New York Times poll.
Fewer Americans are critical of the police response in Ferguson: 32 percent think the Ferguson police went too far in their response to the protests. But there are stark racial divisions on this measure. Half of blacks think the police went too far, while just 27 percent of whites agree. Instead, more whites (36 percent) think the police response was about right.
Overall, nearly two in three Americans don't know enough to say whether the incident that sparked the unrest - the shooting of Michael Brown - was warranted. Whites and blacks differ on this question as well: 57 percent of African-Americans think it was not justified, while more than two-thirds of whites (68 percent) feel they don't know enough to say.
Just over half of Americans have a lot or some confidence that the investigation into the shooting by local authorities will be conducted fairly. Again, there are racial differences: 62 percent of whites have at least some confidence in a fair investigation, compared to just 35 percent of blacks. Fifty-nine percent of African-Americans have not much or no confidence it will be fair.
Early Monday, Gov. Jay Nixon, D-Missouri, announced he was bringing in the National Guard to assist local and state law enforcement officers. Views are mixed on the impact the National Guard is having in Ferguson. Twenty-six percent of Americans think the National Guard is making the situation better, while 20 percent think it is making it worse. Thirty-five percent think the National Guard is not having much of an effect.
Americans are following events in Ferguson: 54 percent say they have heard or read a lot about what is going on there, and another 27 percent have heard or read some.
Police and Race
African-Americans and whites differ markedly on how race factors into the use of deadly force by the police. Seventy-one percent of African-Americans think the police in most communities are more likely to use deadly force against a black person than a white person, while a majority of whites - 58 percent - think race does not have any bearing on the matter.
And while 49 percent of whites view the police more as friends, just 23 percent of African-Americans view them that way.
Forty-two percent of Americans view the police more as friends, than enemies, but that figure has dipped from 50 percent over a decade ago. And while 49 percent of whites view the police more as friends, just 23 percent of African-Americans view them that way.
African-Americans are much more likely than whites to say they have been subject to police discrimination. Forty-five percent of blacks - and 58 percent of black men - say they have personally been discriminated against by the police because of their race, compared to just 7 percent of whites.
In general, 46 percent of Americans think the racial makeup of a community's police department should be similar to the racial makeup of that community as a whole, while 50 percent don't think that is necessary. Most blacks - 56 percent - think this should be the case.
The Ferguson police have responded to the protests in military-style vehicles and gear. In general, many Americans disapprove of local police forces having military weapons and vehicles such as assault weapons and tanks. Sixty-eight percent think this type of equipment should be reserved only for the military and the National Guard, while 26 percent think local police forces should have it.
Most whites (65 percent), and even more blacks (80 percent), do not think local police forces should have military weapons and equipment. Majorities of Republicans, Democrats, and independents agree, though Republicans (40 percent) are far more accepting of local police forces having military weapons and equipment than Democrats (14 percent) or independents (26 percent).
Race Relations in the U.S.
As the conflict in Ferguson attracts national attention, overall perceptions of race relations in the U.S. have become more negative. Now, just 47 percent say race relations are good, down from 55 percent as recently as May. The drop has come mostly from whites, who were more optimistic than blacks in May, but are no longer.
On a more positive note, Americans - both black and white - rate race relations in their own neighborhood much more positively than they rate it in the country as a whole. Seventy-eight percent say race relations in their community are good, including 82 percent of whites and 73 percent of blacks.
Most Americans do not trace a change in race relations in the U.S. to President Obama's tenure in office, though more whites (40 percent) than blacks (21 percent) think race relations have gotten worse since Barack Obama has been President.
Political Leaders' Response
Americans are divided as to whether or not they are satisfied with the way Missouri Governor Jay Nixon is handling the situation in Ferguson, though nearly half of African-Americans say they are not satisfied (49 percent). In contrast, most blacks - 60 percent - express satisfaction with how President Barack Obama is handling the situation, while whites are divided.
Discussing Race
There is a perception that race is difficult for Americans to discuss across racial lines. Most Americans - both black and white - say they themselves are comfortable having a conversation about race with someone of another race. But when asked about the comfort level of
Americans generally, far fewer think most people are comfortable talking with someone of another race about race.
______________________________________________________________________
This poll was conducted by telephone August 19-20, 2014 among 1,025 adults nationwide. Data collection was conducted on behalf of CBS News and the New York Times by SSRS of Media, PA. Phone numbers were dialed from samples of both standard land-line and cell phones.
Additional interviews were conducted with African Americans, who had previously completed a survey as part of a random sample, to yield a sample size of 294 African Americans. 599 whites were interviewed.
The combined African American and non-African American samples were weighted separately to match their group's population characteristics such as gender, age, education, region, marital status and phone use based on recent U.S. Census estimates. The samples were then combined and weighted to the total U.S. adult population.
The error due to sampling for results based on the entire sample could be plus or minus four percentage points. The error for subgroups may be higher. The margin of error for the sample of whites is 5 pts and 8 pts for African Americans. Interviews were conducted in English and Spanish. This poll release conforms to the Standards of Disclosure of the National Council on Public Polls.
Thanks for reading CBS NEWS.
Create your free account or log in
for more features.