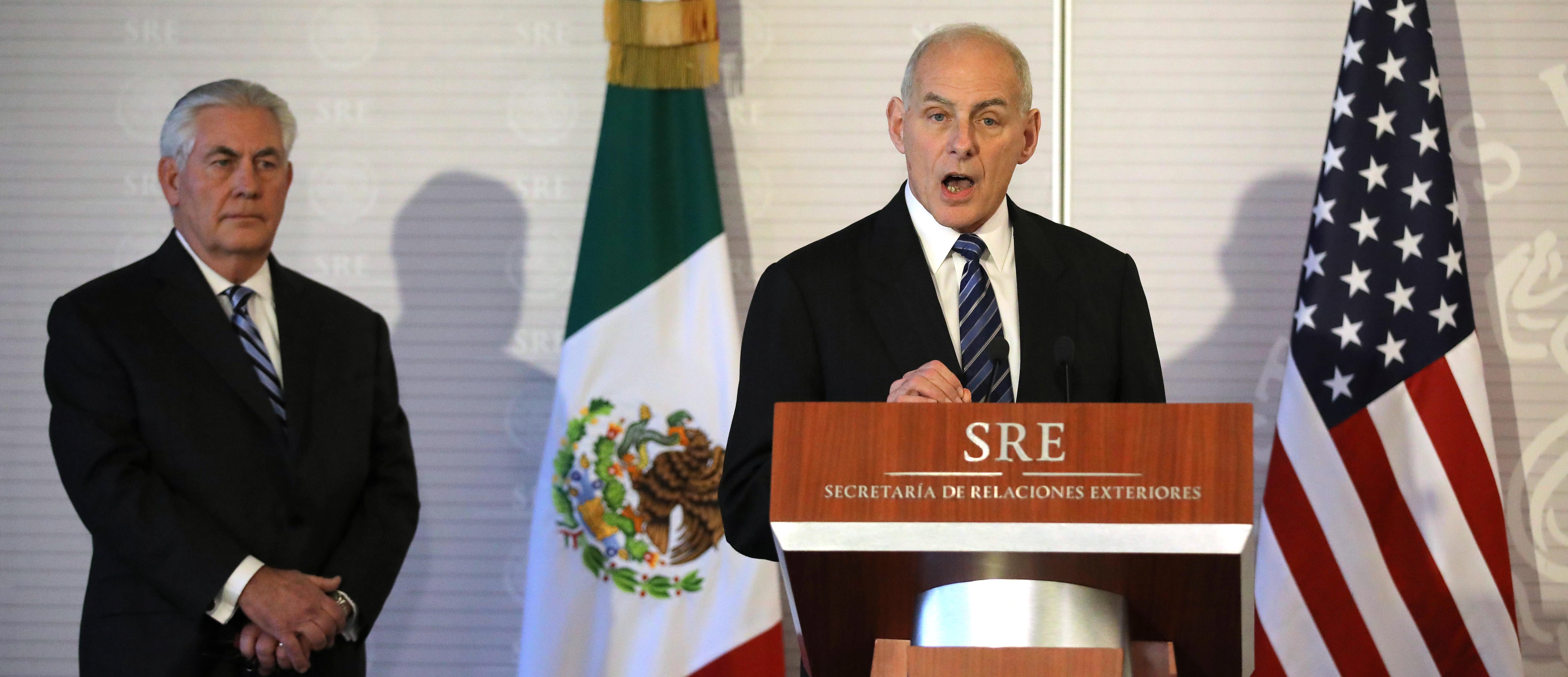 DHS secretary says "no use of military forces in immigration"
In Mexico City, Homeland Security Secretary John Kelly promised there will not be any mass deportations of illegal immigrants. Kelly also said that there will not be any military force used in immigration enforcement.
"There will be no use of military forces in immigration," Kelly declared in a statement at the Mexican Foreign Ministry. "There will be no -- repeat -- no, mass deportations."
The statement contradicts what President Trump had said hours before when he referenced Kelly's and Secretary of State Tillerson's trip to Mexico.
"We're getting really bad dudes out of this country. And at a rate that nobody's ever seen before. And they're the bad ones. And it's a military operation," said Mr. Trump in a meeting with manufacturing CEOs at the White House.
Tillerson and Kelly spent the morning meeting with their Mexican counterparts. The Mexicans called for collaboration on all levels with the U.S. Both cabinet secretaries echoed the need for coordination on all levels, including along the border.
Tillerson described the U.S.-Mexico relationship as one of "vibrant colors" between sovereign countries that will "from time to time will have differences." "We listened closely and carefully to each other as we respectfully and patiently raised our respective concerns," Tillerson explained.
The secretary of State made no mention of payment for the wall that Trump plans to build along the southern border, but he did highlight a joint U.S.-Mexico commitment to law and order along the border. He also claimed some responsibility for the U.S. in acknowledging the need to curtail drug trafficking and the illegal movement of firearms and cash from the U.S. to Mexico.
The Mexican foreign minister's comments were a little more pointed. In what Videgaray called the "public and notorious differences" between the U.S. and Mexico, he dwelled on the need for agreements that serve both countries. He heralded these meetings for creating necessary dialogue after what he characterized as irritating U.S. policies that may be harmful to Mexico.
He also noted the importance of having the U.S. secretary of State as a part of the discussions. Earlier in the month when he visited Washington, Videgaray spent about nine hours in the White House for meetings and much less time with Tillerson. This visit may usher in a new beginning with Tillerson taking the reins on U.S.-Mexico relations which, until this point, has been spearheaded by top White House aide and Trump son-in-law, Jared Kushner.
Videgaray is seen as the primary force working behind the scenes to get the U.S.-Mexico relationship on solid ground -- it has suffered in recent weeks over border and trade issues. He also faced pushback in his country for a CBS News report that he saw and revised the speech Trump was to deliver before signing the border wall executive order. He denied the report, calling it "fake news."
The minute Tillerson landed in Mexico, discussion with his Mexican counterparts about the border commenced. On Wednesday evening, he had dinner with Videgary and other Mexican ministers where they spoke about U.S.-Mexico relations going "both ways" on the border in order to have a working relationship, according to a U.S. administration official. They called it a constructive conversation "where people did more than listening than they have probably ever done." Tillerson has been doing a lot of listening -- he also said that he did a lot of listening during his trip to Bonn, Germany last week for the G-20 meetings.
But it was clear to one immigration expert that Mexico pressed the U.S. on the treatment of Mexicans in the U.S. facing deportation. "For Videgaray to say we need to see the facts has a lot of meaning. I can see there must have been direct conversations about the way DHS will respect the human rights of Mexicans subject to deportation," explains Gustavo Mohar, a Chief Negotiator for Migration Affairs when both governments started bilateral conversations on the border in the 2000s. Mohar added that what was missing from the conversation seemed to be how Mexicans in the U.S. will be given a chance to stay and become legal.
Though no tangible new agreements were announced Videgaray did say that there are plans for the U.S. and Mexico to meet with all countries in the central American region to discuss the joint responsibility and root causes of immigration.
Before departing, Kelly and Tillerson visited with Mexican President Pena Nieto. There had been reports from US Mexican officials that this meeting was on the rocks but nothing appeared amiss. The Mexican president has not yet met President Trump, having cancelled his trip to D.C. earlier this month over his disagreement with Mr. Trump over the construction of the southern border wall.
Thanks for reading CBS NEWS.
Create your free account or log in
for more features.