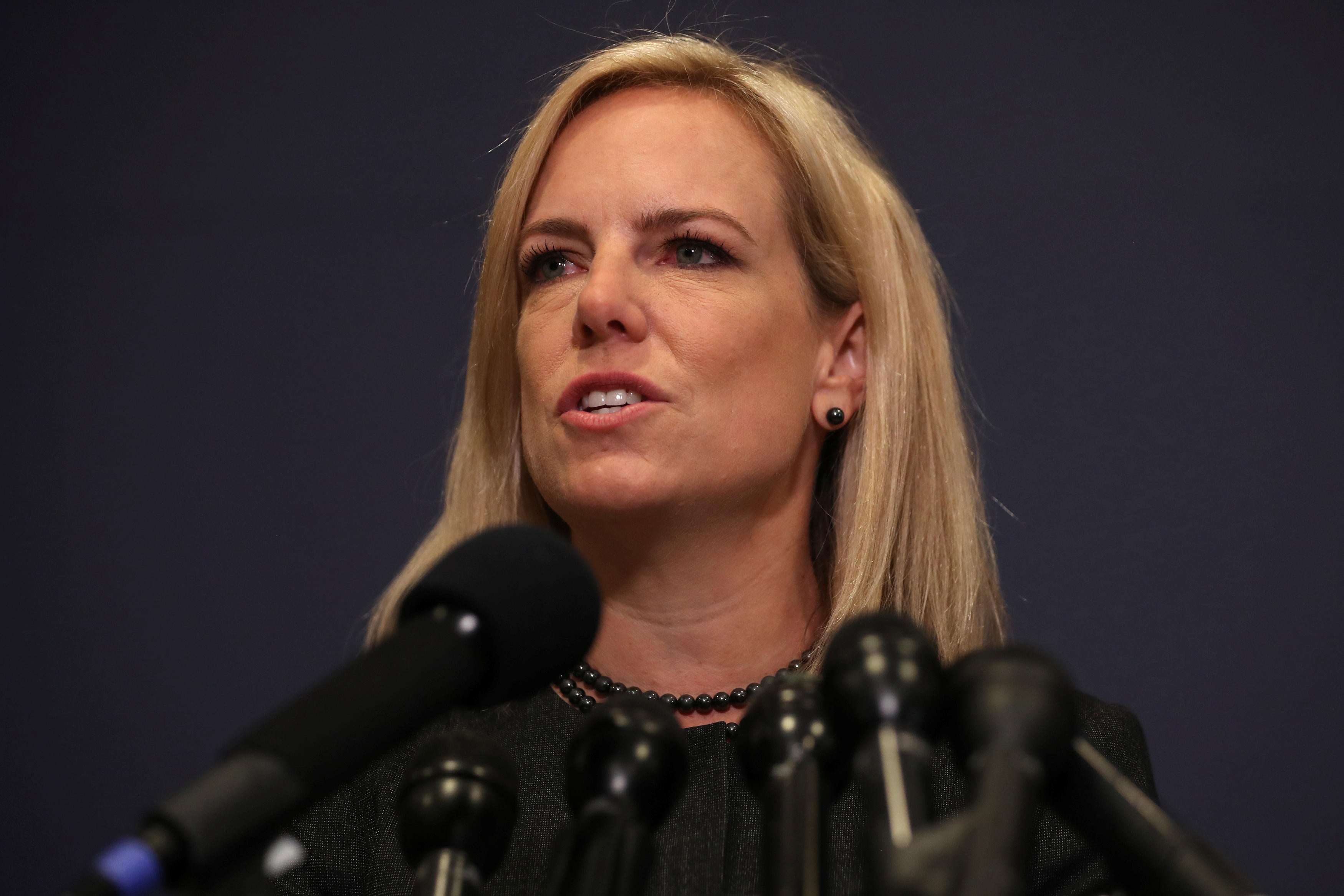 DHS Sec. Kirstjen Nielsen denies family separation policy exists, blames media
Homeland Security Secretary Kirstjen Nielsen is defending the Trump administration's "zero tolerance" policy of separating children from parents who have crossed the U.S.-Mexico border illegally, tweeting a series of messages on Sunday that disputed the existence of the policy.
"We do not have a policy of separating families at the border. Period," Nielsen tweeted. In another tweet, she blamed "misreporting" by the media, lawmakers and immigration advocacy groups for being "irresponsible and unproductive" in its reporting on the controversial issue.
"As I have said many times before, if you are seeking asylum for your family, there is no reason to break the law and illegally cross between ports of entry," Nielsen said in her tweet. She argued that the Trump administration is merely continuing a policy from "previous administrations" that mandates separating a child who is "in danger, there is no custodial relationship between 'family' members, or if the adult has broken the law."
But it is the Trump administration's increased prosecution of undocumented migrants under Attorney General Jeff Sessions' zero-tolerance policy that is driving up the number of families that are being separated at the border.
In April, Sessions announced that anyone found trying to cross the border illegally would be met with "the full prosecutorial powers of the Department of Justice," meaning that parents crossing with children would be detained and their children placed in U.S. custody. In May, he said, "We don't want to separate families, but we don't want families to come to the border illegally and attempt to enter into this country improperly," Sessions said. "The parents are subject to prosecution while children may not be. So, if we do our duty and prosecute those cases, then children inevitably for a period of time might be in different conditions."
The San Diego Tribune pointed out that even before Sessions announced the zero-tolerance policy, immigration prosecutions increased nearly 24 percent between February and March of this year, according to TRAC data.
Over a six-week period, from Apr. 19 to May 31 this year, DHS reports that nearly 2,000 children have been placed into shelters.
Nielsen joins the growing chorus of administration officials who have been put on the defensive over the policy amid political pressure to abandon it altogether and find a permanent fix to the country's immigration problems.
Kellyanne Conway, a counselor to the president, said on NBC's "Meet the Press"on Sunday that "nobody likes" breaking up families and "seeing babies ripped from their mothers' arms."
She added, "This is a perilous journey for many of these children, and if people really cared about them we would figure out a way to get the funding to expand the centers and to close the loopholes."
Mr. Trump's attorney Rudy Giuliani echoed Conway, telling CBS' "Face the Nation" on Sunday, saying that neither he nor the president "like to see children taken away from their parents." Giuliani said the issue could be resolved if Congress passed a comprehensive immigration bill.
President Trump meanwhile has repeatedly blamed congressional Democrats for the policy and has falsely claimed that federal law requires the separation of families trying to cross the border.
Thanks for reading CBS NEWS.
Create your free account or log in
for more features.