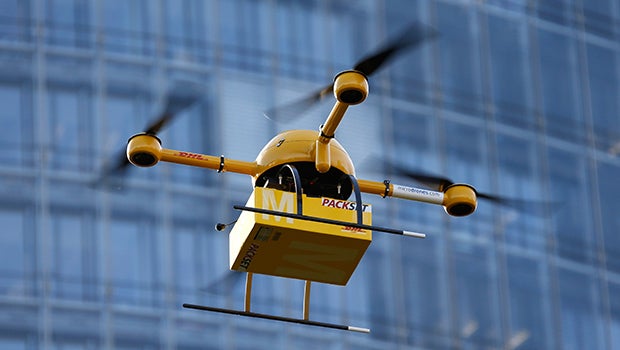 DHL testing delivery drones
German postal carrier Deutsche Post DHL is testing a drone delivery service that could deliver medical and food supplies to areas with minimal road access.
On Monday, the company ran a test delivery of its so-called "parcelcopter." In a flight that lasted two minutes, remote-controlled drone carried a batch of medicine from a pharmacy in the city of Bonn to the company's headquarters, just across the Rhine River.
The test came just a week after Amazon CEO Jeff Bezos announced on 60 Minutes that his company is developing plans for drone delivery, though it still faces many technological and legal hurdles.




In the DHL test, with two employees controlling it from the ground, the drone flew a little more than half a mile, at a height of about 165 feet.




It is capable of carrying up to 2.6 pounds, and can autonomously navigate using GPS coordinates. The drone cost about $54,900, according to Reuters.

"We are at the beginning of the research project," DHL manager Ole Nordhoff told Germany's English news service The Local. "It is an exciting bit of technology."
DHL hinted at its interest in drone delivery in the
September issue of its customer magazine
,
Delivered
. The issue included an article about Matternet, a Silicon Valley start-up that, according to
Delivered
, "hopes to use drones to solve logistics problems by bypassing roadways altogether."
On Dec. 4, the company
again wrote about Matternet
, this time in a feature article on the its website Supply Chain Matters, explaining that, "As the need for speed, to save costs and to reach remote locations increases, we could soon be turning to drones to solve our most complex logistics problems."
There is no word on a partnership between Matternet and DHL, and Matternet did not respond to a CBS News request for comment. DHL spokesman Thomas Kutsch told The Local that this week's test flights, which were approved by local aviation authorities, are strictly for research purposes and that the company is interested in helping deliver supplies to hard-to-reach areas.
Given DHL's involvement in disaster relief efforts – the company
sent a response team
to the Philippines after
typhoon Haiyan
to oversee the logistics and distribution of incoming relief supplies – disaster relief may be the first place we see the company using the technology.
United Parcel Service (UPS) is also researching delivery by drone. In the United States, Amazon, UPS and their competitors face Federal Aviation Authority (FAA) regulations which currently
restrict commercial drone flights
.
Thanks for reading CBS NEWS.
Create your free account or log in
for more features.