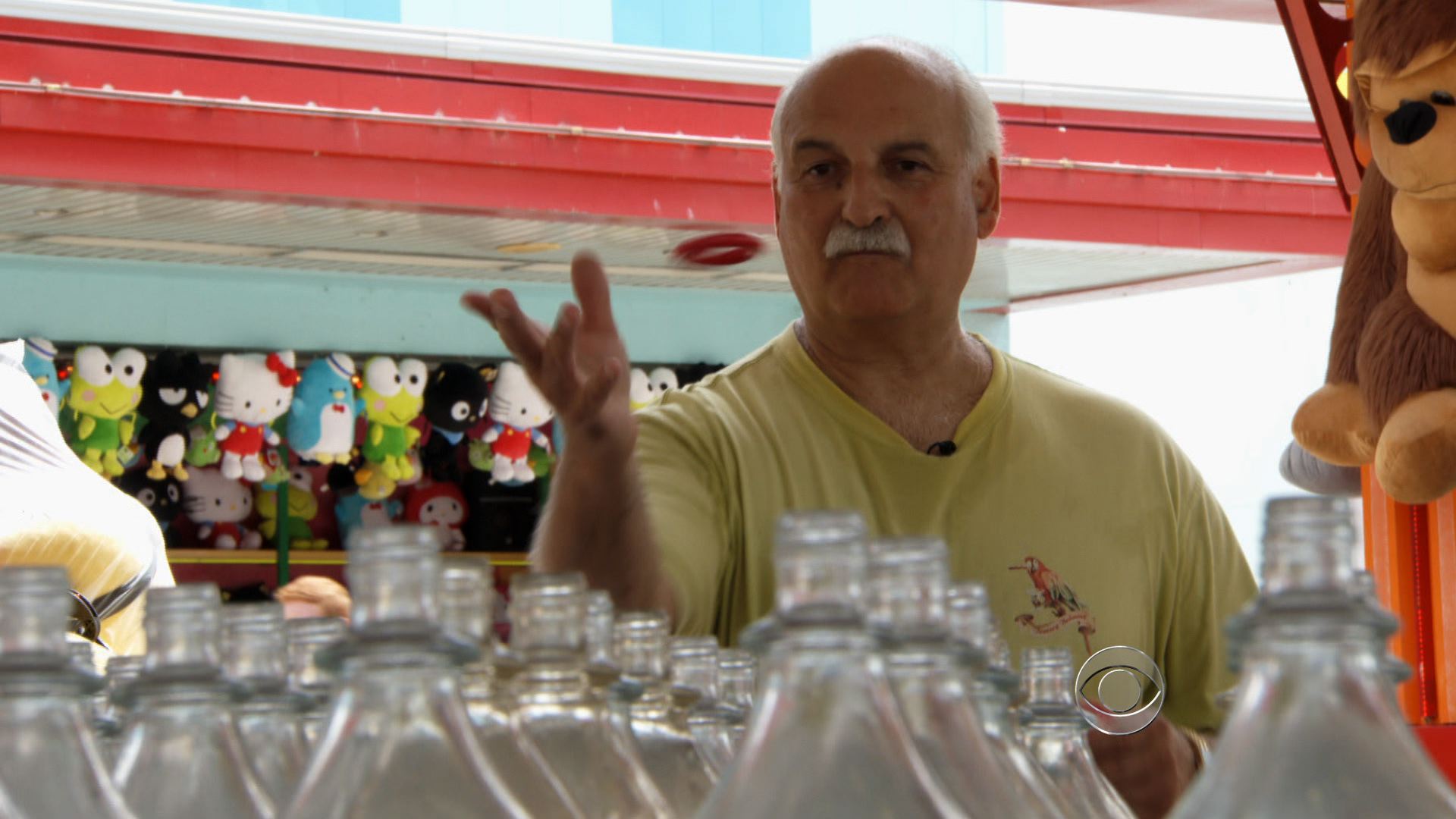 Detroit man's life is stuffed with carnival game prizes thanks to talent
(CBS News) SANDUSKY, Ohio - Everyone is good at something, but someone is better at it that anyone else.
Peter Drakos is a ringer. The seemingly naive senior citizen is a carnival huckster's worst nightmare.
The problem is that the 64-year-old car salesman from Detroit is so good that here at the Cedar Point amusement park in Sandusky -- and at many other midways across the country -- management has put limits on the number of prizes any one person can win.
"I don't want to say it's all because of me, but it's all because of me," Drakos said.
Still, Drakos takes them to the cleaners every time. In his first few minutes at Cedar Point, he amassed a kennel's worth of dogs.
This is a talent he seems to have been born with. He started playing these games at the age of nine and won enough stuffed animals that first year to give one to every single kid in his school -- about 200.
Peter spent the next half-century refining that gift, incorporating the fields of geometry, physics -- and ultimately engineering to figure out how to take all those toys home.
Today, he is arguably the best in the world at carnival games. Although there's a limit to how much they'll let him win now, before they limited the prizes he was like a walking F.A.O. Peter. During one trip to Circus Circus in Las Vegas, there were so many stuffed animals they couldn't sleep in the rooms.
"We couldn't walk around the animals. It was wall to wall animals," he said.
There's a downside of winning so many stuffed toys: You're stuck with so many stuffed toys.
"I give them away - everyone of them," Drakos said.
Conservatively, Drakos says over the years he has donated about a quarter of a million toys to more than 50 different charities.
"Sometimes it brings tears to your eyes because you know that they're really happy," he said.
That makes Drakos a big winner, win or lose.
To contact On the Road, or to send us a story idea, e-mail us.
Thanks for reading CBS NEWS.
Create your free account or log in
for more features.