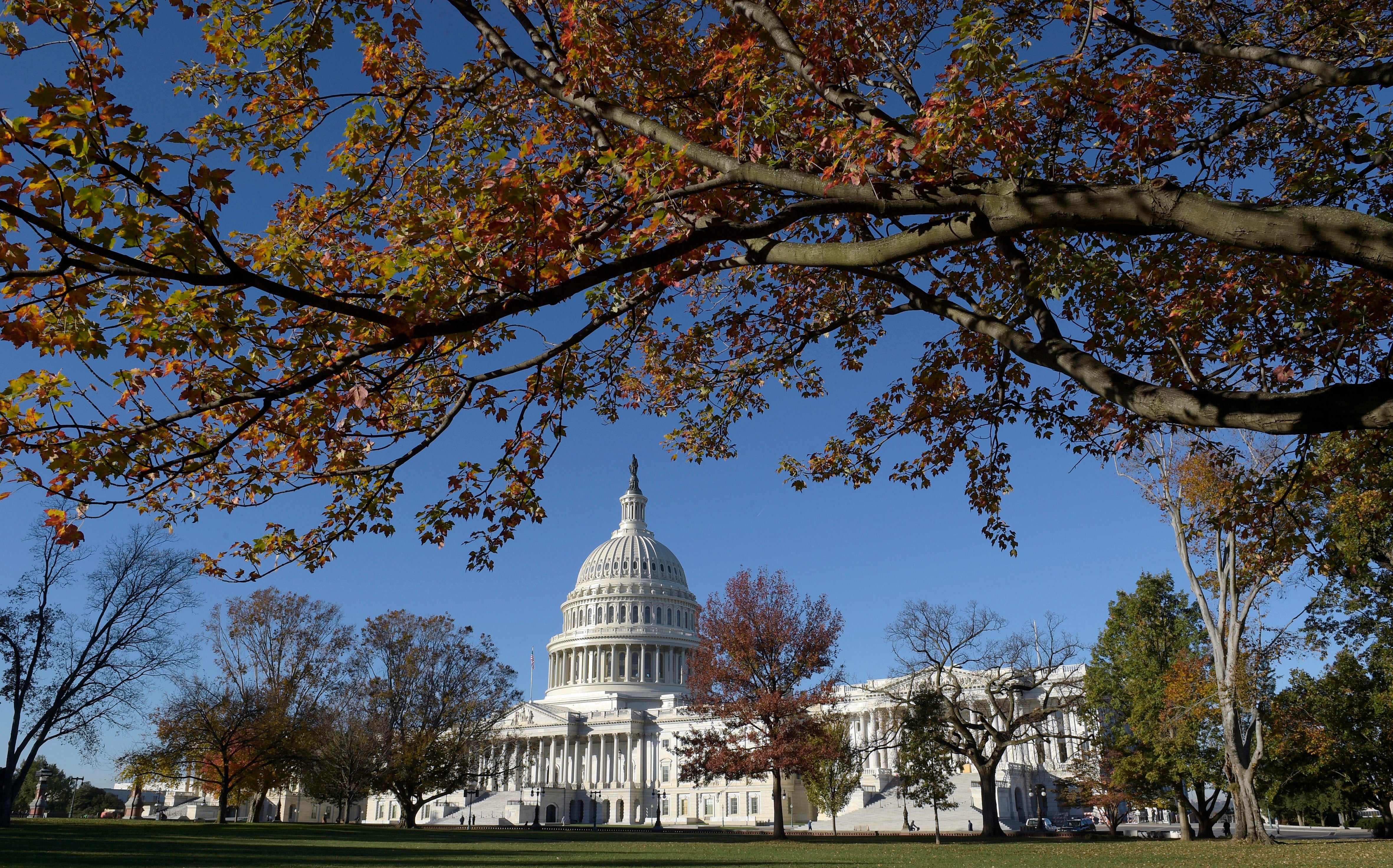 Democrats face tough Senate map in 2018
The 2016 elections left Democrats with not one, but two major losses: in addition to losing the White House to Donald Trump, they failed to retake the Senate from Republican control.
At this point, 2018 doesn't look any better for them.
With Election Day 2016 barely two weeks in the rearview mirror, many voters and political observers alike are suffering from election fatigue. But for the many lawmakers facing reelection, 2018 is already very real -- as is the possibility that Republicans could get a filibuster-proof 60 votes in the Senate.
And given the number of Democratic incumbents facing re-election battles in not just battleground states but deeply GOP-leaning ones, Republicans could be poised to pad their numbers in the Senate even more.
Currently, the Senate is split 51 to 48, with one outstanding Senate race (in Louisiana) likely bringing Republicans to 52 seats. That means they would need to pick up eight Senate seats to get to 60 -- a tall order, but not impossible with a map as favorable for them as the one in 2018.
Of course, in the age of Trump it's hard to predict anything: 2016 didn't go anything like political operatives expected, so that could certainly happen again two years down the line. There are a few unknown factors. For one, it's too early to say what the political climate will look like two years into a Trump presidency. Another big unknown is whether any of these incumbents will decide to retire, which could certainly alter the landscape.
Plus, as 2016 proved, it's hard to pick off incumbents: just two sitting GOP senators lost in tough battleground state races, Mark Kirk (in Illinois) and Kelly Ayotte (in New Hampshire). People might dislike Washington and politicians overall, but generally speaking they tend to vote to keep their own congressional representatives in office.
With that in mind, here's an overview of the top races and states in play during the 2018 election:
Democrats in Republican territory: West Virginia, North Dakota, Montana, Missouri, Indiana
Right off the bat, there are five states where Democrats have incumbent Senators who face very steep odds of re-election: the traditionally deeply Republican states in which Mr. Trump won by double digits this November.
Take West Virginia, for example: Democrat Joe Manchin is running in 2018 for a second full term in office. In 2012, he won his race with just over 60 percent of the vote -- but just four years later, his state voted for Mr. Trump by a whopping 42-point margin.
North Dakota, where incumbent Democrat Heidi Heitkamp is up again is almost equally as deep red: the state voted for Trump by a 36-point margin earlier this month. And while Trump won by slightly smaller margins in the other three states in this category, it still wasn't pretty for Democrats this fall: Trump won Montana, Indiana and Missouri by 21 points, 19 points and 19 points, respectively.
These states were to Democrats what Pennsylvania and Wisconsin were supposed to be to Republicans in 2016: states where they had unexpected victories back in 2012, in a presidential year, but must now contend with the fact that their incumbents there face tough odds. Heitkamp's victory in North Dakota, for example, was a surprise -- as was Sen. Jon Tester's in Montana.
And two of the Democrats who won in GOP-leaning states in 2012 benefited greatly from the missteps of their opponents: Sen. Claire McCaskill was seen as highly vulnerable in Missouri until her GOP opponent, Todd Akin, made a comment about "legitimate rape" that had echoes far beyond the state. Similarly, Indiana's Joe Donnelly found an opening when his opponent, Richard Mourdock, said during a debate that a pregnancy resulting from rape is "something that God intended to happen."
Some of these senators have made it clear they're not in lockstep with Democratic leadership: that's why West Virginia Sen. Joe Manchin, for example, is already taking a conciliatory tone toward Trump, suggesting he can work with the GOP president-elect on certain issues.
But as Republicans compile their target lists for 2018, these five -- Manchin, Heitkamp, Tester, McCaskill and Donnelly -- will certainly be at the top.
Swing state Democrats: Florida, Ohio, Pennsylvania, Wisconsin, Michigan
Had the 2016 race gone Hillary Clinton's way, politicians in five battleground states -- Florida, Ohio, Pennsylvania, Wisconsin and Michigan -- may have had less to worry about come 2018.
But with Trump winning in not just traditional battlegrounds like Ohio and Florida, but expanding the GOP into Pennsylvania, Wisconsin and Michigan to put him over the top for the White House, there's real concern that the same voters who rejected Clinton there could reject these states' Democratic lawmakers in 2018. Three of these states (Pennsylvania, Wisconsin and Florida) also had Senate races in 2016 -- and in all three, the Republican incumbents were reelected.
Four of the Democrats up in this category are veteran senators, like Ohio's Sherrod Brown, Pennsylvania's Bob Casey, Michigan's Debbie Stabenow and Florida's Bill Nelson. The fifth, Wisconsin's Tammy Baldwin, was elected to her seat in 2012 and is the first openly gay U.S. senator.
They'll be tougher targets than the five Democrats in deep-red states, but with all the discussion going on about the political future of the Rust Belt, expect some of these Democratic incumbents to face stiff challenges in 2018.
The other Democratic races: Virginia, Massachusetts, Minnesota
With so many pickup opportunities in states Democrats lost in the 2016 presidential election, some states that edge or lean Democratic could also land on the races to watch next cycle, depending on who runs.
In Massachusetts, Sen. Elizabeth Warren is up for reelection -- and is expected to face former Red Sox pitcher Curt Schilling, who announced earlier this fall that he would challenge Warren. Massachusetts is a deeply Democratic state on the presidential map, but has been known to elect Republican lawmakers at the state level -- current Gov. Charlie Baker, former Gov. Mitt Romney and former Sen. Scott Brown among them. That said, the Suffolk University/Boston Globe taken in late October showed that for now, Warren has a substantial lead over Schilling, 58 - 24 percent.
Virginia, too, is a state Democrats will need to keep an eye on. Democratic vice-presidential candidate Tim Kaine is seeking a second term there after returning home from the presidential campaign trail. He said last week that he will not seek the presidency or the vice presidency in 2020, and instead is focused on being a Virginia senator for a "long time."
And while Clinton won in Minnesota earlier this month -- it was another Rust Belt state that was considerably closer than anyone would have expected -- she won by just under 2 percentage points there. Considering the state was the home of the famous 2008 Senate recount that eventually put Al Franken in office, it's far too early to count out Minnesota as a possible competitive race in 2018. There, incumbent Sen. Amy Klobuchar is running for a third term.
Republicans on defense: Arizona, Nevada
Unlike in 2016, where Democrats had myriad opportunities to pick off incumbent Republican senators first elected on the GOP wave of 2010, there are few legitimate pickup opportunities for Democrats in 2018.
One of them is Nevada: GOP Sen. Dean Heller was elected here in 2012 and will be seeking a second term in 2018. There's been some talk that Heller might decide to skip the Senate race and run instead for governor, to succeed term-limited GOP Gov. Brian Sandoval -- but so far, he has not made an announcement either way.
And while Arizona ultimately didn't materialize as a genuine Democratic opportunity in 2016, first-term GOP Sen. Jeff Flake is up for reelection there in 2018. Flake said himself this year that the rising Latino population in his state could make it more competitive for Democrats going forward -- and 2018 will be a test of whether that trend is enough to take him down.
Thanks for reading CBS NEWS.
Create your free account or log in
for more features.