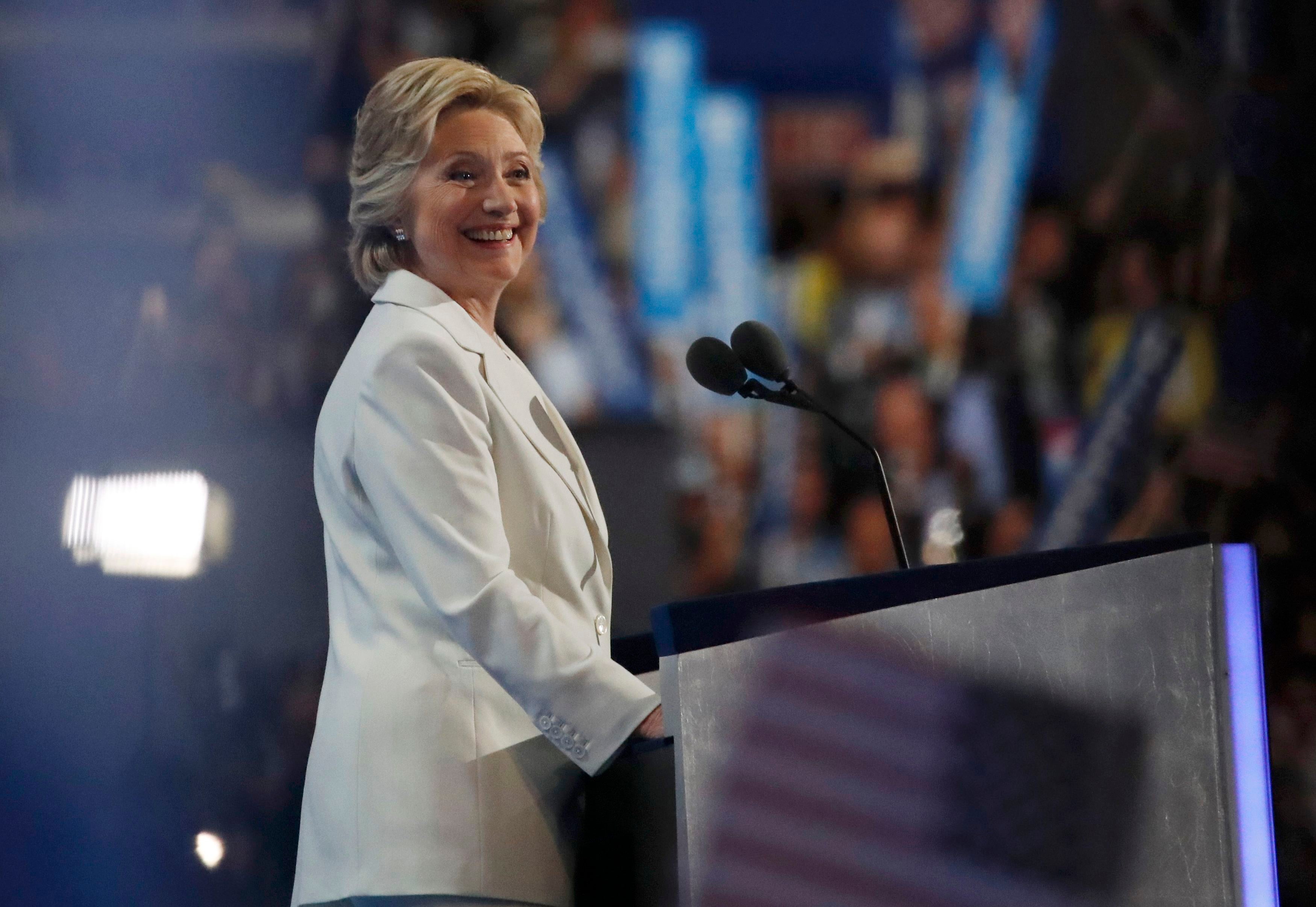 Hillary Clinton: "America is once again at a moment of reckoning"
PHILADELPHIA -- With her speech formally accepting the Democratic nomination Thursday night, Hillary Clinton capped off a week of oratory defending the strength of the American spirit and outlining the general election argument against Republican nominee Donald Trump.
"America is once again at a moment of reckoning," Clinton said. "Powerful forces are threatening to pull us apart. Bonds of trust and respect are fraying. And just as with our founders, there are no guarantees: it truly is up to us."
The theme of the fourth and final night of the Democratic convention focused on Clinton's campaign slogan, "Stronger Together." Clinton spoke about ensuring that the country remains united--not just within the Democratic Party, but across ideological lines.
"Our country's motto is E Pluribus Unum; out of many, we are one," she said. "Will we stay true to that motto? Well, we heard Donald Trump's answer last week at his convention--he wants to divide us, from the rest of the world, and from each other."
With a reference to Ronald Reagan's 1984 campaign slogan, she quipped that Trump has taken Republicans "a long way, from 'Morning in America' to midnight in America."
"So don't let anyone tell you that our country is weak--we're not," she said. "Don't let anyone tell you we don't have what it takes--we do."
After a week in which several Republicans appeared on stage in support of Clinton, the candidate herself made an explicit appeal to Republicans and independents who are turned off by Trump.
"I will be a president for Democrats, Republicans and independents," Clinton said. "For the struggling, the striving and the successful. For those who vote for me and those who don't--for all Americans."
"Whatever party you belong to, or if you belong to no party at all, if you share these beliefs, this is your campaign," she said at another point.
And early on in the speech, Clinton nodded specifically to Sanders supporters, imploring them to join the fight against Trump. Though there had been rumors earlier Thursday of a mass walkout of Sanders supporters during Clinton's speech, no such walkout occurred.
"To all of your supporters here and around the country, I want you to know: I've heard you," she said. "Your cause is our cause. Our country needs your ideas, energy and passion--that is the only way we can turn our progressive platform into real change for America."
Some of Clinton's speech was biographical: she spoke about her upbringing, the values she learned from her parents and the ways those have impacted her life in public service. Her speech was preceded by a video outlining some of the top fights she's taken on in her life, from working for the Children's Defense Fund to helping the people of New York after 9/11 when she was their senator.
In a way, she acknowledged that her strength as the Democratic nominee has little to do with her political oratory, the strong suit both of President Obama and of former President Bill Clinton.
"The truth is, through all these years of public service, the 'service' part has always come easier to me than the 'public' part," she said. "I get it that some people just don't know what to make of me. So let me tell you."
Bill Clinton and her running mate, Sen. Tim Kaine, watched from the VIP box, as well as Chelsea Clinton, her husband Marc Mezvinsky, Kaine's wife, Anne Holton, Hillary Clinton's brothers, as well as Kaine's parents and siblings.
Longtime family friends, like Betsy Ebeling, long time aides, and some of the everyday Americans seen throughout the convention on stage -- Khizr Khan, Karla Oritz, Francisca Ortiz and Astrid Silva -- were also seated with Clinton's family.
But much of the speech was a sustained attack on Trump, whom Clinton portrayed as a bad businessman who doesn't care about people and doesn't have the temperament to be president.
She made reference to Trump's speech accepting his party's nod in Cleveland last week, an hour-plus oration in which he painted a dark picture of the state of the country. "He spoke for 70-odd minutes - and I do mean odd," she said. "And he offered zero solutions. But we already know he doesn't believe these things--no wonder he doesn't like talking about his plans."
Clinton also lambasted him for manufacturing many of his Trump products outside the U.S., particularly after bemoaning the American jobs that have been lost to companies overseas.
"Trump suits in Mexico, not Michigan. Trump furniture in Turkey, not Ohio. Trump picture frames in India, not Wisconsin," she said. "Donald Trump says he wants to make America great again - well, he could start by actually making things in America again."
Trump, Clinton said, doesn't have the temperament to be president--he can get thrown off-guard by the smallest things.
"Ask yourself: do you really think Donald Trump has the temperament to be commander-in-chief? Donald Trump can't even handle the rough-and-tumble of a presidential campaign," she said. "He loses his cool at the slightest provocation: when he's gotten a tough question from a reporter, when he's challenged in a debate, when he sees a protestor at a rally."
"Imagine, if you dare, imagine him in the Oval Office facing a real crisis," she continued, quipping: "A man you can bait with a tweet is not a man we can trust with nuclear weapons."
And after President Obama's speech Wednesday night in which he said he was "ready to pass the baton" to Clinton, she made it clear she saw herself as a continuation of Mr. Obama's legacy.
"Now, I don't think President Obama and Vice President Biden get the credit they deserve for saving us from the worst economic crisis of our lifetimes," she said. "Our economy is so much stronger than when they took office: nearly 15 million new private-sector jobs; 20 million more Americans with health insurance; and an auto industry that just had its best year ever. That's real progress."
Clinton closed her speech with a reference to the hit musical "Hamilton," noting that the Founding Fathers were brought together by "love of country and the selfless passion to build something better for all who follow."
"Though 'we may not live to see the glory,' as the song from the musical Hamilton goes, 'let us gladly join the fight,'" she said. Let our legacy be about 'planting seeds in a garden you never get to see.' That's why we're here...not just in this hall, but on this Earth. The Founders showed us that."
"That is the story of America," she continued. "And we begin a new chapter tonight."
CBS News' Hannah Fraser-Chanpong contributed to this report
Thanks for reading CBS NEWS.
Create your free account or log in
for more features.