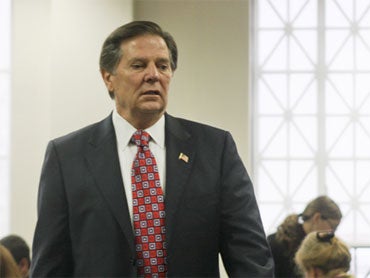 DeLay: I was Tried in "Most Liberal County" in U.S.
Former Republican House Majority Leader Tom DeLay said today that he's headed to jail not because he is guilty of any wrongdoing, but because of the politicization of his trial.
"I was tried in the most liberal county in the state of Texas; indeed, in the United States," DeLay said on NBC's "Today" Show. "This is a political campaign."
On Monday, DeLay was sentenced to three years in prison after a jury found him guilty of money laundering and conspiracy to commit money laundering. The charges relate to an alleged plot to illegally funnel corporate money to Texas candidates in 2002.
DeLay's trial was held in Travis County, which includes the state capital of Austin. The county does lean left; in the 2010 elections, nearly 60 percent of the county voted for Democratic gubernatorial candidate Bill White, while under 37 percent voted to re-elect incumbent Republican Gov. Rick Perry (Perry won). More than 63 percent of voters in the county voted for Barack Obama in the 2008 presidential elections.
The former congressman tried to have his trial moved, citing polling figures that showed most residents of the county had a negative opinion of him, but the effort failed.
Also appearing on the "Today" Show, DeLay's attorney Dick DeGuerin said, "Tom DeLay was prosecuted because he was so successful in bringing about redistricting in Texas."
Prosecutors said the money in question helped the GOP take control of the Texas House and thus enabled the party to implement their redistricting plan that sent more Republicans to the U.S. House of Representatives.
DeLay said the money was "legally raised funds" from Texas sent to Washington, and that "Washington sent legally raised funds back to Texas."
DeGuerin also claimed that the jury last year was influenced by the surging Tea Party movement.
"We went to trial on the very day people across the country, voters, rebelled against politics," he said.
Thanks for reading CBS NEWS.
Create your free account or log in
for more features.