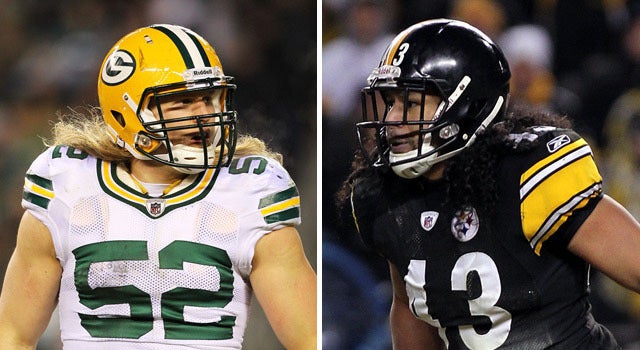 Defense Wins Titles, But Rarely Super Bowl MVPs
The Steelers have the 2010 Defensive Player of the Year.
The Packers have the award's runner-up - and a nose tackle so dominant that he has a burger named after him.
"Raji Burger" Named After Packers Player
So it stands to reason that a defender could easily walk away with the Super Bowl MVP when the teams clash this Sunday in Texas, right?
Wrong.
Only seven times in Super Bowl history has a defensive player won the MVP.
Complete Coverage: Super Bowl XLV
The reasons are obvious - yet still confounding.
Quarterbacks get all the glory (23 Super Bowl MVP's) while running backs and wide receivers (13 awards total) score all the touchdowns.
But look at the facts. The Steelers and Packers finished the season ranked first and third, respectively, in total defense (first and second in rushing defense).
Pittsburgh safety Troy Polomalu edged out Green Bay linebacker Clay Matthews for the 2010 Defensive Player of the Year award. (That's the third year in a row that a Steeler or Packer has won the award).
In their respective conference title games, it was both teams' defenses that scored what would prove to be the decisive touchdowns.
Ah, but the NFL is a quarterback's league - and the Super Bowl is where QB's write their legacy. And Pittsburgh and Green Bay just happen to boast two of the best in the game. So barring a 6-3 final score or a game featuring a dramatic defensive touchdown, expect Ben Roethlisberger or Aaron Rodgers (or one of their wide receivers) to take home the hardware.
Still, if relative no-names like Larry Brown (Dallas, Super Bowl XXX) and Dexter Jackson (Tampa Bay, Super Bowl XXXVII) can win the award, we're holding out hope that a defender will make a strong case come Sunday.
Super Bowl MVPs Who Played Defense:
2003, Super Bowl XXXVII: Dexter Jackson, FS, Tampa Bay - two interceptions
2001, Super Bowl XXV: Ray Lewis, LB, Baltimore - 11 tackles, 6 assists, 4 blocked passes
1996, Super Bowl XXX; Larry Brown, CB, Dallas - two interceptions
1986, Super Bowl XX: Richard Dent, DE, Chicago - 1 ½ sacks
1978, Super Bowl XII: Randy White, DT and Harvey Martin, DE, Dallas - First-ever co-MVPs
1973, Super Bowl VII: Jake Scott, S, Miami - two interceptions
1971, Super Bowl V: Chuck Howley, LB, Dallas - two interceptions (first player from losing team to be named MVP)
Thanks for reading CBS NEWS.
Create your free account or log in
for more features.