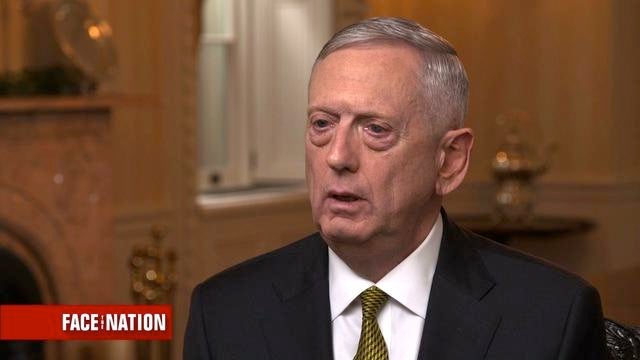 Mattis says Trump "wide open" on Paris climate accord
President Trump is "wide open" on the issue of whether the U.S. should remain in the Paris climate accord, Secretary of Defense James Mattis told "Face the Nation" in an interview on Saturday.
The president pledged during his campaign to withdraw the U.S. from the pact, an international agreement among nearly 200 countries to curb carbon emissions in an effort to combat climate change.
Mr. Trump's advisers are split on wither the US should stay in the agreement. The president, during his trip to the G7 summit in Europe this week, declined to join other national leaders in reaffirming their commitment to the Paris accord. He said on Twitter this week that he would make a final decision on the matter next week.
"Face the Nation" host John Dickerson asked the secretary of defense Saturday for his take on the Paris accord, specifically the national security role of climate change.
"We've obviously got a discussion going on about our policy in this regard," Mattis said. "I was sitting in on some of the discussions in Brussels, by the way, where climate change came up, and the president was open. He was curious about why others were in the position they were in – his counterparts in other nations – and I'm quite certain the president is wide open on this issue as he takes in the pros and cons of that accord."
Mattis also said the U.S. position on climate change is outside his purview as Secretary of Defense.
"Frankly, it's not inside my portfolio, that aspect. Obviously we deal with the aspects of a warming climate in the Department of Defense, and to us, that's just another one of many factors we deal with which we call the physical environment."
Tune in Sunday for more of Dickerson's interview with the secretary of defense. Check your local listings for airtimes.
Thanks for reading CBS NEWS.
Create your free account or log in
for more features.