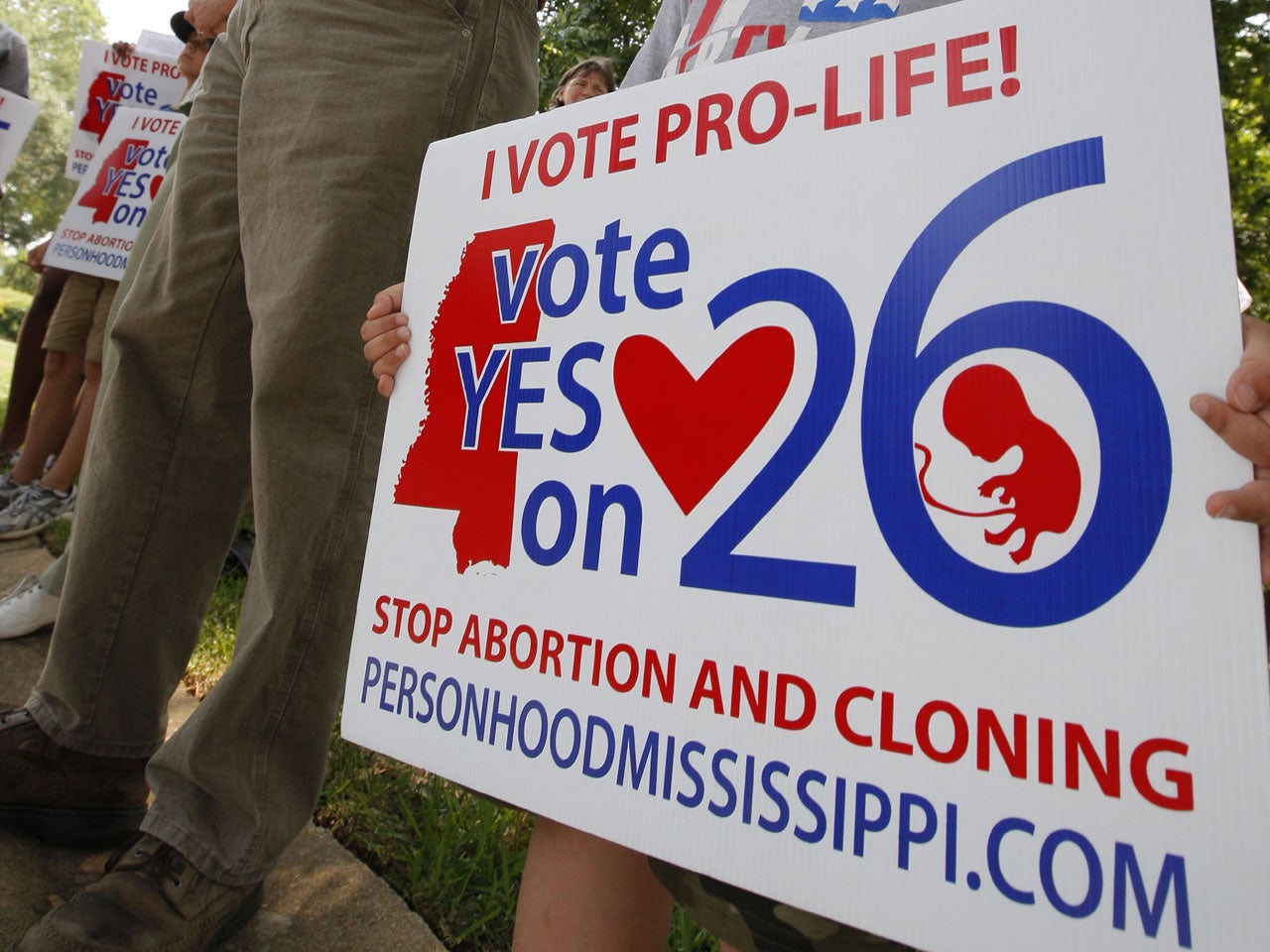 Debating Mississippi's "Personhood Amendment"
JACKSON, Miss. - A scientist who has worked for more than a quarter-century in reproductive medicine says a Mississippi ballot initiative could hinder the use of in vitro fertilization that helps some couples become parents.
An attorney who has defended the "personhood" initiative says the proposed constitutional amendment would show basic dignity to the tiniest human beings who are least able to defend themselves.
The scientist, Michael Tucker, and the attorney, Stephen Crampton, were among the participants in a panel discussion Tuesday night at Mississippi College School of Law. They debated Initiative 26, which will be on the Nov. 8 ballot.
The initiative asks: "Should the term 'person' be defined to include every human being from the moment of fertilization, cloning, or the equivalent thereof?"
Mississippi is the only state voting on a life-at-fertilization amendment this fall. There are, however, similar ballot initiatives brewing in Ohio and Florida, according to The New York Times. The move to define life so definitively in state law represents a new tact in the anti-abortion movement, in which they essentially attempt to make all forms of abortion - and some forms of birth control - the legal equivalent of murder.
Tucker, who lives in Atlanta, has worked on in vitro in Mississippi and other states. He showed an enlarged video clip of a microscopic needle injecting a single sperm into a human egg through the procedure.
He said after three days, an embryo is made up of eight cells and is about the width of a human hair. He said although insemination can be seen in the lab, it's not simple to pinpoint the exact moment an embryo has its own set of chromosomes. He said most embryos don't survive, and a single embryo can split into twins during the first seven days.
"For me as a biologist, it's very difficult to say, well, fertilization, is it a bolt from on high that occurs in a microsecond," Tucker said.
Crampton works for Liberty Counsel, a Florida-based nonprofit group that opposes issues such as abortion and same-sex marriage, and he has defended the Mississippi initiative from a challenge that sought to keep it off the ballot. He said he believes it's important to define "person" in the law.
"There is a moment when the chromosomes from a woman and the chromosomes from a man unite and form a unique, new individual," Crampton said. "The question, then, is simple: Is it fully human -- is he or she fully human? And is he or she alive? The answer to both of those questions is emphatically yes. As a society, it becomes incumbent upon us to take steps to recognize that fact and then to implement laws to protect it."
Crampton said he believes if the constitutional amendment passes, it would not automatically outlaw abortion in Mississippi. He said legislators might have to change specific laws.
Rebecca Kiessling of Michigan, a family law attorney who supports the initiative, said if it passes, the state attorney general or a local prosecutor could announce the intention to start enforcing homicide laws by using the new definition of "personhood." She said that likely would prompt a court battle.
"We would have to wait this out as it went up through the court system," Kiessling said.
Amelia McGowan, staff attorney for the American Civil Liberties Union of Mississippi, said the word "person" appears in state law more than 9,000 times. She said if the amendment passes, "I think it will change the entire framework of state law."
Glenn Cohen, a Harvard Law School professor who participated in the panel discussion by teleconference, said if the amendment passes, judges will have to interpret it and determine how it applies to Mississippi law and whether, for example, it would affect birth control, IVF or only abortion.
"Whether you are for or against abortion, whatever your position is, this is a bad amendment -- not because of what it represents but because it is ambiguous," Cohen said.
Tucker, the reproductive scientist, said he believes the proposed amendment "is clearly a wedge issue" to promote anti-abortion legislation. He said three clinics in Mississippi perform IVF.
"The ramifications it will have, needlessly, for infertility therapy will be massive and will lead to a tying up of the Legislature here in Mississippi above and beyond what anyone can imagine," Tucker said. "The costs will be enormous, both emotionally and financially. Is this state prepared for that?"
Crampton responded: "What is the cost of failing to recognize and respect the basic human dignity, the right to life of the (most) innocent and least able to defend themselves among us?"
Thanks for reading CBS NEWS.
Create your free account or log in
for more features.