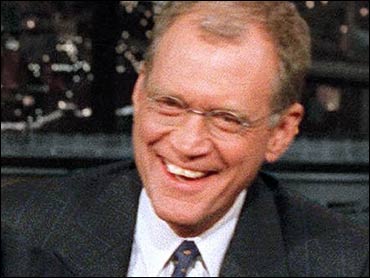 David Letterman To Become A Dad
David Letterman had better start thinking up a top 10 list of baby names - he's about to become a father.
While taping the Late Show episode that's scheduled to air Friday night, Letterman told the audience Thursday that his girlfriend, Regina Lasko, is about six months' pregnant.
"I have an announcement to make and I'll be honest with you, I'm a little bit nervous. I have some trepidations about this. I feel a little silly because it's one of those things where I thought never in my life this would happen," the talk show host said.
"And here I am, 56, and by all rights it shouldn't be happening. But, there's nothing we can do about it now. And I'm terribly excited about this. I'm scared silly about this. I'm going to be a father."
After the cheers and applause from the studio audience subsided, Letterman joked about the upside of becoming a father for the first time at his age: "By the time the child has trouble in life, you know, I'll be dead. I'll be long gone. By the time the kid's out stealing cars, you know, Dad will be dead a few years."
Letterman said he and Lasko are still discussing whether to get married.
"I realize we kind of got the cart before the horse here. But, I'm just seeing how much I can get away with," he said. "But, I can't do this forever, and it'd be nice to have the kid take over the family business."
"'Tonight, David Letterman Jr. and his guests,'" bandleader Paul Shaffer joked.
"Oh my God, does that sound peculiar," Letterman responded.
The "Late Show With David Letterman" airs at 11:30 p.m. EDT on CBS.

Thanks for reading CBS NEWS.
Create your free account or log in
for more features.