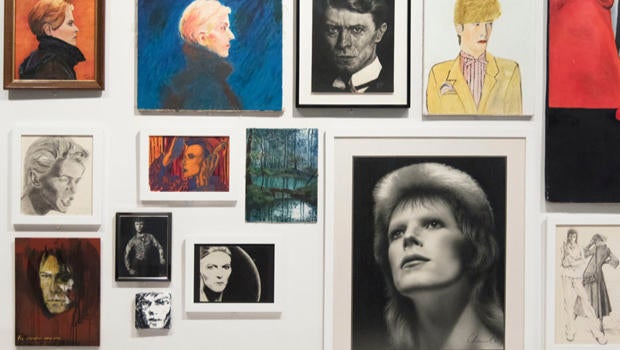 David Bowie and his ever-evolving self-portrait
Rock Star David Bowie went through any number of changes during his stellar career. Now, two-plus years after his death, his fans can experience those changes all over again. Here's Serena Altschul:

Music pioneer, fashion icon, gender-bending rebel … David Bowie was all of those things. And what he was, is the subject of a record breaking exhibit now at the Brooklyn Museum entitled "David Bowie Is."
"I think more than anybody he's been a great visualizer of music," said curator Matthew Yokobosky. "You know, there's Kandinsky who painted music, [and] Georgia O'Keeffe. But we were in a new era where we have rock and roll music, and David Bowie was able to also tell you how rock and roll music should look."
Born David Jones in London, he adopted the stage name Bowie to avoid being confused with that other David Jones, of Monkees fame.
Even as a teenager he was a musical chameleon, performing with more than 10 bands; and from the start he viewed rock and roll as a profession and an art.
"He really felt like the other members of these early bands as teenagers weren't taking it seriously enough," Yokobosky said. "And he was already in there thinking about what the publicity photo was, what the songs sounded like, what they looked like. And so he was art directing all of his early bands right from the start."
Always looking for inspiration, he found it in a big way when he saw the very first color photograph of Earth taken from space. He was so moved he wrote the song that would rocket him to fame:
And I'm floating in a most peculiar way,
And the stars look very different today.
For here am I sitting in a tin can,
Far above the world.
Planet Earth is blue
And there's nothing I can do. – "Space Oddity" (1969)
From "Space Oddity"'s Major Tom to his next alter-ego, Martian glam rocker Ziggy Stardust, the exhibition features around 400 items showing how Bowie designed, dazzled, and then – when he was done with them – discarded identities that audiences adored.
"He kind of rewrote the book of rock and roll and said, 'You don't have to be one character your whole career,'" Yokobosky said. "You know, you don't have to be Johnny Cash, you don't have to be Stevie Nicks."
Tony Visconti was a young record producer who had moved to London in the '60s to find the next big thing. He described Bowie's bird-like energy.
"As soon as I saw him, and listened to him speak, I said, 'This guy is the next Beatles,'" he told Altschul. "It's not in the form of four people. It's one person!"
Working together on 14 albums, Visconti remembers Bowie reinventing himself time after time, from a curly-haired folk rocker ("He walked in with the perm one day, and I thought it was hilarious!") to something much different.
"So, inside every white British boy was a soul singer, like, trying to burst out, you know? And David decided to go to Philadelphia and make an R&B album."
1975's "Young Americans" was a smash hit, and gave Bowie his first No.1 song in the U.S., "Fame," co-written by John Lennon:
Visconti recalled, "We met John Lennon one night in David's apartment in New York. He came in and we had a great, great night. And a few days later, we were in the studio."
"Oh, my gosh, so what was that like?" asked Altschul.
"It was kind of an X-rated night. I can't tell you everything!" he laughed.
At the height of his popularity, Bowie dropped out of sight and changed his sound yet again – this time moving to West Berlin with friend and punk icon Iggy Pop,
"He and Iggy asked me to give them haircuts," Visconti said. "And then, they would put a scarf and a cloth cap on, and they could walk anywhere in Berlin unnoticed."
"So, how liberating to be able to just be completely free?"
"That's something he hadn't had for many years."
But he didn't stay hidden for long.
With a string of Top 10 hits in the early '80s, Bowie was a bona fide megastar, in heavy rotation on MTV.
He began popping up on the silver screen as well, in movie roles that ranged from the Biblical ("The Last Temptation of Christ") to the fantastical ("Labyrinth").
"He is the world's best rock star who is also an actor," Visconti said. "And he always told me that, if he wasn't going to be a rock star, he was going to be in musical theater."
Visconti also worked on Bowie's 25th album, "Blackstar." It would be his last – released on the artist's 69th birthday in 2016.
Two days later, David Bowie was dead of liver cancer.
"'Blackstar' was not meant to be the last album; he had another one in his head. Told me about it," said Visconti.
"Makes me sad," Altschul said.
"Yeah, made me sad, too."
Last month, the museum held a costume party where revelers dressed up as their favorite Bowie.
It was a fitting tribute to a man who changed so often, yet always stayed true to himself.

See also:


For more info:

Story produced by David Rothman.
Thanks for reading CBS NEWS.
Create your free account or log in
for more features.