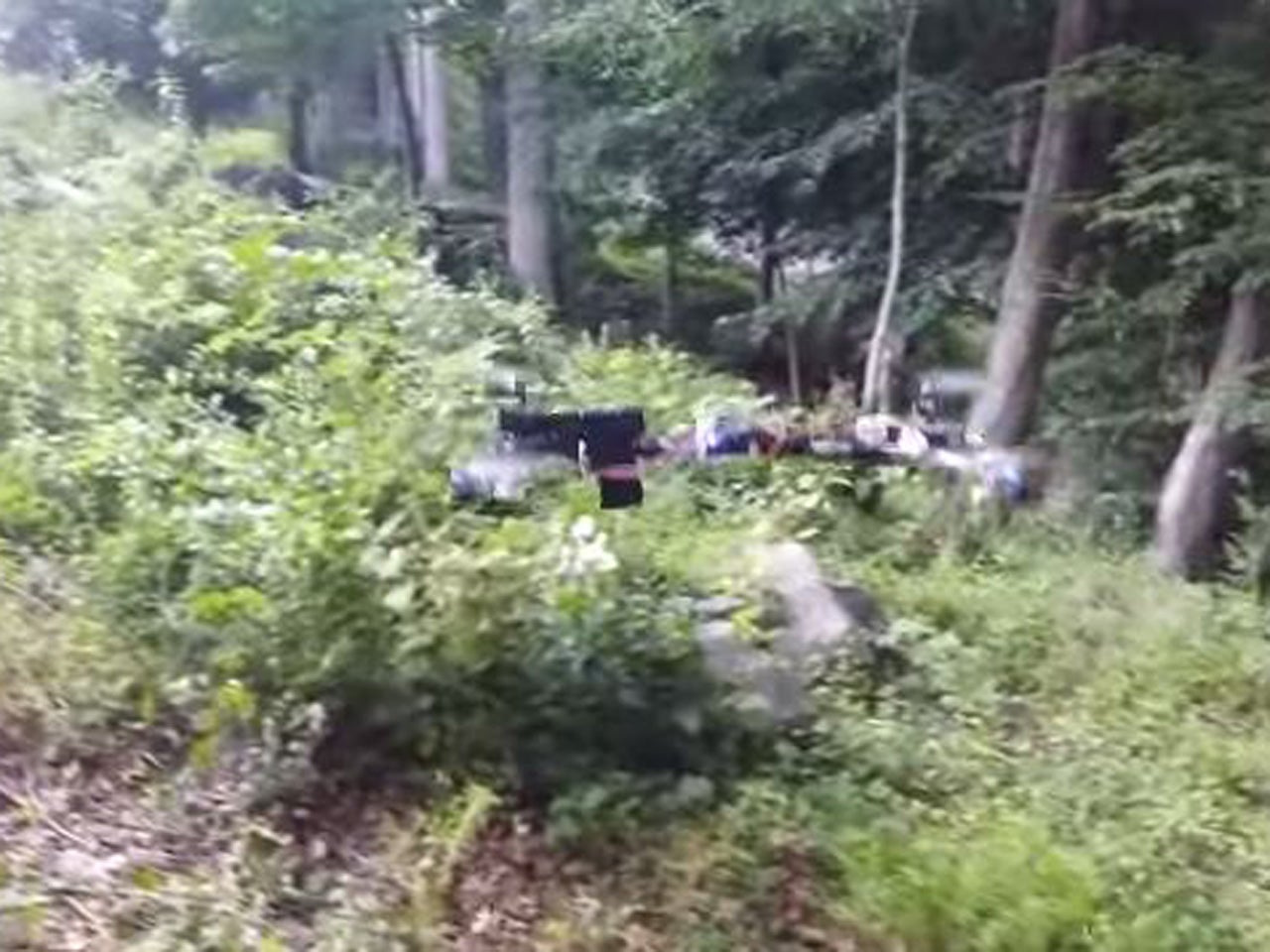 Dad, son fight FAA over gun-firing, flame-throwing drones
HARTFORD, Conn. - A Connecticut father and son are headed for a court showdown with the Federal Aviation Administration over whether the agency can force them to disclose information about drones shown in two YouTube videos firing a gun and deploying a flame thrower in their backyard.
Austin Haughwout, 19, of Clinton, and his father, Bret Haughwout, are refusing to comply with subpoenas issued by the U.S. attorney's office on behalf of the FAA, saying the subpoenas violate their constitutional right to be free from unreasonable searches and seizures and questioning the agency's authority to regulate recreational drones.
A hearing on whether the Haughwouts have to comply with the subpoenas is set for Wednesday before U.S. District Judge Jeffrey Meyer in New Haven. The case potentially has national significance because it would set a precedent on how much authority the FAA has over recreational drone use, said the Haughwouts' lawyer, Mario Cerame.
Austin Haughwout uploaded the videos to his YouTube channel last year. One video, viewed more than 3.7 million times, shows a flying drone equipped with a handgun firing rounds. Another video, viewed nearly 600,000 times, shows a flying drone with a flamethrower lighting up a spit-roasting Thanksgiving turkey. Both videos were recorded in the family's yard in Clinton.
The father and son have refused to comply with subpoenas issued in November and December seeking their depositions and information about the drone used in the videos.
Federal prosecutors say in court documents that the subpoenas were issued in connection with an investigation being conducted for the legitimate purpose of ensuring the safe operation of "aircraft" and under the FAA's authority to investigate potential violations of its regulations banning people from operating aircraft in a careless or reckless manner.
"Based on media reports, the FAA believes that the respondents have built and/or operated at least two (drones) carrying weapons with the capability of causing serious injury to a person or property," Assistant U.S. Attorney John Larson wrote in a court filing.
The FAA in June proposed its first set of regulations for the commercial use of drones, but not recreational use. The agency says there are some requirements for recreational use, including having to register any unmanned aircraft weighing more than 0.55 pounds and notifying airport operators before flying drones within 5 miles of airports.
Cerame said the FAA is wrong to rely on aircraft regulations to try to subpoena his clients about their recreational use of drones. Win or lose, he believes, the case will affect recreational drone operators nationwide.
"They shouldn't use airplane regulations," he said. "They should go get the authority from Congress. It's about keeping the government in check as to what Congress said they can do.
"This is a kid playing in his backyard," Cerame added.
Officials with the FAA and the U.S. attorney's office declined to comment on the subpoenas. The Haughwouts didn't return messages seeking comment.
Austin Haughwout claims in a state lawsuit that he was expelled from Central Connecticut State University on bogus threatening allegations by school officials who were really concerned about the drone videos. The lawsuit seeks his reinstatement to the school.
The school says one of its professors told the teenager it was a terrible idea when the student described rigging a drone with a handgun. Central Connecticut State University spokesman Mark McLaughlin said the student mentioned to an engineering professor this summer that he was planning to put a weapon on a remote-controlled aircraft, and was told not to.
School officials deny the allegations and say Haughwout was expelled for making threatening statements and gestures toward other people on campus.
Austin Haughwout has been in and out of the news over the past two years. On Thursday, Clinton police announced they charged him with enticing a minor with a computer, attempted sexual assault and possession of child pornography after police say they found child porn on his cellphone.
Last year, Clinton police charged him with assaulting officers. The case remains pending.
In 2014, a woman was charged with assaulting Haughwout because she was upset he was using a drone to film above a state beach in Madison. Haughwout posted a video of the confrontation on YouTube that has been viewed more than 500,000 times.
Thanks for reading CBS NEWS.
Create your free account or log in
for more features.