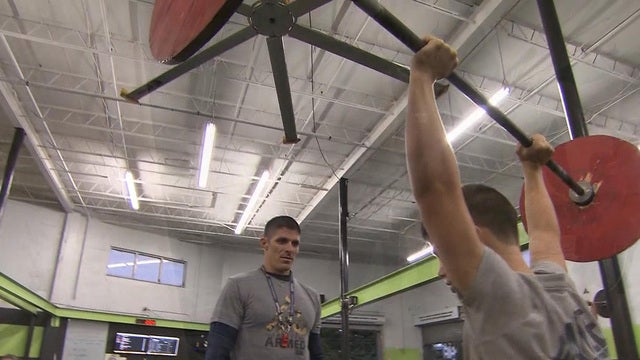 Should 10-year-olds be doing CrossFit?
The workout craze known as CrossFit combines strength-training, gymnastics and aerobic conditioning. There are now more than 12,000 CrossFit gyms around the world. The exercise attracts men, women and, increasingly, children.
Six years ago, 41-year-old Shawn Ramirez did his first CrossFit workout -- and became hooked on its variety and high-intensity.
"Your have your gymnastics, your metabolic conditioning, and your strengthening, and your weightlifting component. So gymnastics can range from anywhere from walking on your hands to handstand push-ups to anything that you're doing, any body weight management... And what that means is constantly varying, always having something different that you're doing to your body," Ramirez said.
Since 2007, athletes of different ages have competed in the annual CrossFit Games, reports CBS News correspondent Mark Strassmann. Winners earn the title of the "fittest man or woman on earth."
Ramirez has won it twice, which makes him "the fittest man on earth, or the fittest old man, if you would," he said. "'Cause it's masters, it's not the young 18 to 29 division. It's 40 to 44."
CrossFit for kids has taken off. In a Miami class, two of the fittest kids were brothers: 10-year-old Reed Ramirez and 12-year-old Tye. Yes, Ramirez is their father.
Tye and Reed watched their dad do it -- and jumped in.
"I never saw this before and this was amazing. This one person and in the whole world, lives with me and like I'm related to him," Reed said.
Tye said what his dad was doing was inspiring.
But CrossFit -- as exercise for kids -- has its critics.
"I've had a couple of kids in my office who've come in with CrossFit injuries," said Dr. Jeremy Frank, a pediatric orthopedic surgeon at Joe DiMaggio Children's Hospital.
"I think CrossFit can be beneficial to building up strength and conditioning as long as there is proper supervision and training. And the realization that you need to protect kids from having injuries to their growth plates and their groin muscles and bones," Frank added.
"Kids are learning both technique and their bodies at the same time. Is that a concern in CrossFit?" Strassmann asked Ramirez.
"Absolutely not. I think when they're learning the right technique, kids are sponges," Ramirez said.
This past weekend, downtown Miami hosted "Wodapalooza," a CrossFit-style competition. There were 1,350 athletes, including kids as young as 10.
The Ramirez brothers competed. They both told us they expected to win.
As a licensing company, CrossFit, Inc. has nothing to do with Wodapalooza -- and believes some kids may be too young to compete.
The company told CBS News in a statement: "CrossFit, Inc. does not agree with Wodapalooza's sanctioning of a 10-12 year old division. Indeed, the youngest age that CrossFit, Inc. will allow in the CrossFit Games is 14."
Steve Suarez co-founded Wodapalooza five years ago.
"They may not be okay with it. But we feel like functional movements, which is what we do, is okay for kids under a scale in a very controlled manner. We think it's actually excellent for kids 10 to 12 years old," Suarez said.
Ramirez believes Wodapalooza sets the right limits for kids, including his boys.
In case you were wondering, Tye beat everyone in his age group -- including his younger brother.
CrossFit's minimum age for children doing CrossFit Kids is three. Experts say their biggest worry is kids lifting heavy weights in these workouts. But with proper supervision, it should be safe.
Thanks for reading CBS NEWS.
Create your free account or log in
for more features.