Cooler temps - and severe weather - for Midwest, Northeast
All across the Midwest and Northeast, forecasters are giving the welcome news of unseasonably cool weather in July this week.
What is going to happen in the next few days is because of a front of unusually cool weather making its way to the Midwest and eastern part of the U.S.
In Pittsburgh, lows are expected to be in the 50s Tuesday through Thursday, said AccuWeather Meteorologist John Greisak in Pittsburgh.
"It's a pattern very similar to the one we had back in January when we had all that real cold weather, but it's summer now. So, it's not going to snow. It's not going to get down to five degrees or anything like that," says Greiask.
Between Monday and Wednesday, temperatures in the Midwest will be as much as 15 degrees cooler than normal, with the biggest drops seen close to the Great Lakes, though people in Oklahoma and Arkansas will need to break out pants, too.
Chicago would normally see highs in the 80s and lows in the mid-60s, but the weather service says highs early this week will climb no higher than the mid-60s -- maybe 70 degrees -- and lows could dip into the upper 40s.
Forecasters say a typhoon in Japan is partly responsible for the cooler weather here. Though Typhoon Neoguri has weakened since hitting Japan, it altered the path of the North Pacific jet stream, allowing polar air behind a trough of low pressure to spill out of Canada and into the Midwest, says Weather Underground meteorology director Jeff Masters.
It's similar to the polar vortex pattern from the winter that turned much of the country into a freezer for weeks at a time, breaking cold weather temperature records in numerous states.
But there are key differences, Masters says. This air mass is coming from western Canada and not directly from the arctic, plus the polar vortex is not nearly as strong in the summer - and sometimes breaks down completely.
The cold weather is also bringing several pockets of severe weather, with thunderstorm and flash flooding warnings issued for parts of the Northeast.
In Oklahoma, which is usually pretty sun-baked in July, the cool weather spell is good news.
"We love it," Paul James, marketing manager for Southwood Landscape & Garden Center, said of the forecast for temperatures running about 15 degrees lower than the typical 93- or 94-degree July days. "Any day you don't get above 100 degrees."
---
This map from the National Weather Service shows the encroaching cooler temperatures in blue coming down from Canada through Michigan, Wisconsin area.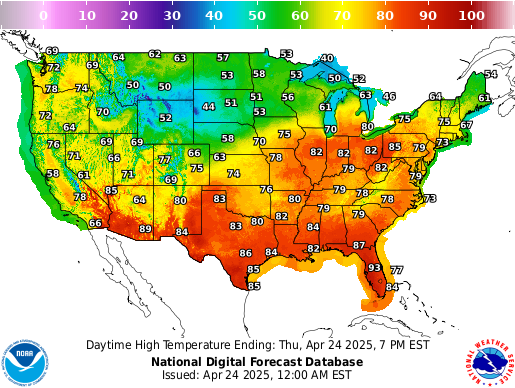 Thanks for reading CBS NEWS.
Create your free account or log in
for more features.