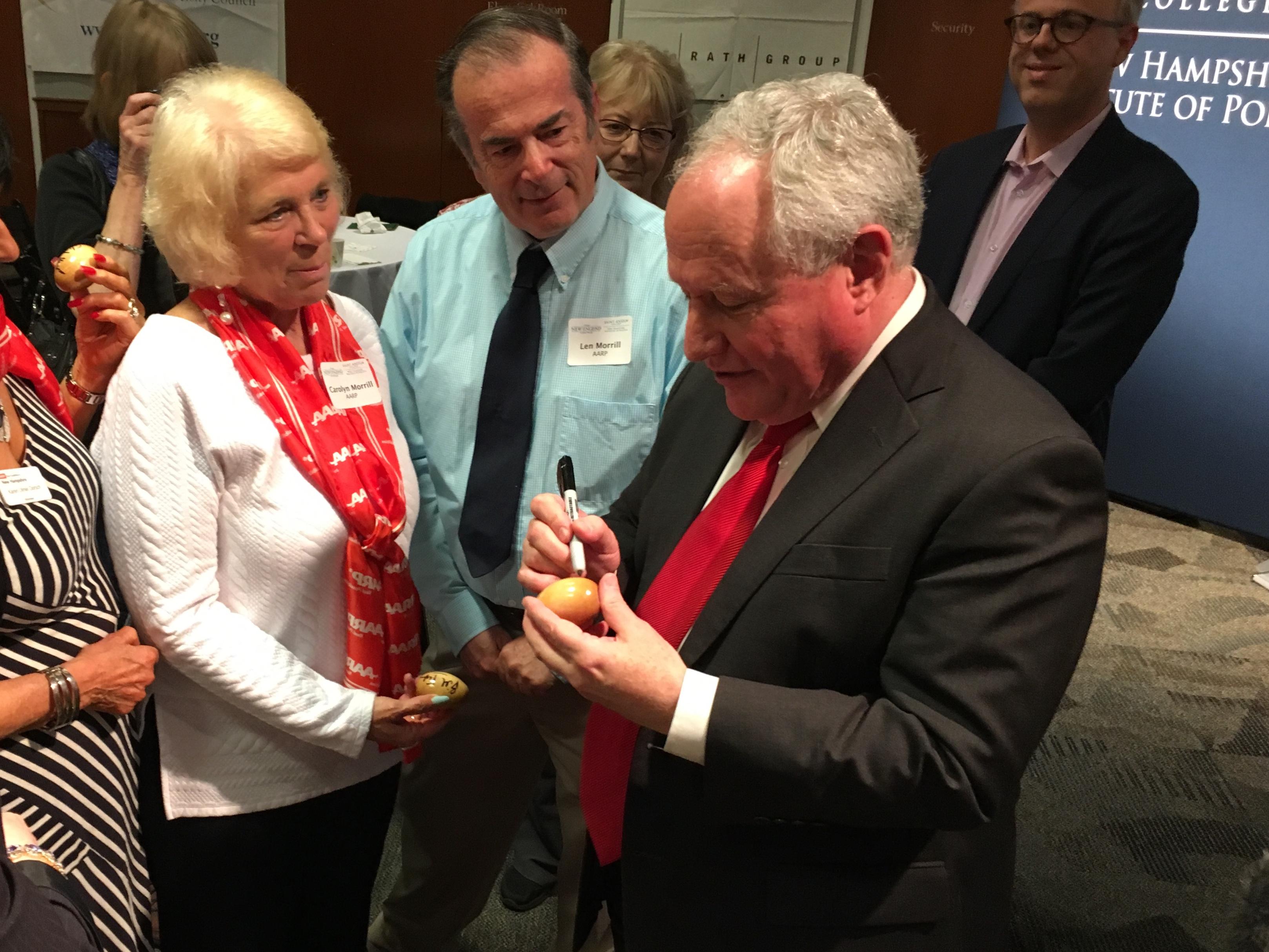 Conservative Bill Kristol brings his never-Trump message to New Hampshire
MANCHESTER, New Hampshire – Conservative columnist Bill Kristol isn't sure if a 2020 Republican primary challenge against President Donald Trump would be successful, but he argues that "it would be important to have one, I think, just to force the debate."
Kristol, the founder of the conservative opinion magazine the Weekly Standard and arguably the most notorious leader of the never-Trump movement, brought his message Wednesday to New Hampshire, the state that holds the first primary along the road to the White House.
The big question in the state that handed Trump his first victory in the 2016 primaries – which helped propel him to the GOP presidential nomination and eventually the White House - is whether there's appetite among Granite State Republicans for such a primary challenge.
Speaking to an audience at the New Hampshire Institute of Politics "Politics and Eggs" series – which is a must stop for potential presidential contenders – Kristol told the crowd Trump's "a little more vulnerable that people think."
Highlighting a new national poll by Morning Consult that suggested that 38 percent of Republicans would welcome a primary challenge to Trump in 2020, Kristol said it's possible for GOP voters to say they approve of the president but "also maybe like to have a choice in 2020 that's different from Trump."
"Maybe we sort of pocket our gains in 2020 so to speak, and try to find somebody younger who can bring the country together and the country together," he suggested.
Kristol said that two-term Ohio Gov. John Kasich would be "the most obvious candidate" to primary Trump. Kasich, who finished second in the 2016 GOP presidential primary in New Hampshire, returned to the Granite State last month in a visit that received plenty of national media attention.
"He did pretty well here in 2016. I think he would a formidable figure, and others would probably step back if he were going to do it," Kristol predicted.
He also mentioned retiring Arizona Sen. Jeff Flake as a possible primary challenger. Flake – a vocal Trump critic – fueled 2020 speculation with his own recent Politics & Eggs engagement here.
But Kristol shot down any notion of launching his own 2020 campaign.
Asked by CBS News if he's mulling a White House run, Kristol replied, "Not really. I couldn't do enough flattering of New Hampshire for two or three months. Trump did win never having run for office before. But he's been branding himself as being a celebrity for 40 years."
"I prefer to help someone else," Kristol added.
He also said there may be multiple GOP primary challengers at the beginning of the 2020 cycle but suggested the field would be winnowed early in the process, even before the first primaries and caucuses.
"I think in the real world several people could start off running but by November of 2019 there would be a consolidation. There's not going to be enough money and enough support for several challengers. So a lot of people might try, but then you'll end up with one," he predicted.
While Kristol's ready to see Trump face a primary challenge, it's not a done deal that New Hampshire Republicans feel the same way
The president's approval rating among Granite State Republicans stood at a comfortable 81 percent in the most recent Saint Anselm College Survey Center poll.
"Current polling would dissuade a primary challenge for the President," said Neil Levesque, the longtime executive director of the New Hampshire Institute of Politics who oversees the survey.
"But there are many moving parts in this president that may change those perceptions, and quickly," added Levesque, who in the 1990s and last decade spent a dozen years as a senior adviser to Republican Congressman Charlie Bass of New Hampshire.
Steve Duprey, a veteran Republican National Committee member from New Hampshire, recalled that "every incumbent Republican president has had a primary challenge when running for re-election. Some are very serious."
He pointed to Ronald Reagan's challenge against President Gerald Ford in 1976 and conservative commentator Pat Buchanan, who gave sitting President George H.W. Bush a major scare in the 1992 Republican primary in New Hampshire.
"Others are not serious," added Duprey, a former longtime state party chairman who was a top adviser to Arizona Sen. John McCain's 2000 and 2008 presidential campaigns.
But David Carney, a Granite State-based GOP consultant and veteran of numerous presidential campaigns, argued that New Hampshire Republicans aren't too eager to see the president face a primary challenge.
He explained that most of the activists in the state right now are focused on getting Republican Gov. Chris Sununu re-elected this year, and on the other 2018 contests.
"I don't think people are spoiling for a fight right now," he added.
But Carney pointed to the state's first-in-the-nation primary status and its open-style primary that allows independents to vote in either Republican or Democratic contests.
"Clearly, if you're going to challenge Trump, New Hampshire's the state to do it," Carney said. "But it's way too early."
Kristol also highlighted the role independent, or undeclared voters, play in the New Hampshire primary and predicted that "some chunk of those independents will vote in the Republican primary and there's more openness to a non-Trump candidate
Carney said the results of November's midterm elections will greatly impact the likelihood of any primary challenges against Trump.
"We'll see what the carnage is across the country," he said. "If President Trump's leadership leads to a devastating midterm election, I think you'll see more people seriously testing the waters."
Kristol also predicted the midterms will be instrumental, but for another reason.
"For me the big day is November 7, 2018 – the day after Election Day this year – when the question Republicans have to face is, 'Do you want four more years,'" he said.
Thanks for reading CBS NEWS.
Create your free account or log in
for more features.