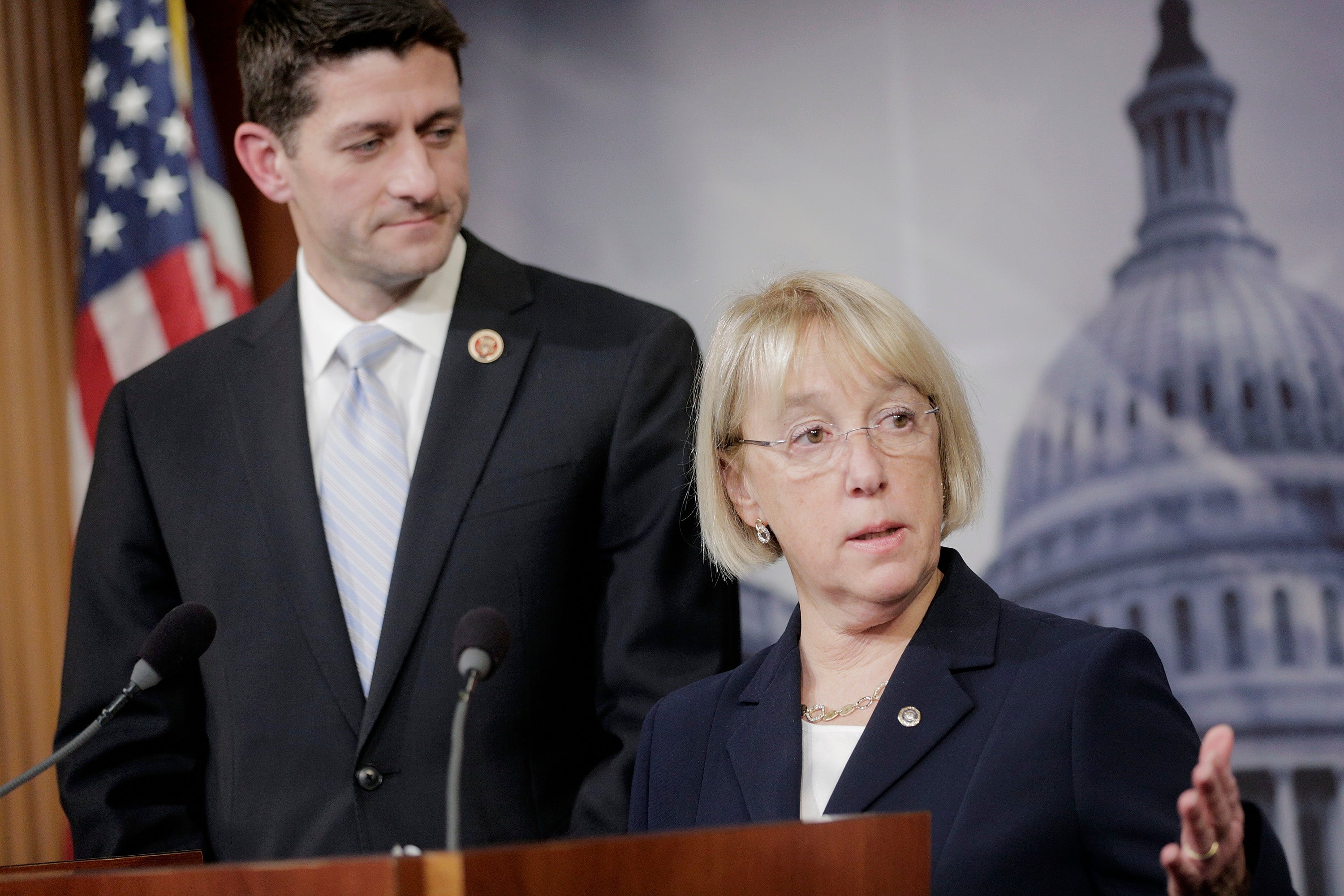 Congressional negotiators reach budget deal
Updated at 8:15 p.m.
The chairs of the House and Senate Budget Committees, Rep. Paul Ryan, R-Wis., and Sen. Patty Murray, D-Wash., have announced a budget deal that will set spending levels for the next two years, preempting another government shutdown in January.
The deal will replace mandatory, across-the-board cuts from sequestration with a different set of spending cuts and non-tax revenue. The agreement sets spending for the 2014 fiscal year at $1.012 trillion, including $63 billion of sequester relief and $85 billion of total savings. The result is about $23 billion in net deficit reduction.
Speaking to reporters Tuesday evening, Ryan and Murray both hailed the deal as a victory for bipartisanship and a critical step in setting Congress on a path back to normalcy rather than lurching from crisis to crisis.
"We have broken through the partisanship and the gridlock and reached a bipartisan budget compromise that will prevent a government shutdown in January," Murray said. Ryan noted the pair steered clear of the topics where it would be difficult to agree.

"We knew that if we forced each other to compromise a core principle, we would get nowhere. That's why we decided to focus where the common ground is," he said. He said he was "proud" of the agreement.

In a statement to the press, President Obama also greeted the agreement as a "good first step."

"This agreement doesn't include everything I'd like – and I know many Republicans feel the same way. That's the nature of compromise," he said. "But it's a good sign that Democrats and Republicans in Congress were able to come together and break the cycle of short-sighted, crisis-driven decision-making to get this done. That's the way the American people expect Washington to work."


The two lawmakers have been working to reconcile House and Senate budgets that were just $91 billion apart in dollar figures but separated by a deep chasm in ideology. Now comes the final hurdle: selling it to their bases.

Several outside conservative groups came out against the outlines of the deal this week, threatening to gut the Republican support that will be needed to pass a deal in the House.

Heritage Action, the advocacy arm of the Heritage Foundation think tank, issued a statement Monday saying they "cannot support a budget deal that would increase spending in the near-term for promises of woefully inadequate long-term reductions. While imperfect, the sequester has proven to be an effective tool in forcing Congress to reduce discretionary spending, and a gimmicky, spend-now-cut-later deal will take our nation in the wrong direction."

It fell to Ryan, long a darling of the Republican Party for his no-compromise budget plans that slashed federal spending, to sell the agreement to his fellow lawmakers. "As a conservative I think this is a step in the right direction," he said. "What do I get out of this? More deficit reduction."

"I deal with the way things are," he added, saying that divided government is the reality. "This agreement takes us in the right direction, from my perspective."

He predicted a "healthy" vote in the House Republican caucus.

The deal has the approval of House Speaker John Boehner, R-Ohio, who released a statement saying, "While modest in scale, this agreement represents a positive step forward by replacing one-time spending cuts with permanent reforms to mandatory spending programs that will produce real, lasting savings."

Democrats will have their own issues with the agreement, including the fact that it does not provide for an extension of emergency unemployment benefits, which expire on Dec. 28, and includes $6 billion in deficit reduction that will come from asking federal workers to contribute more to their pension funds.

Murray noted that it did not close a single corporate tax loophole, which was a top Democratic priority. But it also did not touch Social Security or Medicare spending, a top Republican target for reforms.

White House chief of staff Denis McDonough and Rob Nabors, the top White House legislative liaison, briefed House and Senate Democrats today on the details of a budget deal, reports CBS News Chief White House Correspondent Major Garrett. A White House official said the administration is confident it can pass with minimal Democratic opposition.

After the deal was announced, Senate Majority Leader Harry Reid, D-Nev., said it was "a good day for our country."

"It was a compromise. We didn't get what we wanted. They didn't get what they wanted. But that's what legislation is all about: working together. Compromise is not a bad word," he said. "We believed all along that Congress should set sound fiscal policy through the regular order of the budget process and not through hostage taking or crisis making."


The House will act on the deal before they leave for recess on Dec. 13, and then turn it over to the Senate.
Thanks for reading CBS NEWS.
Create your free account or log in
for more features.